Regular price
$149.99 USD
Regular price
$179.99 USD
Sale price
$149.99 USD
Unit price
per
Sale
Sold out
The Giant Stack is unlike anything you've ever tried before. 
The Giant Stack includes:
Ready to perform at your peak? Build Muscle? Train like an Olympian? Good. This is what you've been looking for.








Share
View full details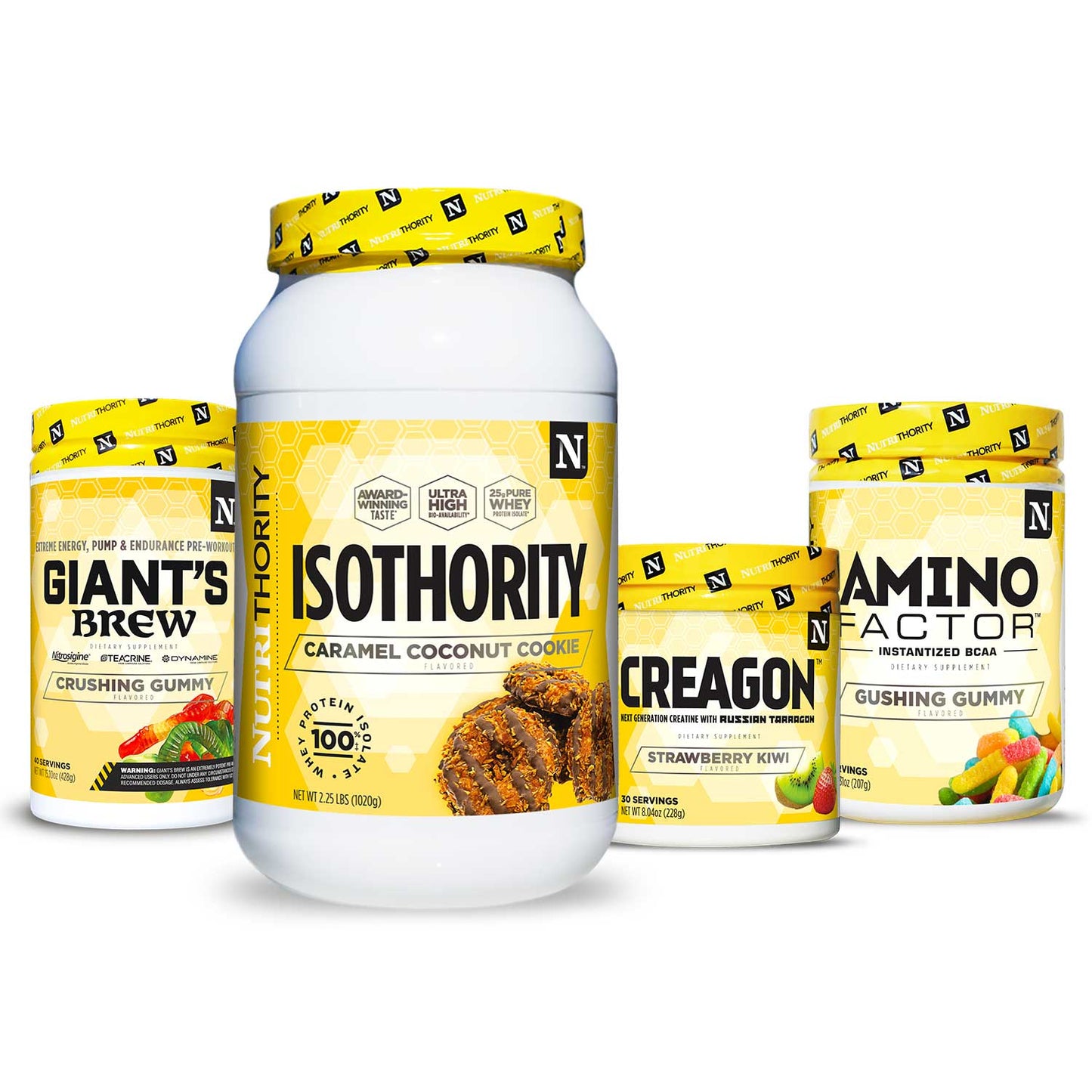 The Fusion Starter
As always these stacks are the best for combining your needs and wants all in one package. I love Mr. fusion but also need other products to go along with it.
Stacks FTW, thanks as always for your business Wayne!!
Mr fusion
I personally do not get the pump desired from this pre workout.
Awesome!
I really enjoy the usage of these products to a daily basis as I can see results in my strength, speed, and explosiveness during practice and rugby matches. Really tasty as well!
Great produts
The Fusion Starter contains products I use regularly. It's nice to buy them in a stack.
Love
First protein powder that I found I absolutely LOVE!
Great products
The Fusion Starter was the perfect introduction to the Nutrithority products. All flavors were delicious, especially the Protein Powder Caramel Coconut Cookie and Mr Fusion Pineapple Punch. Caramel Apple Amino Factor had a nice taste but much more apple flavor than caramel flavor. I received a handful of samples with my order, all of which were pleasant tasting. I will likely be switching from Mr Fusion to the 1.21GW preworkout. Fusion works well but I could use a little more bang and the sample provided helped me see the 1/2 serving size of the 1.21 is perfect for a little more energy and pump. Have definitely noticed less muscle fatigue and quicker recovery using these products. Will buy again!
Thank you Kristin!! Glad you liked it!
Awesome Taste
I loved all the products included with the "fusion starter." The preworkout not only tasted good but I felt it gave me that extra push to finish a long workout. I will be buying again.
Yummy Orange Cola
The best by far pre workout out there. The powder mixes well and does not clump up. I sometimes drink it on my off days for added energy boost if I feel sluggish. Definitely helps with helping hit my PRs. I sometimes forget I drank it because it does not give me that itchy jittery feeling you get with other powders.
This was my second order.
This was my second order. I needed more protein mix and wanted to try the amino and mr fusion. Both are great. Don't let the orange candy soda name scare you. It tastes great, as well as the pineapple amino. We are very impressed with all of Nutrothority products. I have been trying all the samples they send us and I am impressed with the 121as well. I do have to delute it down a lot because of the caffeine, but it works.