Regular price
Sale price
$39.99 USD
Unit price
per
Sale
Sold out
Joint Factor is a Scientifically Formulated Joint & Tendon Support
Improve Joint Comfort & Flexibility*

Reduce Joint Pain & Discomfort*

Support Joint & Tendon Health*
Let's face it, if you're working hard you're going to have some joint pain occasionally. The more mileage you put on your body, the more moans and creaks you're going to notice. 




Share
View full details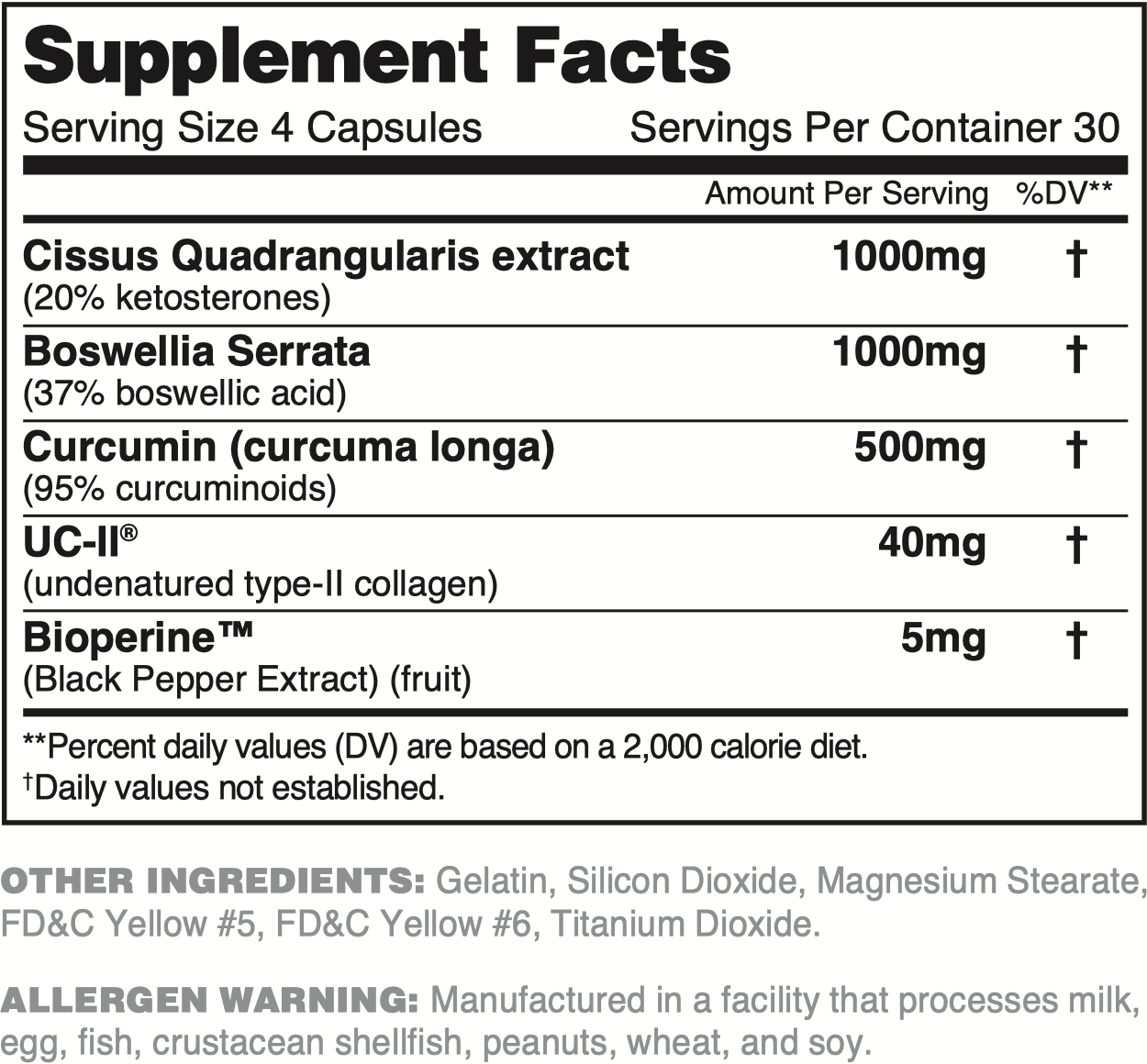 Adding joint factor to my daily supplements.
We are happy to hear that you are finding Joint Factor helpful Amy!!! Welcome to the family :)
Must have
As someone who's in their 40's and in the gym 5-6 days/wk this is a must have for me. Great addition to any supplement lineup no matter their age!
Keep hitting it hard Leondro!! Thanks for the review, We totally agree that Joint Factor is a great addition to any supplement lineup at any age. :)
Great product!
I've used joint factor for about a month now and it makes a huge difference. It's helped a lot with joint pain in my knees and elbows. I'd definitely recommend adding this in if you're wanting to focus more on your joint health!
We're happy you have been enjoying the Joint Factor Gabriel!!! Less pain is a great thing to hear!!!
We're glad you like it Gabriela!! :)
Good product
I have used Joint Factor off and on as needed for a lingering knee issue. I always feel improvement within a week or two. It does the trick in my experience.
We're glad it does the trick for you Ryan!!
If you're active, you should add this to your routine!
I like to life and run at an age when joints start to get cranky. Not only does this help manage normal crankiness, it helps me notice when I have a bigger issue. One note - when they say to take with a meal, they mean it. Thanks Nutrithority team!
Joint Factor
I've been taking joint factor for about 3 weeks, and I notice the difference when I get up in the morning.
That's great Virginia!!! Happy it has been helping !! :)
Trigger finger gone.
Arthritis in my hands with trigger finger … go thru 2 full bottles, do not miss a day and you will be shocked what happens. Life changing
Amazing product!!
My joints have never felt better since taking the Joint Factor. Between weight training, martial arts, and being an active dad, I needed something to help my joints keep up. This has done the trick.
Joint Factor Helps Tendonitis in Hands
I am a guitar player experiencing tendonitis in my fretting hand. For the first month of dealing with tendonitis, I did nothing except rest my hand. For the second month I started taking Joint Factor. While my hand isn't completely healed, the progress I've experienced during the second month while taking Joint Factor has far outpaced the first month where I did nothing except rest. I am going to continue to take Joint Factor until my hand has no more pain.
Thank you so much John! Keep using it, I think you'll love the results.