Go Small or Go Home:  8 Mini Habits That Can Add Up to Big Results.

If you're been around here for a while, you've probably heard me talk about how making lasting changes over time happens best with small steps. And it totally does, I promise.
But thankfully, you don't have to just take my word for it.  Science is there to back me up. In a recent study in Obesity researchers found a clear link between forming small habits and the increased likelihood of losing weight and keeping it off, long term.
Because it truly doesn't take some huge (typically unrealistic) overhaul of your life to change your body— with small tweaks to your existing routine, your habits can add up to HUGE success.  Here are 8 mini habits that you should be using everyday to get the results you want.
#1 - Start Your Day with Water.
Are you drinking enough water throughout the day?  Unless you're making a conscious effort to do so, chances are you're probably coming up short.  
Proper hydration is necessary for fighting brain fog, decreasing joint pain, and regulating body temperature— plus, it can help you fight off cravings and target thirst (which can even trick you into thinking you're hungry).  So why not get off on the right foot and start your day with a glass of water as soon as you wake up?  
Try setting a glass of water on your nightstand, beside the sink in the bathroom, or next to your coffee pot.  By setting this visual cue— and following through with the action— you're not only helping yourself to start the day on the right foot, but you're also priming your brain to continue drinking more water throughout the day.
#2 - Prioritize Protein with Breakfast.
Not only is protein an important part of muscle building, it's also a great way to keep yourself feeling full as you head into your day.  But most people don't get enough protein at breakfast on a consistent basis, leaving them hungry a few hours later (and potentially on the hunt for donuts).
Instead of battling the urge to eat junk all morning, start making protein a top priority at breakfast.  And it doesn't have to be all sausage and bacon (if that's not your thing).  Eggs, greek yogurt, cottage cheese, and top-quality whey protein powder are all excellent sources of protein that are quick and easy to help you power through your mornings.
#3 - Increase Your Lunchtime Steps.
It can be tough to get a workout in when things get busy, but you don't have to run a marathon or spend hours at the gym to see results.  You just have to make moving your body a priority.  And one of the best ways to do that is by simply putting one foot in front of the other.  
Walking is low impact, takes no special skills or equipment, and can be done just about anywhere.  Plus, it's free (you've gotta love that).  That's why it's the perfect type of movement to incorporate into your lunch hour.  Spend the first half of your break eating, then get up and move your body for the rest of your time.  Take a stroll in the parking lot, through the halls, even up and down the stairs and watch those steps add up to big results.
#4 - Prep Your Groceries ASAP.
Keeping lots of fruits and veggies to hand is one of my top tips for sticking to a healthy eating plan.  But it doesn't do you any good if those cucumbers, peppers, tomatoes, and strawberries sit untouched in your fridge till they rot.
That's why I always think you should spend 5-10 minutes of easy prep as soon as your groceries come through the door.  It doesn't have to be some elaborate operation, but by chopping your fresh produce ASAP, you'll be helping to make sure you always have options ready to go in a flash.  Not only is this great for snacks, but it makes simple work of throwing together a nutrient-dense salad— something that always comes in handy when you're starving or short on time.
#5 - Stash Your Junk Food Out of Sight.
Junk food can be highly triggering.  One glance at a rogue Oreo and next thing you know, you've eaten your way through the entire contents of your pantry.  But the truth is, it's unrealistic to think that you'll never have any junk food in your house.  So what do you do?
One of the easiest ways to combat the problem is by keeping the goodies out of sight.  By removing that visual cue, you'll be helping your brain to control the cravings that can lead to binge eating, particularly when you're tired.  Put the cookies on the highest shelf in your kitchen or hide the ice cream behind some frozen veggies in the freezer.  Instead, keep lots of healthy choices— like nuts, greek yogurt, or those prepped veggies we talked about— close to hand for easy access when you need a pick-me-up.
#6 - Use Entertainment as an Exercise "Reward".
Do you have a favorite show or podcast?  How about that audiobook you've been dying to finish?  Why not tie the enjoyment you get from those things to your workouts?
If jumping on the stepmill or treadmill is a struggle for you, consider tying it to your favorite form of entertainment.  By only allowing yourself to watch or listen during your workouts, you're connecting that action to the pleasure center of your brain, creating a dopamine release that not only helps to motivate you, but can even make those dreaded cardio workouts more pleasurable, over time.
#7 - Prepare Your Workout Clothes Ahead of Time.
It might seem crazy, but sometimes getting yourself ready to workout is the hardest part of getting it in.  That's why I always recommend my clients get in the habit of setting out their workout gear ahead of time.
If you're an early-morning grinder, lay out your clothes, shoes, watch, whatever the night before.  That way you won't have to put any thought into it the next morning (when you'd rather be in bed). The same thing goes for those of you who head to the gym after work.  Have your clothes out and ready to put on as soon as you walk through the door or even try bringing a bag and changing before you leave the office.  Any barrier you remove increases your chances of success in reaching your goal.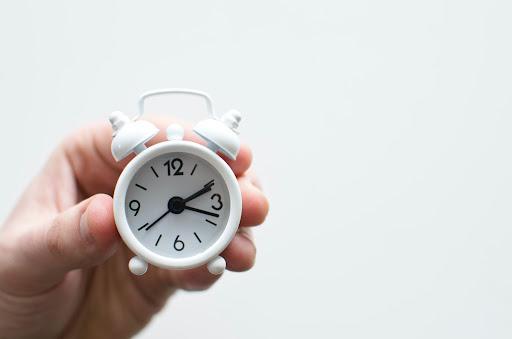 #8 - Set a bedtime (and stick to it).
Not only does sleep deprivation lead to fatigue (duh), but it can also play a huge role in feelings of hunger, increased anxiety, and even slowing down your metabolism.  In fact, when people ask me what the number one thing they can do for fat loss is, getting more sleep is always at the top of the list.
For the best results, you should be aiming for at least 7 hours of quality sleep a night.  But when you're trying to unwind after a long day, it can be easy to let those nighttime hours get away from you.  That's why your best bet is to commit to a consistent schedule of going to bed and waking up each day.  As you practice this habit over time, your body will adjust and improve its sleep/wake cycle, making it easier for you to fall asleep and stay asleep— waking more refreshed and better prepared to chase the results you're after. 
Statements made on this website have not been evaluated by the U.S. Food and Drug Administration. Information provided by this website or this company is not a substitute for direct, individual medical treatment or advice. It is the responsibility of you and your healthcare providers to make all decisions regarding your health. Consult with your healthcare providers regarding the diagnosis and treatment of any disease or condition. Products sold on this website are not intended to diagnose, treat, cure, or prevent any disease.