It Doesn't Have to be Hard: 12 Simple Ways to Improve Your Eating Habits

You don't need me to tell you that a healthy diet is important.  You know that making healthy food choices is a key part of reaching your goals.
But knowing and doing are two very different things.
And when you're staring down the barrel of a complete diet overhaul, the process of actually making it happen can feel like a serious chore.
You don't have hours to spend cooking every night.  You don't have the time to constantly shop for special –– and costly –– ingredients.  And honestly? You're not sure you've got it in you to give up your nightly bowl of ice cream.
But here's the thing:  healthy eating doesn't have to be some big lifestyle revolution. Small, simple changes to your habits can set you up for a big payoff.
So, stop making it harder than it needs to be and check out 12 simple ways to overhaul your eating habits.
Keep trigger foods out of your house.
We all have those trigger foods that send us into a downward spiral.  So what's the best way to keep them from derailing your diet? Don't bring them into your house!  Instead of trying to prove that you have the superhuman willpower, remove the temptation altogether.  And when cravings hit?  You'll actually have to leave the house to get your fix – making your consider whether it's really worth the effort after all.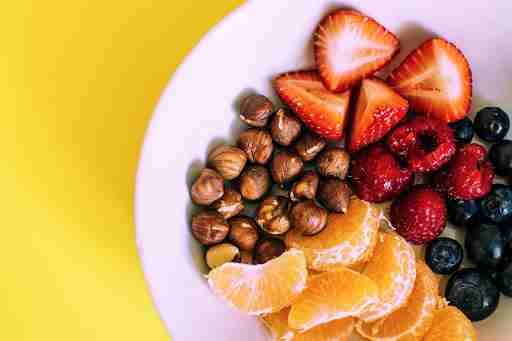 Stockpile healthy snacks.
Just because you've decided to keep the junk food out of your house, that doesn't mean you won't need a snack between meals.  Aim to keep plenty of satisfying, healthy options on hand so you can quickly grab something when you need a pick-me-up.  Pre-cut fruits and veggies, nuts, string cheese, and single-serve greek yogurt cups make great options to keep hunger at bay and your goals on track.  
Always make leftovers.
You're already taking the time to prepare a healthy meal, so why not throw a few extra chicken breasts or servings of broccoli on the pan?  Those leftovers can make a great next-day lunch, or even another meal or two later in the week. 
Not only will you be helping yourself to make healthy choices, you'll also be saving yourself time and effort down the line – talk about a win-win.
Roast your veggies in batches.
Like planning for leftovers, preparing large batches of vegetables can make your life a lot easier – especially when things get busy.  My personal favorite?  Roasting a huge pan of green peppers and onions on Sunday evening. Then, I can throw them in with grilled chicken for fajitas, on top of lean flank steak for philly-style sandwiches, or even alongside my eggs for an easy breakfast. The possibilities are endless – and delicious.
Lean on your favorites.
Sure, we all like variety, but that doesn't mean you have to search endlessly for different healthy recipes, especially when life gets hectic.  By picking a few family favorites to work consistently into your rotation, you'll be taking the guesswork out of your meals and make meal planning a less stressful affair. Try making Taco Tuesday or Salad Thursday a weekly event and give your brain a rest in the brainstorming department.
Stock your pantry with easy options.
It would be nice to have hours to devote to cooking healthy meals every night, but who's got the time?  But don't let your packed schedule get in the way of making healthy choices.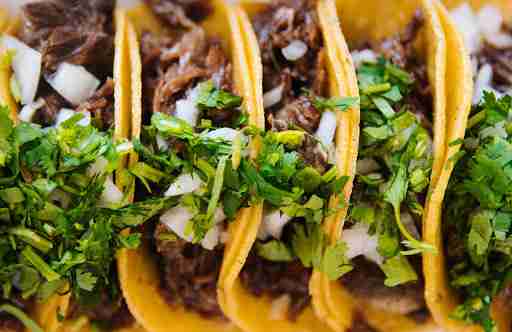 By keeping your pantry stocked with convenient staples, you'll be ready to whip up a meal, even when you're short on time.  Low-sodium beans, diced tomatoes, packaged tuna, and quinoa all make great options for creating healthy dishes on-the-fly.  
Prepare for the morning rush.
Don't run the risk of skipping out on the most important meal of the day.  By having some make-ahead options in your breakfast arsenal, you can start your day with a healthy meal and still get out the door in a flash.  If you're looking for some inspirations, here are 20 Make-Ahead Breakfast Options, packed with protein to help you keep your goals on track.
Create a shopping list (and stick to it!)
Before you head to the store, outline your meals, build your list with what you need, and don't deviate from the plan.  By shopping only from your list, you remove the temptation to add "extras" that aren't doing your waistline (or your wallet!) any favors.
Get friendly with frozen foods.

Somewhere along the line, we started thinking healthy = fresh. And while there's no doubt that fresh foods are awesome, frozen foods – especially produce – can save you both time and money when it comes to meal prep.  Fruits and vegetables are picked at the peak time and flash-frozen for the highest nutritional value. They last longer than fresh produce, reducing the potential for waste. Plus, they're easy to store and pull out as needed, giving your tons of variety to quickly add to healthy meals. 
Keep your water bottle handy.
Did you know that symptoms of dehydration actually mimic hunger?   If you're feeling hungry too soon after a meal, there's a good chance you need to drink more water.  Keep your water bottle filled and close by and you'll be ready to take a sip whenever you need it.  Plus, you'll be more likely to resist sugary sodas and fancy coffees if you have another option nearby.
Sleep it off.
A good night's sleep can have a powerful effect on your health.  Because your body regulates and resets it's hormone levels during sleep cycles, people with disordered sleep patterns are more likely to consume unnecessary calories during the day.  By getting into a good sleep routine, your body will fall asleep faster, experience more restful sleep, and be prepared to make better food choices when you wake.
Stop making it complicated.
Eating healthy doesn't have to be a big production.  Sometimes, it's easier to stick to the plan when you make it as simple as possible.  Find a healthy breakfast or lunch option you love and eat it everyday. Prep meals ahead of time to take the guesswork out of dinner.  Eat on a schedule so you can anticipate your body's hunger cues.  By planning ahead and establishing clear routines, you'll be on the way to making your healthy habits second nature.
Statements made on this website have not been evaluated by the U.S. Food and Drug Administration. Information provided by this website or this company is not a substitute for direct, individual medical treatment or advice. It is the responsibility of you and your healthcare providers to make all decisions regarding your health. Consult with your healthcare providers regarding the diagnosis and treatment of any disease or condition. Products sold on this website are not intended to diagnose, treat, cure, or prevent any disease.