Regular price
$39.99 USD
Sale price
$34.99 USD
Unit price
per
Sale
Sold out
Digestithority: Achieve Digestive Peace
Reduce Gas & Bloating*
Alleviate Indigestion*
Improve Gut Health*
I wanted to put as much FAST digestive relief as possible in a single formula, that's why Digestithority combines some of the most powerful natural digestion enhancers... with an advanced digestive enzyme complex.
Share
View full details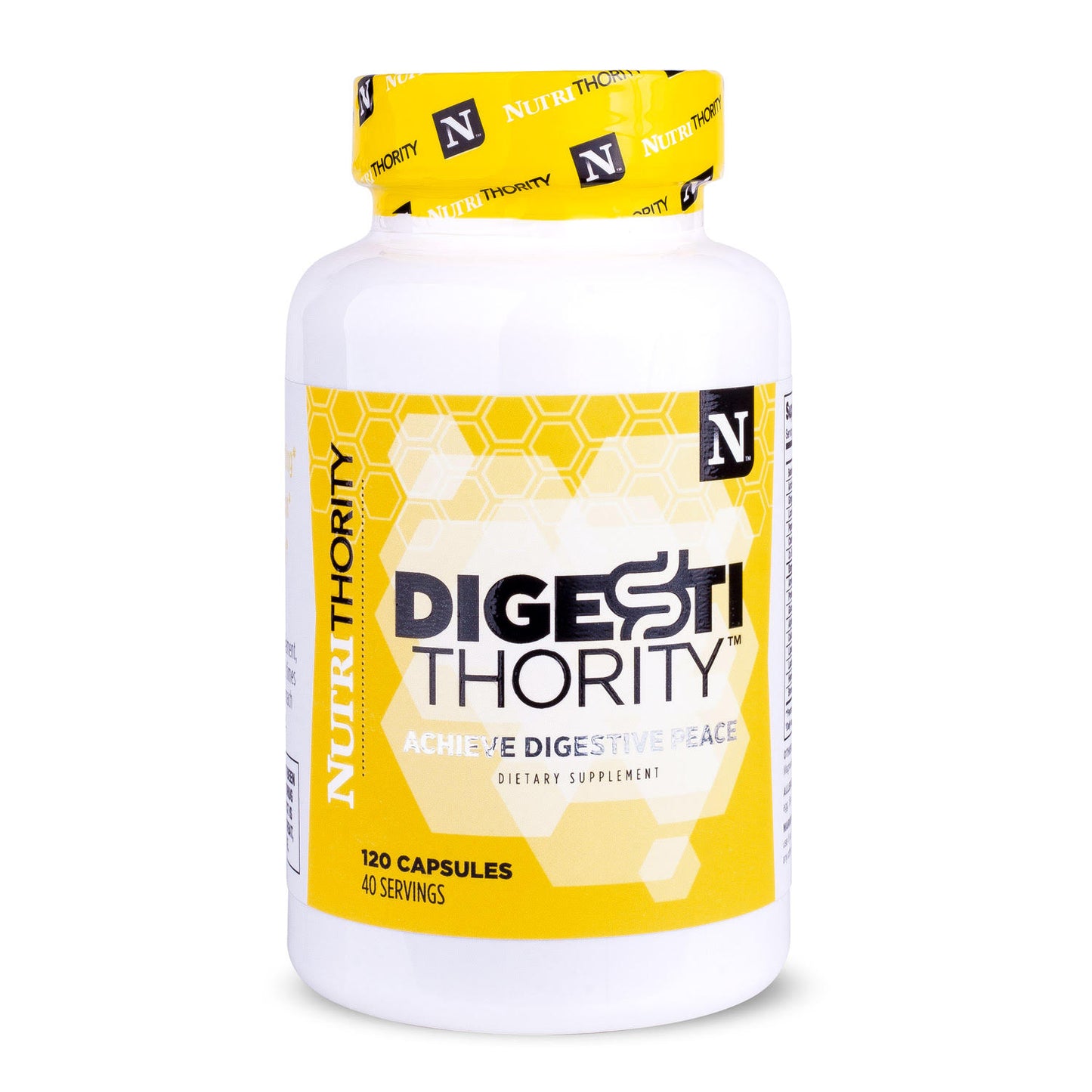 Excellent product!!!
The first couple of days using the product definitely "cleaned me out" lol but went away and no Im very normal. Will continue to use!!! Highly recommend
Thanks Blake!! We're so happy you're enjoying the product!
Sign Me Up
I had a perpetual feeling of bloat from the increased calories during a bulking phase. Digestithority not only helped me regain a feeling of comfort, but it actually improved my appetite. I'll be adding this to my regular supplementation.
Hey Collin, so happy you like the Digestithority!! It is a great product!!! :)
Digestive harmony
I recently got off antibiotics and this stuff has been my savior. No more sharp poops or bloating!
Thanks Katherine, We're happy you are liking the product.
Awesome
This product makes me feel less full and bloated. I only take one in the morning and it has worked well for me!
That's great Samantha!!! So glad its working well for you.
Digestithority
It did not help my gut problem. It caused increased constipation
Impressed Again!
I love nutrithority products and Digestithority did not disappoint. I have a lot of digestive issues due to cancer treatment I completed a year ago and this really did give me some comfort!
We're happy to hear you got some comfort from the product Tiffany!!
Feeling Better
I took Digestithority a while back and did notice that when I stopped taking it I would feel a lot more sluggish after eating, feel heavier and more bloated Id say. Taking it again after the last month I feel so much better. I dont think I am ever bloated and never feel heavy after any meal of the day. I genuinely think that this helps greatly with digestion and would recommend.
We're happy the product has helped you achieve digestive peace!! :)
Digestithority is the BEST
This product is life changing if you deal with gut issues! I take 2-3 pills every morning and feel SO much better! It has absolutely helped my system regulate and process my food without bloating or backups. Last summer I was dealing with a lot of personal stress and my body responded with stabbing pain in my abdomen. Two doctors and multiple labs and scans later, nothing was wrong but I was still miserable. I started taking Digestithority every day and felt better within a week. Now I never miss it and recommend it to everyone!
Sample pack
It's well worth getting the Sample pack see which one is your favorite. The Carmel Coconut 🥥 Cookie 🍪 😋 is my favorite It's there best seller I see why it's just absolutely delicious just like you girl scout cookies 🍪 💯♥️💪🙌👍
Thankful
Finally a product that helps my stomach and guts process the amount of food I eat. No heartburn and no more acid reflux!! Thanks Jared!