What You Need to Know:  The Essential Guide to Fiber

Do you want the secret to improving your health, fighting off disease, and generally feeling fantastic?
Drumroll....
Eat more fiber.  No, seriously.
It might bring to mind pictures of your 80-year-old grandpa, but the old guy knew what he was talking about: when it comes to a healthy lifestyle, fiber is your best friend.  So, let's dive into what fiber is, why it's important, and why you should make upping your fiber intake a serious priority for your health.
What is fiber, anyway?
Fiber is a type of carbohydrate that can't be digested by the body.  While most carbohydrates are broken down to be stored as glucose, fiber passes through—  helping to regulate sugar and keep you feeling full.
Are there different types of Fiber?
Fiber falls into two categories— and while they have different functions, they both play an important role for your body: 
1. Soluble Fiber
This type of fiber dissolves in water and forms a type of gel in the gut, helping to lower glucose and cholesterol levels.  Oatmeal, apples, blueberries, beans, and sweet potatoes are all great sources of soluble fiber.
2. Insoluble Fiber
Insoluble fiber does not dissolve in water, so it helps food to move through your digestive system and increases stool bulk (gross, I know, but important).  This promotes bowel regularity and helps to prevent constipation.  Good sources of insoluble fiber include whole grain bread, brown rice, legumes, carrots, and tomatoes.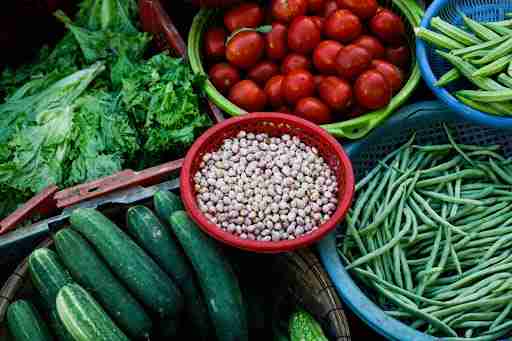 How much fiber do I need?
The recommended daily intake of fiber is 25 grams for adult women and 35 grams for adult men (the recommended daily dose for children is 20 grams).  However, it's estimated that most people top out their fiber intake at around 15 grams.  So what does 25-35 grams look like?  We're talking about a ½ cup whole-grain cereal, ½ cup of veggies, a ½ cup of beans, and an apple a day.
What are the benefits of fiber?
I could go on and on about the benefits of fiber.  Seriously, sometimes it seems like the magic answer to just about every question.  Want to be at a healthier weight?  Eat more fiber.  Want to prevent disease?  Fiber.  Need some help in the— er, bathroom department?  You guessed it, fiber. 
So let's take a look at some of fiber's most basic benefits:
1. Blood Sugar Regulation and Feeling Full
Eating a fiber-rich diet helps the body to avoid spikes in blood sugar and increases satiety (feeling full).  Because blood-sugar regulation can help to eliminate energy peaks and valleys, a fiber-focus diet can also help to combat fatigue and fogginess throughout the day.
2. Improved Cholesterol
The gel-like substance formed by soluble fiber acts like a sticky sponge, trapping cholesterol before it has a chance to enter the bloodstream.  This is why many high-fiber foods are considered "heart healthy".
3. Digestive Health
Fiber is a great tool for both relieving and preventing constipation.  Wheat bran and oat bran, in particular, have been shown to be highly effective for helping to promote regularity.  Just be advised that fiber absorbs water, so plan to increase your liquid intake along with upping your fiber.
Can fiber help fight disease?
A high-fiber diet isn't just about making you feel great, it can also help to mitigate and prevent disease. Science is continually finding new ways fiber aids in disease prevention, but here are just a few of the ways it's hard at work for your health:
1. Heart Disease
Research has shown that high fiber intake can significantly reduce the risk of heart disease.  In fact, a Harvard University study that included 40,000 people found that high dietary fiber intake was linked to a 40% risk reduction for coronary heart disease. Fiber consumption has also been shown to reduce a host of factors that increase the risk of developing heart disease, such as high blood pressure, increased insulin levels, excess weight, and high triglyceride levels.  
2. Type 2 Diabetes
Diets that are low in fiber and high in high-glycemic foods significantly increase the risk of developing Type 2 Diabetes.  In studies, this type of diet more than doubled the risk for developing the disease, when compared to a diet that was high in fiber and lower-glycemic foods.  According to researchers, diets that are high in cereal fiber (bring on the Cheerios!) were particularly linked to a lower Type 2 Diabetes risk.
3. Diverticulitis
Diverticulitis is one of the most common colon-related disorders in the United States.  In a long-term follow-up study, researchers found that eating a fiber-rich diet— particularly insoluble fiber— resulted in a 40% lower risk of developing diverticulitis. 
What are some good sources of fiber?

I think by now you get the picture:  eating a fiber-rich diet is incredibly important for your overall health.  So now that you know, what foods should you be including in your diet to up your fiber intake?  Here are a few of my favorites:
1. Whole Grains
Carbs get a bad rap sometimes, but they're heavy hitters in the fiber department.  Whole-grain breads, pastas, brown rice, quinoa, barley, and whole-grain cereals all bring the fiber in a big way.
2. Legumes
Beans probably come to mind when you think of fiber and with good reason.  A ½ cup of beans contains about 7 grams of fiber— almost a quarter of the daily recommendation for women.  Beans are also packed with protein and high in iron, making them a great addition to any diet.  They make great additions to just about any salad, soup or salsas, and they even hold their weight as a headliner— bean burritos, anyone?
3. Berries
Berries are the rockstars of the fruit world— high in antioxidants which have been shown to combat inflammation, they're also a great source of fiber.  If you're looking to get the most bang for your buck, opt for raspberries or blackberries.  At 8 grams of fiber a cup, they'll have you on your way to hitting your daily target in no time.  And my favorite way to eat berries?  Throw some frozen raspberries into the blender with some water and a scoop of Milk Chocolate Isothority— don't worry, you can thank me later!
4. Haas Avocados
You probably know that avocados are an awesome source of healthy fat, but ½ an avocado contains 5 grams of fiber, making it a fiber-rich food, as well.  What I find especially great about avocados is that you can use them like a condiment, as well as a standalone food.  Avocado can be used in place of mayo on sandwiches or in chicken salad, blended with greek yogurt to make a salad dressing or dipping sauce, or as a topping on the fad that just won't quit— avocado toast.  Guacamole, anyone?
(You can check out a comprehensive list of high-fiber foods here.)
How can I increase my fiber intake?
Adding fiber to your diet doesn't have to be complicated.  In fact, by making some simple swaps and adjustments, you'll have no trouble hitting your daily fiber goal.
1. Skip the juice and opt for eating whole fruits instead.
2. Replace white bread, pasta, and rice with their whole grain counterparts.
3. Add a cereal with whole grains as the first ingredient to your breakfast routine.
4. Munch on raw veggies instead of chips or crackers throughout the day.
5. If you make chili or soup, try substituting beans for meat.
Statements made on this website have not been evaluated by the U.S. Food and Drug Administration. Information provided by this website or this company is not a substitute for direct, individual medical treatment or advice. It is the responsibility of you and your healthcare providers to make all decisions regarding your health. Consult with your healthcare providers regarding the diagnosis and treatment of any disease or condition. Products sold on this website are not intended to diagnose, treat, cure, or prevent any disease.