Start Your Day the Right Way with 5 Fall-Inspired Breakfast Recipes

There's just something about fall flavors, ya know?  Whether it's cinnamon and apples, hearty squashes, or pumpkin-spiced everything, fall has a flavor that's all its own.  And there's no meal that embraces everything that fall has to offer quite like breakfast.  Whether you're in the mood for something sweet, savory, or a combination of the two, fall flavors and breakfast are a match made in Heaven. So why not get your day started right with these 5 macro-friendly breakfast recipes full of everything you love about fall.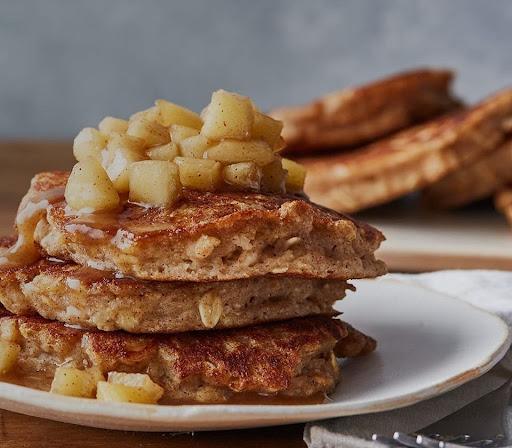 Whole-Grain Cinnamon-Apple Pancakes
Ingredients
2 medium Gala or Honeycrisp apples, peeled and cored
2 tablespoons unsalted butter
2 tablespoons maple syrup
1 1/4 teaspoons ground cinnamon, divided
3/4 cup (90g) white whole-wheat flour
2/3 cup (60g) quick-cooking oats
2 teaspoons baking powder
2 teaspoons sugar
1/4 teaspoon salt
1/4 teaspoon baking soda
1 cup (235g) plain fat-free Greek yogurt
1 teaspoon vanilla extract
1 large egg
Directions
Cut one apple in half, shred, and set aside. Dice remaining 1 1/2 apples. In a small saucepan over medium heat, melt butter. Stir in diced apple and 1/4 cup (59ml) water. Cover and cook until the apple is tender (10–12 minutes). Stir in maple syrup and 1/4 teaspoon cinnamon (this will become the apple topping).
In a large bowl, stir together flour, oats, baking powder, sugar, salt, baking soda, and the remaining 1 teaspoon of cinnamon. In a medium bowl, whisk together yogurt, remaining 1/2 cup (118ml) water, vanilla and egg. Add yogurt mixture and shredded apple to flour mixture, and stir until just combined.
Heat a large, non-stick skillet over medium heat. Spoon a 1/4 cup of batter per pancake onto the hot surface. Cook until tops are dotted with bubbles  and edges look cooked (3–4 minutes), before turning and cooking 2–3 minutes on the opposite side. 
Top pancakes with apple topping.
Nutrition
Serves: 4 | Serving Size: 3 pancakes and 1/4 cup apple topping
(Per Serving) 
Total Calories: 298
Protein:12g
Carbohydrates: 45g
Fat: 8g 
Dietary Fiber: 5g
Sugar: 18g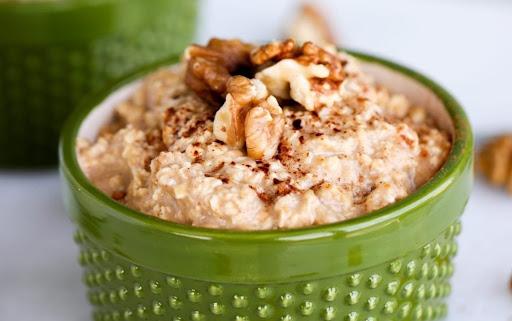 Pumpkin Pie Oatmeal
Ingredients
2 cups (490g) low-fat milk
1 cup (240g) water
2 1/2 cups (200g) uncooked quick oats (certified gluten-free, if necessary)
1/4 cup (60g) canned pumpkin puree (certified gluten-free, if necessary)
1 teaspoon vanilla extract
1/4 teaspoon salt
1 1/2 teaspoons pumpkin pie spice
2 tablespoons honey
Directions

In a saucepan, combine milk and water and heat over medium-low heat for 2–3 minutes. 
Add oats, pumpkin puree, vanilla extract, salt, and pumpkin pie spice to the pot, then stir until well combined. Allow the oatmeal to simmer for 2–3 minutes. (Pro tip: If the oatmeal is too thick, stir in a tablespoon of water at a time until it reaches the desired consistency.)
Add honey, and stir. Enjoy!
Nutritional Information
Serves: 4 | Serving Size: 1 cup oatmeal (230 grams)
(Per Serving)
TotalCalories: 284
Protein: 13g
Carbohydrates: 45g
Fat: 5g
Dietary Fiber: 5g
Sugar: 17g
(Recipe courtesy of MyFitnessPal)
Apple Cider Mini Muffins
Ingredients 
For the muffins:
1/2 cup (118ml) unsweetened apple cider
1/2 cup (70g) apple, peeled and diced
1 cup (140g) whole-wheat pastry flour
1/2 cup (110g) sugar
1 teaspoon baking powder
1 teaspoon pumpkin pie spice
1/4 teaspoon ground cardamom
1/4 teaspoon salt
1 large egg
1/2 cup (118ml) 2% milk
1 teaspoon vanilla extract
1 1/2 tablespoons melted butter or coconut oil
For the topping:
100% Coconut or olive oil cooking spray (look for cooking spray with no propellant)
2 tablespoons sugar
1/2 teaspoon cinnamon
Directions
Preheat oven to 350°F. 
Combine the apple cider and apples in a small saucepan and bring to a boil over medium-high heat. Simmer, stirring occasionally, until cider is absorbed by the apples, about 10 minutes. Pour into a small bowl and refrigerate until cool, 10 minutes.
Whisk together the flour, sugar, pie spice, cardamom, and salt in a large bowl. In a medium bowl, whisk together egg, milk, and vanilla. Combine the wet ingredients with the dry, then add the reduced apple cider mixture and butter or coconut oil, and stir with a rubber spatula until just combined.
Spray a muffin pan with cooking spray and spoon the batter into the pan, filling the wells 3/4 full. (Pro tip: The batter will be pretty thin – a small ice cream scoop makes it easy to portion the batter.) 
Bake until the tops of the muffins are dry and golden brown, 15–18 minutes. Remove from oven and let cool for 10 minutes before removing from pan.
For the topping, combine sugar and cinnamon in a small bowl.  Mist each muffin with cooking spray and dip tops in the sugar. Serve warm or keep in an airtight container at room temperature for up to 2 days.
Nutrition
Serves: 10 | Serving size: 2 mini muffins
(Per serving)
Total Calories: 98
Protein: 2g
Carbohydrates: 18g
Fat: 3g
Fiber: 1g
Sugar: 15g
(Recipe courtesy of MyFitnessPal)
Isothority Pumpkin Spice Protein Shake
Ingredients 
2 scoops Isothority Vanilla Protein Powder
1/3 cup pumpkin purée
1 cup unsweetened almond milk (or milk of choice)
1/2 frozen banana
1/4 cup old-fashioned oats
1/2 tablespoon chia seeds
1/4 teaspoon pumpkin pie spice
1/4 teaspoon ground cinnamon
1/2 teaspoon stevia (or sweetener of choice)
1/4 teaspoon vanilla extract
3-5 ice cubes
Directions

Add all ingredients to your blender.  (Pro tip:  add ice and liquids first, followed by the pumpkin and banana, before adding the dry ingredients.)
Blend until smooth.
Enjoy immediately!
Nutrition
Serves: 1 | Serving Size: 1 Shake
(Per Serving)
Total Calories: 475
Protein: 56g
Carbohydrates: 44g
Fat: 9g
Dietary Fiber: 9g
Sugar: 6g
(Recipe courtesy of Nutrithority)
Directions

Preheat the oven to 425°F. Spray a 12-well muffin tin with cooking spray.
Wash the spaghetti squash, and use a knife to poke 8–10 holes into it. Place squash into a microwaveable dish. Microwave for 7 minutes; turn over and microwave for an additional 7 minutes. Allow squash to cool for 5 minutes. Cut off the ends of the squash and cut in half. Remove seeds, and use a fork to scrape pulp into a mesh strainer. Press down on squash pulp to drain liquid.
Heat cooking oil in a medium skillet on medium-low heat. Reserve a handful of green onions for garnish. Add remaining onions to the pan, and sauté for about 5 minutes, or until soft.
Put squash, green onions, egg whites, salt, pepper, flour and cheese into mixing bowl. Combine until well mixed. Evenly divide mixture into 8–10 muffin-tin wells (depending on size of your squash). Press down on the bottom and sides of each well to create a "nest." Bake for 15 minutes, until the edges become golden and crispy.
Reduce the heat to 375°F. Remove muffin tin from oven, and carefully crack 1 egg into each well. Bake an additional 10–12 minutes, or longer depending on how you like your eggs. Garnish with green onions, and serve immediately.
Nutrition
Serves: 4 | Serving Size: 2 squash cups
(Per Serving)
Total Calories: 288
Protein: 19g
Carbohydrates: 13g
Fat: 18g
Dietary Fiber: 1g
Sugar: 3g
(Recipe courtesy of MyFitnessPal)
Statements made on this website have not been evaluated by the U.S. Food and Drug Administration. Information provided by this website or this company is not a substitute for direct, individual medical treatment or advice. It is the responsibility of you and your healthcare providers to make all decisions regarding your health. Consult with your healthcare providers regarding the diagnosis and treatment of any disease or condition. Products sold on this website are not intended to diagnose, treat, cure, or prevent any disease.