Constantly Hungry?  Here Are 6 Reasons That Hunger is Knocking at Your Door.
In our world of social media perfection and diet pedaling, it's easy to view hunger as a bad thing.  After all, you need to be starving in pursuit of the "perfect" body, right?  (No part of this is true, btw.)  The real truth, however, is that hunger is an important biological cue your body uses to keep you alive –– hunger lets you know it's time to eat, so your body has enough energy to keep functioning.
But sometimes it's tough to know exactly what your body is telling you where hunger is concerned.  Do you truly need more food? Are you stress eating?  Are you just bored and there's leftover pizza calling your name?  How do you tell the difference?  Let's take a look at 6 common reasons you may feel constantly starving between meals and find out what you can do to keep your hunger in check.
You need more protein or fiber.
Each of the macronutrients –– carbs, protein, and fat –– has an important role to play, from providing quick energy, to rebuilding muscle, to assisting with hormone regulation (and lots more).  So, when it comes to feeling full and satisfied, protein is king.  And while fiber isn't a macronutrient, it also has an important role to play in the fullness equation.  
When someone comes to me and tells me they're feeling hungry all the time, my first question is always, "Are you getting enough protein and fiber?".  More often than not, the answer is no.  So, if hunger is a problem, take a close look at what you're eating.  If low-fiber carbs and fats are making up a good portion of your diet, it's time to start making some swaps.
You need more food. Period.
Eating in a calorie deficit for weight loss is a balancing act.  While you need to cut enough calories to burn fat, you also need to make sure you're eating enough to meet your body's energy needs.  And the truth is, if you're eating in a deficit, you're going to feel hungry sometimes –– that's just the nature of cutting calories.  But if you're starving 24/7, that's probably a good indication that your body simply isn't getting enough food.
And remember, hunger doesn't always manifest itself as that grumbly, gnawing feeling in your stomach.  If you're feeling unusual fatigue, dizziness, or you find yourself constantly fantasizing about food, it's likely your body's way of signaling that it's time to add more calories back to your diet.
You need more water.
I've talked about this before, but it's not unusual for people to mistake signs of dehydration for feelings of hunger.  In fact, psychological studies have shown that people confuse their body's signals for hunger and thirst up to 62% of the time.  That's why it's important to take note of what you're drinking, as well as what you're eating, if feelings of constant hunger are knocking at your door.  And as we head into the warmer months, keeping an eye on proper hydration becomes more important than ever.
If you've eaten a good meal within the last 2-3 hours and you find you're suddenly famished, sit down and drink 1-2 glasses of water.
If you're those feelings of hunger are still bothering you after that time, there's a good chance you're truly hungry, after all.  In that case, grab a protein-rich snack to keep you going until your next meal.
You're torching more calories than you think.
For most people, this is a good problem to have.  It signals that you're performing more intense workouts, you've added more muscle that wants to be fed, or you're just more active in your daily life.  If you're eating a balanced diet (particularly if you've been tracking macros or logging meals) and you suddenly find that you're starving on the regular, take a look to see if you've been more active than usual lately.
In addition to workouts, other lifestyle factors can also increase your body's energy needs, like pregnancy or breastfeeding, or even chasing your kids around the park or pool during the warmer months.  If you find your activity level is making you constantly hungry, start by keeping a few balanced snacks on hand throughout your day and increasing your water intake –– there's a good chance your body is signaling that it needs more of both.
You're a distracted eater.
Life is busy, and that means there's a good chance you're scarfing down a meal in the car between your kids' practices, answering emails at your desk during your lunch break, or even scrolling through your phone over breakfast.  And while there's probably no way to avoid these things 100% of the time, if most of your meals involve external distractions, it's probably messing with the satiety signals your gut sends to your brain.
Studies have shown that not only do distracted eaters tend to feel less full, they're also more likely to finish every bite of food on their plate, even past the point of fullness.  That means not only is scrolling through your phone making you hungrier, it's also causing you to overeat.  Instead of multi-tasking during your meals, set aside some time to mindfully eat before moving on to the next thing on your to-do list.  It doesn't have to be a big production –– even taking 5-10 minutes to mindfully enjoy a sandwich or salad during your lunch break can make a big difference.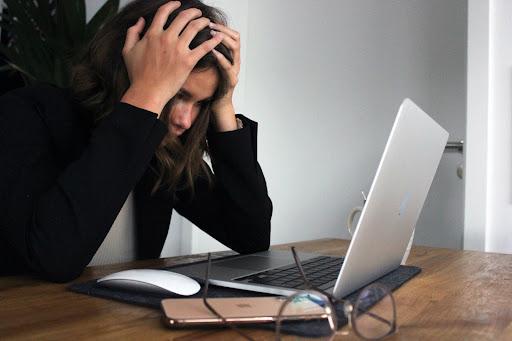 You're stressed out.
Chances are that busy lifestyle we talked about goes hand-in-hand with stress.  And in addition to making you feel like you're constantly running 100 mph, your body also increases its production of cortisol, a hormone that causes increased feelings of hunger (in addition to a list of other things). But in addition to just making you more hungry in general, that hormone response also typically unleashes cravings for highly-palatable, quick energy sources, like surgery refined carbohydrates.  Ever wondered why you have the irresistible urge to plow through a dozen donuts when you're stressed?  Chances are you have a burst of cortisol to thank for it.
When it comes to stress eating, one of the best things you can do is learn to focus and manage your feelings in a different way.  Having a meditation app on your phone or getting outside for a 15-20 minute walk can work wonders to redirect your energy and help those feelings of hunger pass.  If you know you're heading into a particularly stressful time in your life, I also recommend keeping plenty of protein-rich, high-quality snacks within arms reach, actively choosing not to have sugary treats in your pantry, and even keeping some prepped meals or ingredients in your fridge.  By thinking ahead and making it easy to access better choices, you're less likely to gravitate towards those refined, high-fat, sugary options when you're in your feelings.

Statements made on this website have not been evaluated by the U.S. Food and Drug Administration. Information provided by this website or this company is not a substitute for direct, individual medical treatment or advice. It is the responsibility of you and your healthcare providers to make all decisions regarding your health. Consult with your healthcare providers regarding the diagnosis and treatment of any disease or condition. Products sold on this website are not intended to diagnose, treat, cure, or prevent any disease.