Everything You've Ever Wanted to Know About Hydration

Are you really drinking enough water everyday?  
When it comes to adopting a healthy lifestyle, most people prioritize nutrition and fitness. They eat according to plan. They get their workouts in. They adopt a great supplement regime to support their goals (which is something we know a little something about, around here).  And there's no doubt that all of these things play a key role when it comes to your health.
But there's one key component when it comes to health that usually gets pushed to the backburner— and it's arguably the most important one. (Because while your body can go for about 3 weeks without food, you're only going to last for about 3 days without water.)
Hydration is a vital piece of the puzzle for all areas of your health, whether you're looking to lose weight, build muscle, or just trying to improve your general wellness. Your body is made up of nearly 60% water and is required by every major body system to function properly.
Want to battle brain fog, decrease joint pain, regulate your body temperature, or fight off cravings? Chances are, drinking more water is the first place you should start. And while serious dehydration can have some nasty and dangerous side effects, it doesn't take much to start you down that path— a decline of physical and mental abilities has been shown to start with as little as 2% body mass due to fluid loss.
So let's take a look at the basics of hydration to help you understand what you need, when you need it, and how to get it. Believe me, your body will thank you.
How much water do you actually need?
According to the National Academies of Sciences, Engineering and Medicine, recommended daily water intake is about  3.7 liters (125 ounces) for men and 2.7 liters (91 ounces) for women. Now that seems pretty straightforward, but there are other factors that impact how much water you need.
Activity level. If you're working up a sweat, your body is using up it's water reserves. Working out or moving a lot during the day means you need to drink more water.
Climate. During the warmer months, or if you live in a warm area, your daily water needs are going to be higher.  
Metabolism. People with a high metabolic rate burn through their body's fuel reserves more quickly, including water. If you fall into this category, it's likely going to take more than the recommended amount to keep yourself properly hydrated.
Weight. A higher body mass (whether that comes from lean weight or fat) requires more water for optimum health. Drink up.
Illness. Getting enough water can be a real concern when you're sick, particularly if you're losing fluids from vomiting or diarrhea. But this can be a problem even when you're sick in bed with something as simple as a cold, if you're not getting up to drink or eat regularly. That's why you should prioritize fluids, if you're feeling under the weather.
Alcohol consumption. All fluids are not created equal. In fact, if you're indulging in an adult beverage, your drink is likely causing dehydration. Before you order a second cocktail, try drinking a glass of water to help offset the water loss (and the impending hangover) caused by the alcohol in your drink.
It's also important to understand that while the bulk of your hydration needs are met through drinking fluids — typically, about 80% — you're also getting some of what you need through the foods you eat. Fruits, vegetables, and yogurt are all great sources of high-water foods to help you meet your daily needs.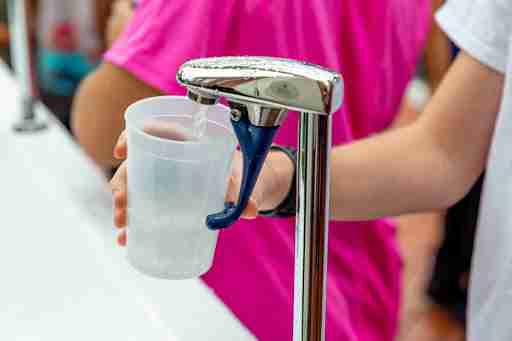 How do you know if you're getting enough water?
Many people wait till they're thirsty to drink water, but this isn't the most reliable way to judge if you're getting enough fluids. In fact, thirst is one of the ways your body signals dehydration, meaning you might already be walking down that path when you feel it. 
The best way to tell if you're getting enough water is to pay attention to your urine. If it's a light yellow color or lighter, you should be good to go. If it's a bright yellow color (or darker) or has a strong smell, it's probably time to drink up.
What are the signs of dehydration?
For most people, thirst is the first signal your body sends to let you know that it's not getting enough water. Listen to your body, people.
As dehydration progresses, it's typically followed by symptoms like muscle cramps, constipation, fatigue, dizziness, and dry mouth. If you begin to feel any these, drinking more fluids is a good place to start for relieving your symptoms. (If your symptoms include severe abdominal pain, lethargy, and confusion, these are signs of severe dehydration— this is a medical emergency and you should seek immediate medical attention.) 
But there's also another symptom of dehydration that most people don't realize— even mild dehydration can mimic feelings of hunger. 
This can be especially noticeable when those junk food cravings seem to come out of nowhere. If you're getting enough to eat but are still feeling snacky, there's a good chance that you don't need more food, you need more water. If you're fighting the urge to attack the cookies in your pantry— especially during the evening hours, when you're more likely to be dehydrated after a long day— try drinking a few glasses of water to help calm things down.
How can you help yourself to stay hydrated?
Like anything else, drinking more water probably just requires forming a good habit around it.  The more you do it, the easier it's going to become until it's just second nature. 
Here are few solid ways to get started:
Keep a water bottle visible and easy to access in all the places you regularly spend time.  That means on the kitchen counter, in your car, at your desk, or even by your bed.  If it's in your sight line, you're going to be more likely to pick it up and drink regularly throughout the day.
If you're bored by the taste of plain water, don't be afraid to add a little flavor.  Adding a slice of lemon or some cucumber to your water is a great way to spice up the taste without adding unnecessary sugar.
Set a notification on your phone to help remind you to drink water at certain intervals throughout your day.
Commit to drinking a glass of water every time you eat, both at meals and snacks.
Invest in a new water bottle to help reinforce the habit.  This can be a good visual cue to help trigger your new behavior. 
Track your water intake, especially in the beginning.  This is a good way to see your progress, highlight any gaps, and keep yourself accountable as you're forming the new habit.
Do you have any other tips for staying hydrated?  I'd love to hear from you—  hit me up at jared@nutritority.com.
Statements made on this website have not been evaluated by the U.S. Food and Drug Administration. Information provided by this website or this company is not a substitute for direct, individual medical treatment or advice. It is the responsibility of you and your healthcare providers to make all decisions regarding your health. Consult with your healthcare providers regarding the diagnosis and treatment of any disease or condition. Products sold on this website are not intended to diagnose, treat, cure, or prevent any disease.