Regular price
Sale price
$49.99 USD
Unit price
per
Sale
Sold out
Pump Capacitor 
is unprecedented synthesis of pump and endurance.
Extreme Power & Endurance
Unrivaled Pumps & Blood Flow
No Caffeine or Stimulants
Pump Capacitor provides an incredibly clean energy while maximizing pump and endurance. You'll be more focused, energized, and perform better through your workout. With NO Caffeine, this product is much more mild than other pre-workouts, so you shouldn't feel a 'jittery' or anxious at all.
Share
View full details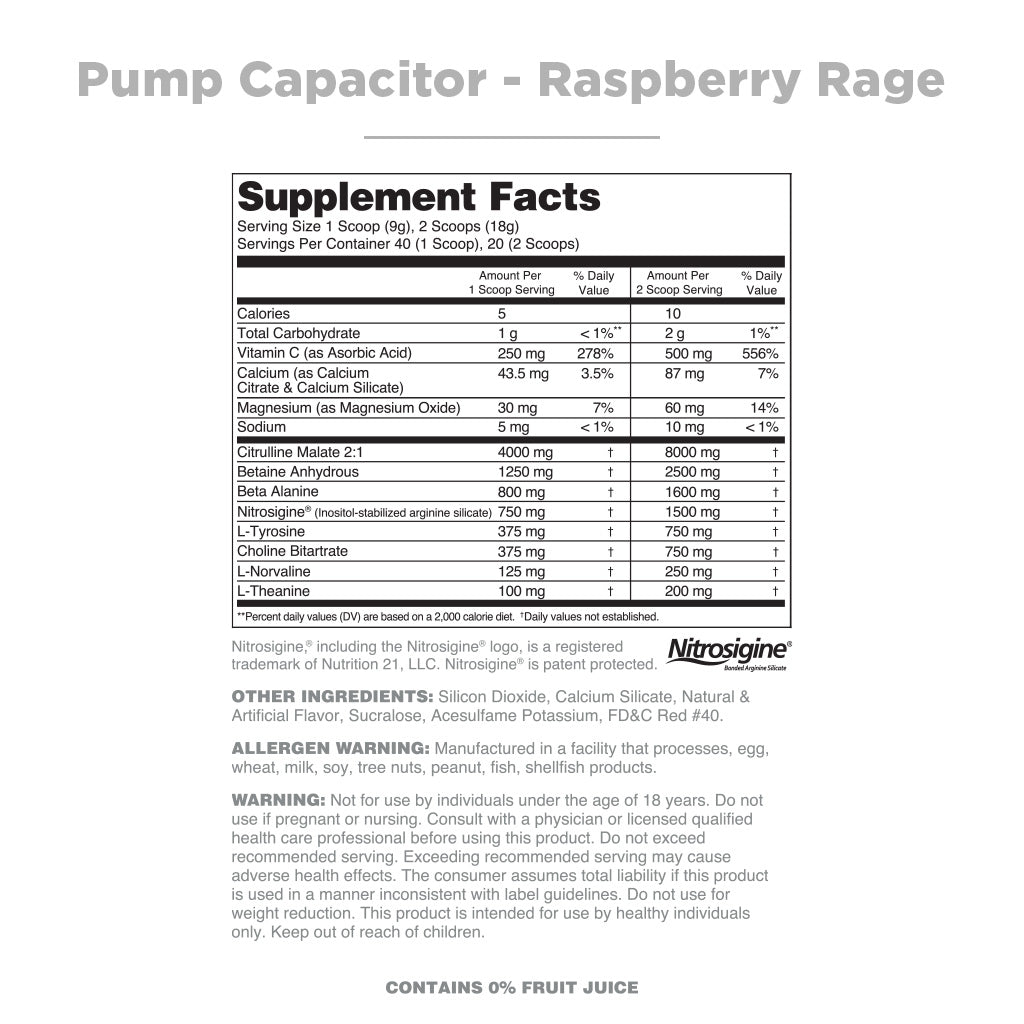 Gud
Sad. Drink pre-worky. Lift heavy circle. Happy. 5 stars.
Thanks for the review Pepe!!! Happiness is the goal, We appreciate you :)
Skin ripping pumps!
2 scoops of this and your gym clothes won't fit by the time you're done working out! I use this with nearly every workout and every time I can't believe how swollen I feel by the time I leave. Must have imo! 😳💥💪🏽
Good morning pump
This is prefect for early workouts
Thank you for the kind words Gerardo !! :)
Pump Compacitor
Good stuff. Endurance is great, pump is good. Good stuff.
Thanks for the review! We're glad you're happy with the pump capacitor :)
Great pre-workout
Very good energy for complete workouts.
We're glad that you're enjoying the product Jeffrey!!
Great flavor
Probably my favorite flavor of all the mix products. Great for the evening workouts or just simply needing a break from some caffeine!
Thanks for your review Luke, its an in-house favorite :) Great choice!!!
Great taste and absolutely no jitters!
This is my second order of pump capacitor (first was orange cola) and like that I get the tingles without the jitters. I am pretty sensitive to any type caffeine/ stimulants and this causes zero of those side effects (heart racing, anxiousness, etc) but still improves my workout. The grape lime tastes great!
Thanks Angie!!! We're happy to offer caffeine free options that are still great pre-workouts!!
Flavorless Pump
I got the flavorless pump capacitor and i freaking love it. I have different flavored proteins and bcaas so its perfect when mixing a preworkout cocktail. Great boost to power through and no drop off. Love it!
Thanks for the review Vanessa!! The raw(unflavored) products really are great!! We have Creagon raw as well :)
Great pumps, not so great for asthma
So I want to start off by saying that I have terrible allergies and struggle with some mild to moderate asthma. Working out helps and makes me feel much better and pumps are just a good time in general. This stuff gives me sick pumps and by the way things look, I gain about 3 or 4 inches in whatever I'm working on in the gym. Pumps from this stuff make me feel like a god. However, the vasodilation from this is enough to mess up my breathing, which isn't completely impairing but very annoying. It makes a higher rep set a lot harder and sometimes I have to stop mid-set. However all that being said, I have not stopped using it solely because I love the pumps I get from this stuff. Despite the breathing issues, this is an amazing product. Also another thing that surprised me is my mental focus is much better with this stuff. If you have no asthma or breathing issues, BUY THIS STUFF. And even if you struggle with allergies and asthma it might be worth it for you too. Overall great product, 4 stars and not 5 only from the breathing issues.
New fave!!
This is exactly what I was looking for. All the tingles and pump- without added caffeine. And delicious!!
Glad you like it Jessica!! Its an in house favorite. :)