Regular price
Sale price
$54.99 USD
Unit price
per
Sale
Sold out
Thermite 
is a non-stimulant thermogenic.
Enhance Metabolic Capacity*
Stimulate Thyroid Hormone Production*
Support Fat Loss*




Share
View full details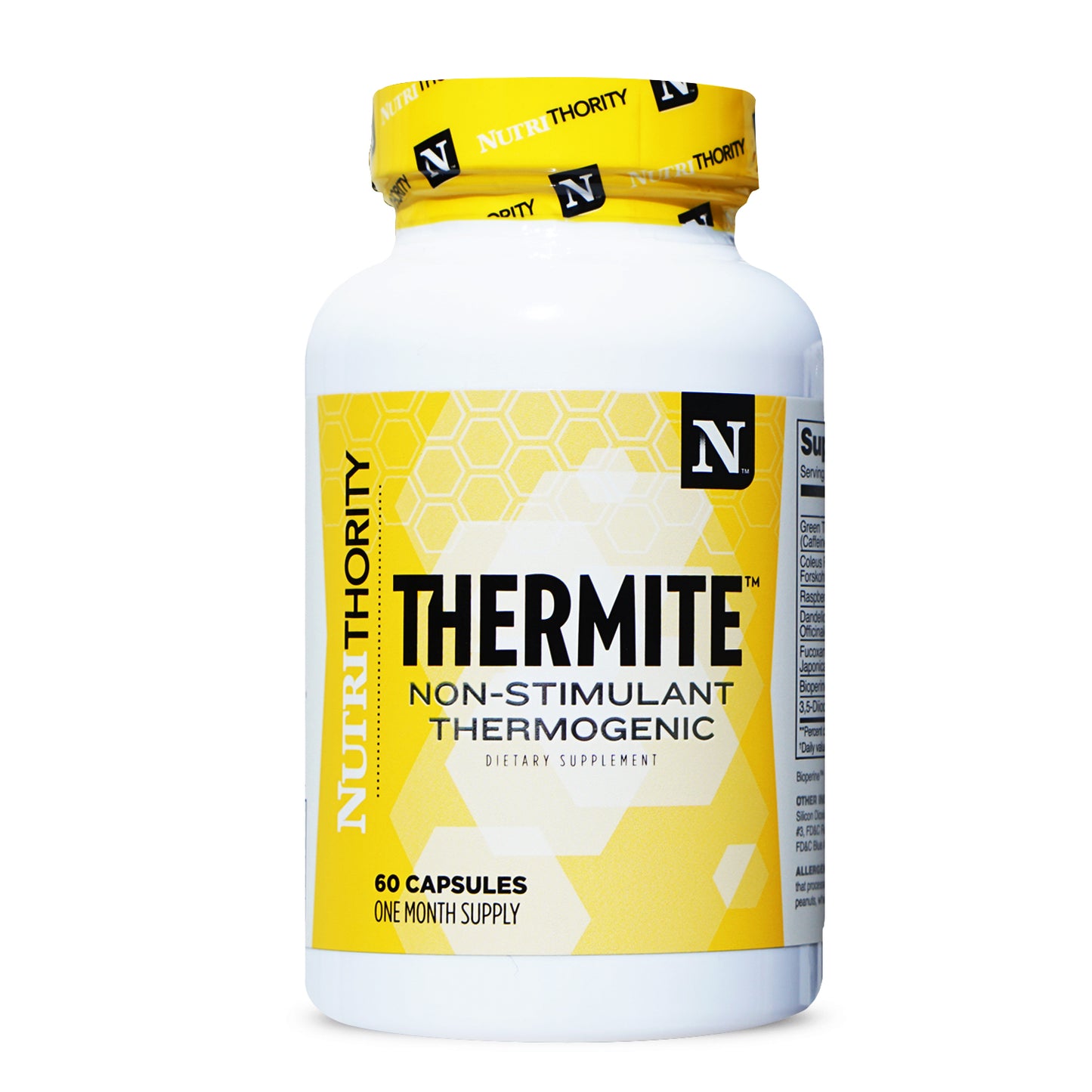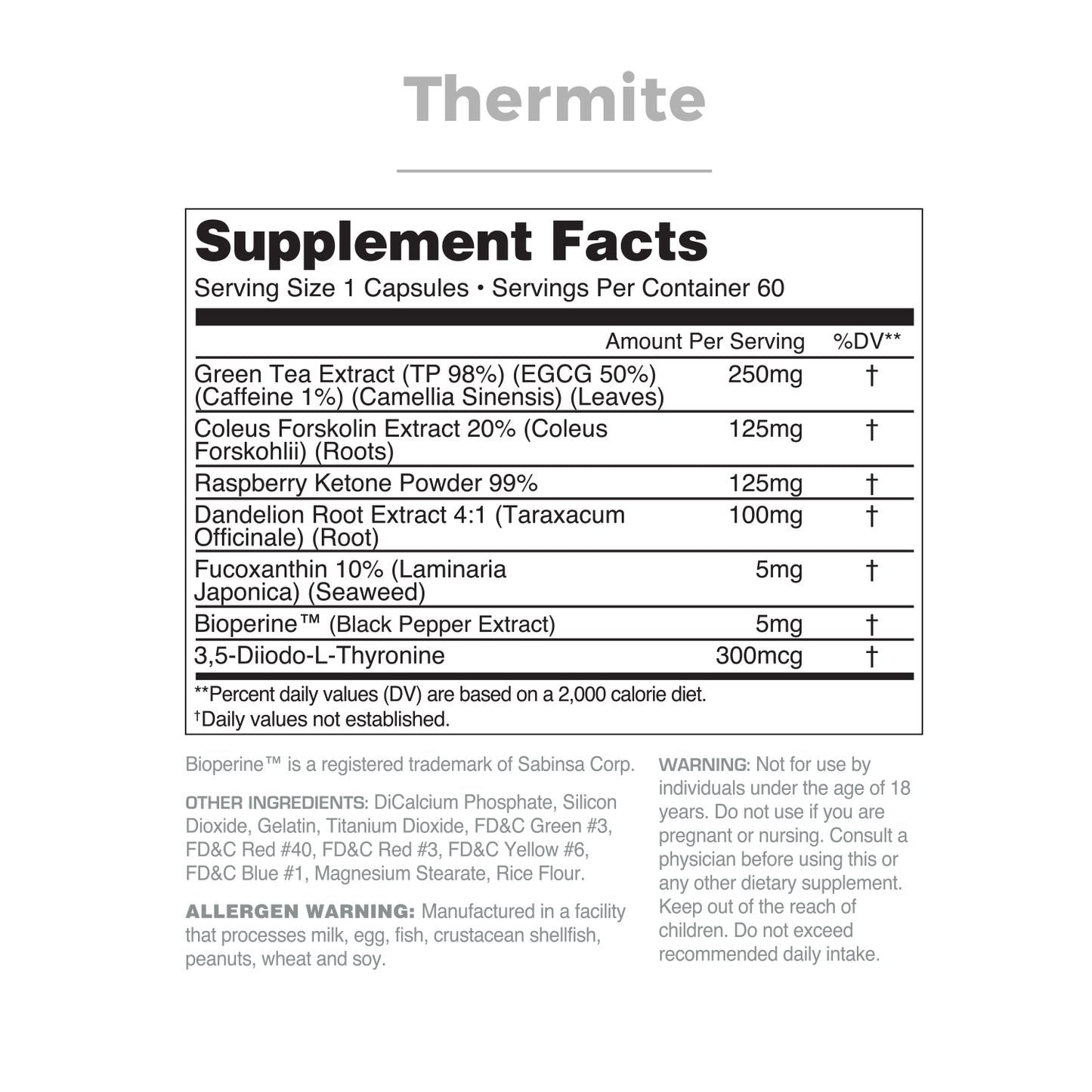 Thermite
Was wonderful customer service was 10 star as well as a on time delivery of product. Love the product .
Thanks for the great review Karen! We're glad to hear that you're happy with both the product and the customer service!!! :)
Great fat burner
Been using it for two months went from 18% to 8 % body fat and of course with dieting n workouts plans.....great product no stim for me was the best part nor any crazy hot flashes .....just sweat I mean you do get a lil warm but nothing crazy
Amazing results Joel!! Congratulations on your progress!! We hope you continue to enjoy your Nutrithority experience!! :)
Thermite
Great jump start to losing some body fat so far.
Thermite is a great jump start indeed!! Thanks for the review Ryan!
Great product, exactly what I was looking for.
We're happy you like it Patti!!
Excellent start for what I needed to reach my goal.
I am 47 and hit the gym 5-6 times a week. I was at a plateau in my workout routine and couldn't lose weight in my belly and lower back area. A trainer highly recommended I take Thermite. I just finished my first bottle and already purchased a 2nd one with the Yohimbine to really target my not so good area. After taking Thermite on the 3rd day I didn't even need coffee first thing in the morning. I have lots of energy through out the day. I had some headaches for the first week but it disappeared and I haven't gotten any lately. I have lost 6 lbs all in my midsection. Thermite gives me the boost I need. Also I quick drinking beer, started taking L-Carnintine twice a day, simple Greens, and have hit the gym consistently for 6 days a week and really focused on my diet. Be prepared to drink a lot of water. Put in the work and results will happen. I still have a ways to go but with Nutrithority I know I will get there.
This is Awesome Walter, Keep putting in the work and good things will keep happening. We're proud to be a tiny part of what makes you a success. You got this!!!
My trainer makes me take this
Thanks for the review LM!!! Your trainer knows their stuff!! :)
the best Thyroid Product on the market
This has 300mcgs of 3,5 Diiodo-L-Thyronine with extra stuff like Olive Leaf Extract, Fucoxanthin, Forskoli. You can stack it with no complications. Other Products with 3,5 are loaded with TOO MANY Ingredients..LOL Cmon man. Get Thermite while you can. Remember to exercise when taking it. It will work
Glad you like it Steel!! Thanks for the review.
Thermite
What a great product that actually works. No jittery feeling and it works great with other supplements. I use it right along with Flux AF, another fantastic product.
No Jitters, Works Well
I've determined I'm too sensitive to caffeine lately, so finding this "non-stim" (ingredients do mention 1% caffeine from Green Tea) was good for me. Taking it daily, seems to be helping. Keeps my energy up, and workouts aren't as difficult, from what I can tell. Probably will get again.
Thermite
Love this!! It is the only thermal I can take at night and sleep like a baby!!
Awesome! Thanks Benjamin!!