Regular price
Sale price
$29.99 USD
Unit price
per
Sale
Sold out
Sometimes, simplicity is key.
Amino Factor is a simple product. It only contains three ingredients:
L-Leucine
L-Isoleucine
L-Valine
Those three amino acids make up the Branched-Chain Amino Acids or BCAA's. 
Basically, these are the most important amino acids you could take in to help protect and rebuild muscle tissue around workouts.
Amino Factor is a 2:1:1 Instantized BCAA product. That specific ratio is one that has been clinically proven to increase muscle protein synthesis, speed up recovery, reduce DOMS (delayed onset muscle soreness), and reduce muscle catabolism (waste). 
You may be asking yourself "Why don't you have _____ in it?" 
That's a great question, and truthfully - it's because it didn't make sense for us.
We could have added glutamine, taurine, beta alanine, etc. but ultimately the goal of Amino Factor was to make a great BCAA product that is incredibly versatile regardless of your goals.
When we created Amino Factor, we wanted a true 2:1:1 BCAA product with a great flavor - and no gimmicks!
Share
View full details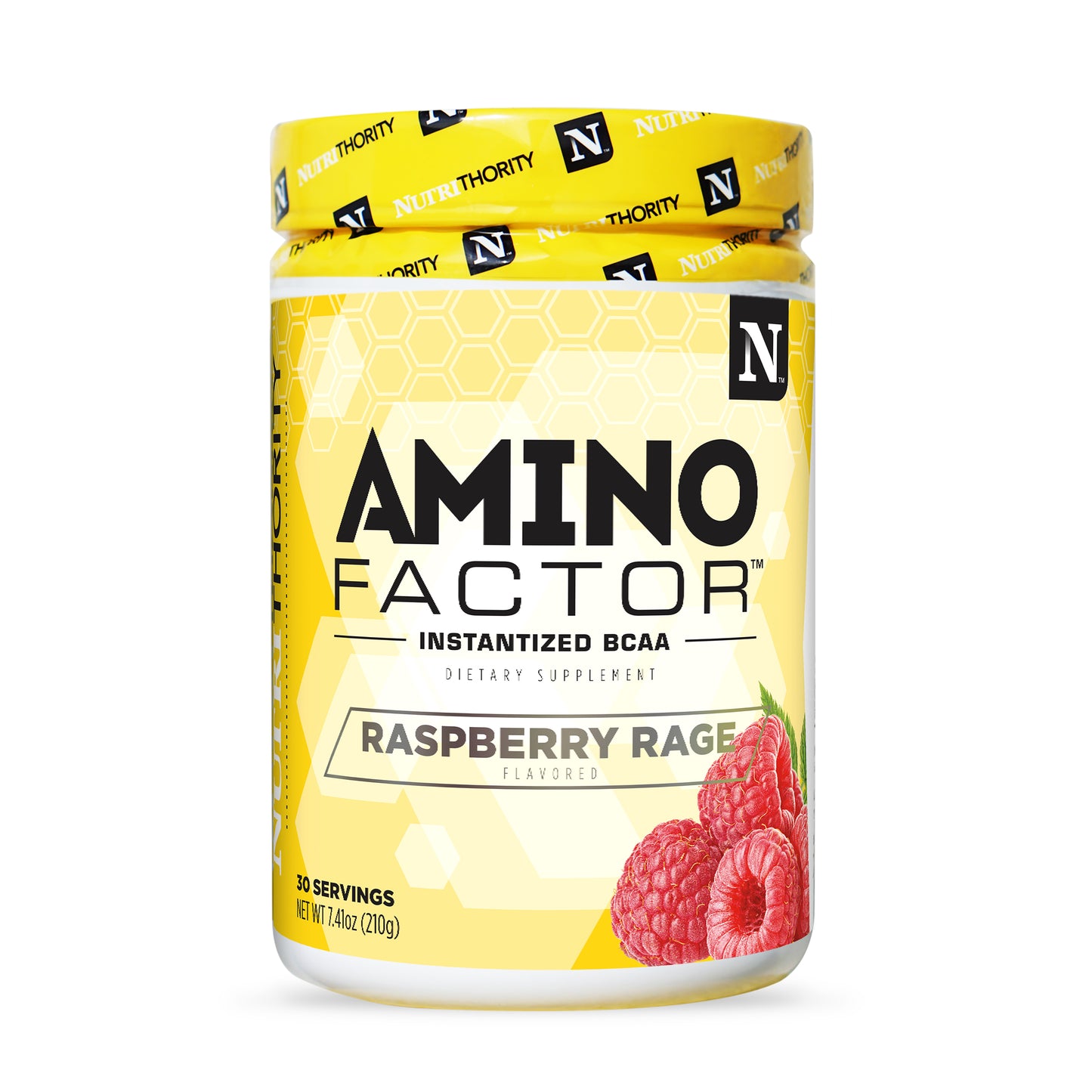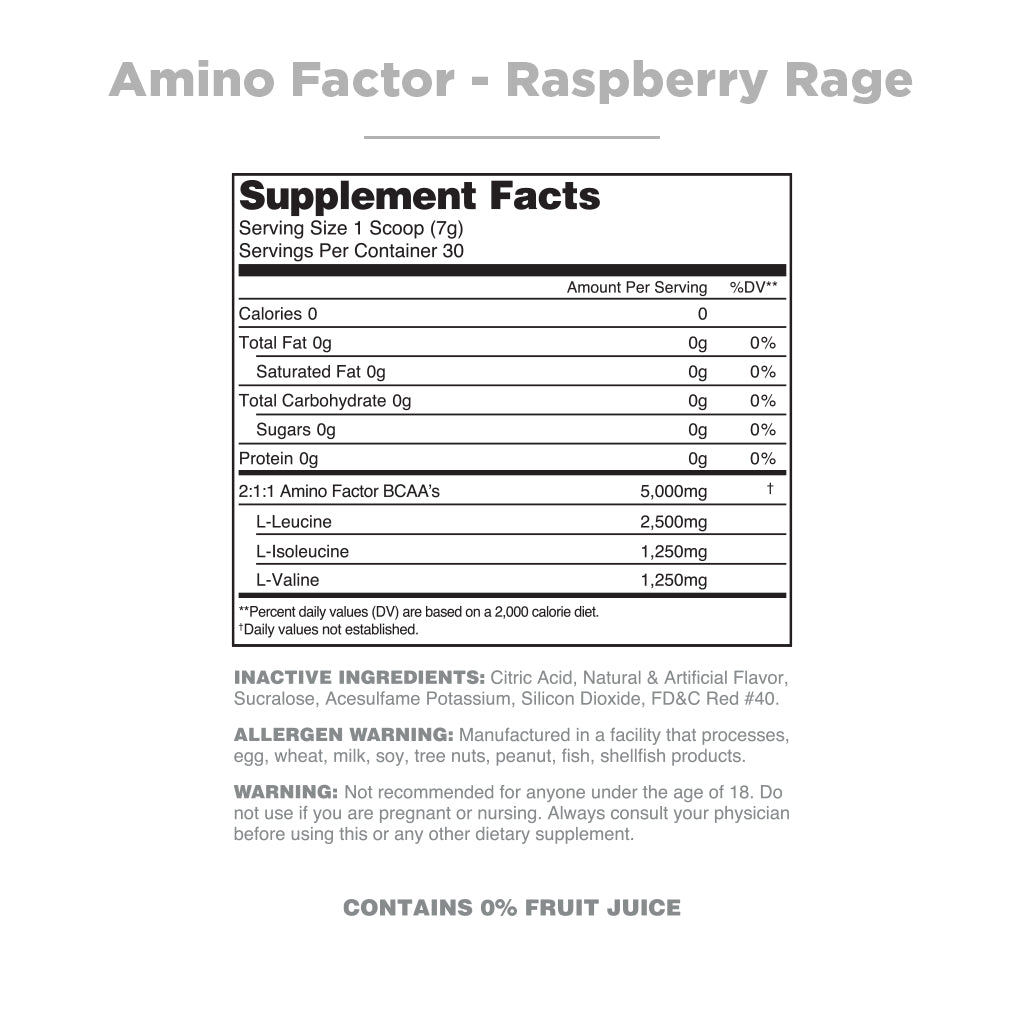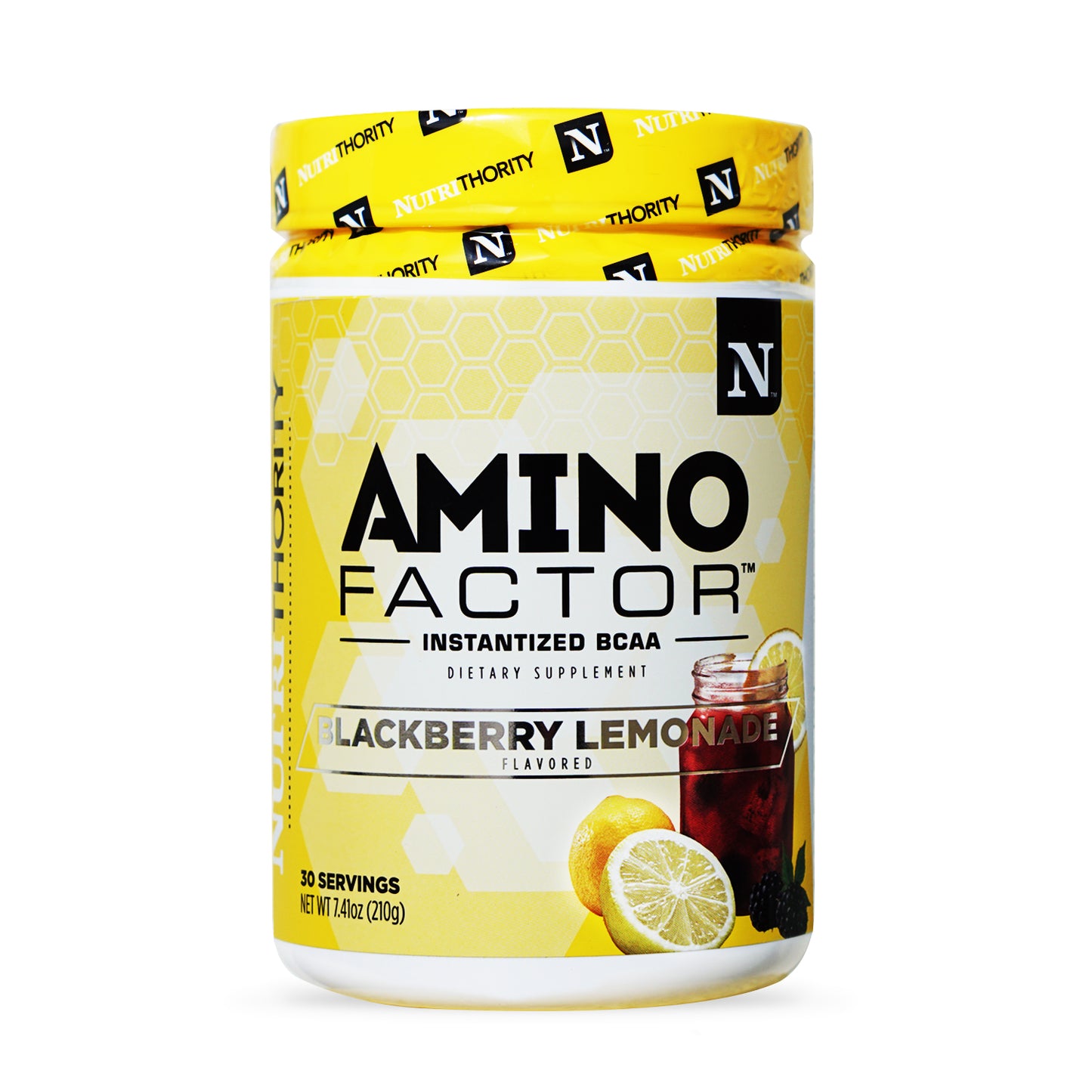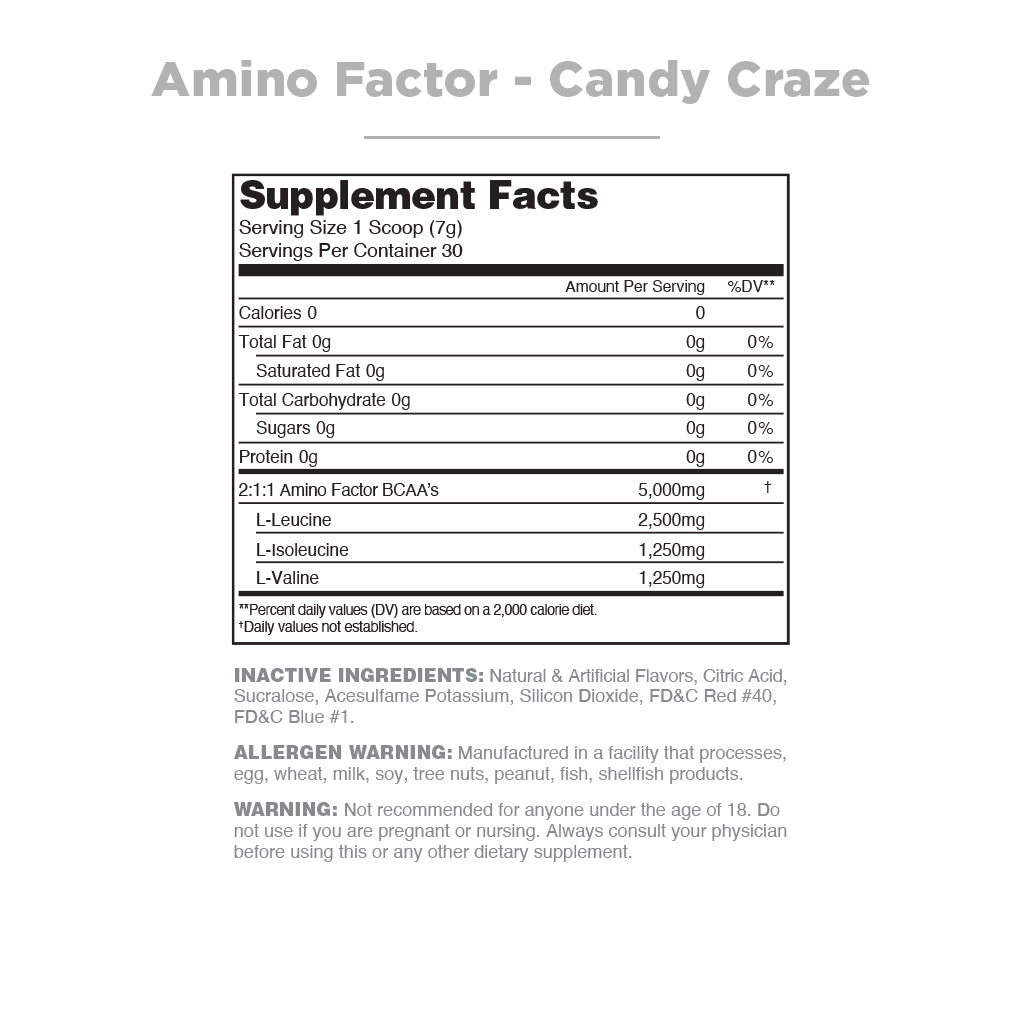 Worth every penny!!
Amino Factor mixes easily and tastes great! It has been a great supplement when used intra workout as well as on off days for recovery. It has become a regular must-have in my workout and supplement routine. Highly recommend!!
The One & Only!!
I've tried many over the years and this is the best!!
Thanks for the feedback Andrew! We're glad to hear that you're happy with our Amino Factor :)
Amino Factor is a must to have
I love the Amino Factor. I drink it constantly throughout the day whether I am working out or not. Not only does it have some amazing benefits to it the flavors are out of this world 🌎
Highly recommend. One of my favorite products.
Thank you for your review of the Amino Factor Matthew! Great flavors are key and we hope you continue to enjoy it!
Gushing gummy
I love the taste of this and actually bought the full size canister!
Gushing Gummy is a great flavor!! We're happy you enjoyed the sample!! Thanks for your review :)
Delicious Tasting!
I really love this product! I use it everyday of my training for running. I feel like it keeps my muscles from getting too sore, tight and achy. There are many yummy flavors and usually has super fast shipping. I'm sold on this product for life!
Thank you for the feedback! We're thrilled to hear that you've found our Amino Factor delicious and helpful in keeping your muscles healthy and flexible. We always strive to provide fast shipping and many yummy flavors, so thank you for your support!
Decent.
The flavor is great and it os easy to drink. However, I do not like that they use sucralose, blue #1, yellow #5, and red #40. I'll be looking for something else until they move away from those ingredients.
Thanks for your review Fernan! We appreciate your feedback !! We're moving away from artificial coloring soon :)
Ahmazing
Fast delivery, easy renewal of subscription monthly.
Thank you for the great review Starla! We aim to please!!! :)
Gushing gummy 🤤
Taste n smells just like gummy worms..Soreness and recovery have gotten better in the last month just finished up my last scoop ...definitely going to order more ....a scoop with some ice on a hot day is all you need 😋
Thank you for your kind review Joel! We're glad to hear that you've found our Amino Factor helpful in your fitness and recovery especially!! Gummy worms FTW!!! :)
Delicious!
Great flavor! No aftertaste like most aminos. I love it!
Thank you for your review Lindsey! Great taste is key!!! We're so glad you like it!
Best aminos 🙌🏼
Great flavors. No aftertaste. My favorite BCAAs. Drink them everyday!
Thanks for the great review Jessica! Great flavors FTW!!!