Winter Superfoods That Will Keep You Going All Season Long

Winter might play host to shorter days, snowy streets, and a general lack of foliage, but it also happens to be peak season for some of the planet's most powerful superfoods.  And not only do these foods taste great, they pack some serious firepower in the nutrition department.  So whether you're looking for ingredients to add to a holiday dish, or warm up with some hearty soup on a cold day, here are 5 foods that have everything you need to make the most of your nutrition this Winter.
Pomegranates
Pomegranates are one of winter's most magical fruits.  Not only do they taste fantastic, they're loaded with enough health benefits to put them at the top of any superfood list.  Pomegranate seeds are packed with fiber, at 7 grams per cup, and have more antioxidants than red wine and green tea.  They're also high in polyprophenols, which have been shown to have anti-inflammatory and anti-carcinogenic effects.  And pomegranate seeds aren't the only valuable part of this superfood—pomegranate juice also packs a punch in the health department.  Most notably, studies have shown that pomegranate juice has the potential to lower LDL cholesterol levels and decrease arterial plaque buildup.
Pomegranates don't require much preparation, which means they're an easy add to just about anything— salads, yogurt, and baked goods can all be complimented by a burst of their sweet and tart flavor.  And for a little holiday flair, try subbing pomegranate juice for orange juice during holiday brunch festivities!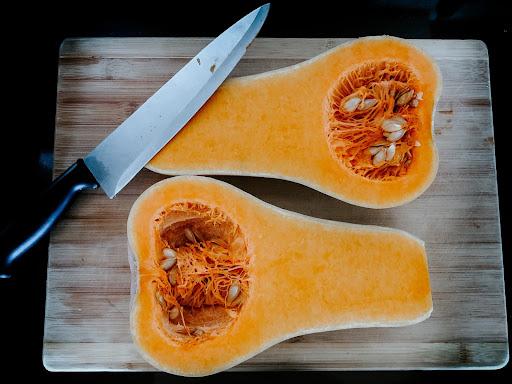 Winter Squash
Winter squashes — like butternut, acorn, delicata, spaghetti (my personal favorite), and more — are not only full of superfood nutritional value, they're also a macro-friendly way to add taste and volume to many dishes.  Squash is super high in vitamin A (as much as 750% daily value, in some cases), as well as a great source of magnesium, which can help your body absorb the calcium it needs during the winter months when you're likely to be getting less vitamin D.  Good sources of fiber, winter squashes are also high in cucurbitacin, a compound with significant anit-oxidant, anti-inflammatory properties that is currently being explored for its use in cancer treatment.
I love winter squashes because they're so diverse— roasted, they make a great side dish or they can be pureed to make a fantastic soup.  And when it comes to macros, spaghetti squash, is my go-to on lower carb days— I love to top it with lean protein and pasta sauce for a dish that fills me up without going overboard in the carbohydrate department.
Cranberries
Whether it's the cranberry sauce that comes with turkey at Thanksgiving, the strings of cranberries and popcorn that circle your Christmas tree, or the vodka and cranberry you sip at a holiday party, cranberry has cemented its role as the unofficial fruit of winter holidays.  But if you're saving those berries for a special occasion, you're missing a chance to add some serious superfood power to your diet on a regular basis. 
Cranberries contain a unique combination of bioactive compounds— polyphenols, isoprenoids, proanthocyanidins and anthocyanins.  This powerful cocktail gives these berries an impressive arsenal of health benefits, including significant anti-inflammatory, anti-oxidant, and anti-carcinogenic properties, as well as contributing to urinary health.  One cup of cranberries also contains about 4 grams of fiber — 16% of the recommended daily value — and is a significant source of manganese, which can help to regulate blood sugar.
Much like it's other berry cousins, cranberries can be added to your diet easily, in a variety of ways.  Raw or dried cranberries make a great addition to oatmeal, yogurt, and even baked goods like muffins, cookies, and pies.  And cranberry juice is great in everything from cocktails to smoothies— just make sure to keep an eye on the added sugar, and look for 100% cranberry juice, where possible.
Beets
If you haven't had much exposure to beets, you might be a little wary, but don't let that stop you from giving them a try— beets have an earthy, slightly sweet flavor, that's a perfect compliment to winter salads and protein dishes.  And the real star power of beets lies in their impressive nutritional profile.  Packed with more iron than spinach and as much potassium as a banana, beets also boast a healthy dose of antioxidants and 4 grams of fiber per cup.  
Raw beets can be chopped and added to salads, or roasted if you're looking to mellow out the taste and bring out their sweetness.  Beets can even be shredded and added to your favorite muffins or other baked goods for a little superfood kick to your morning routine.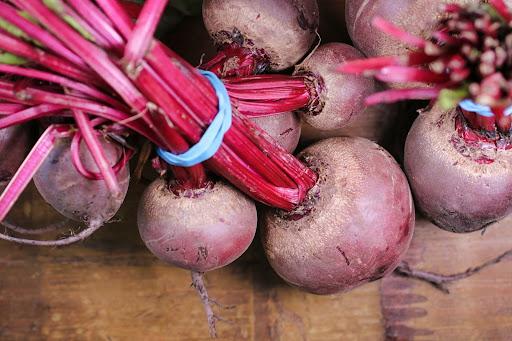 Dark Leafy Greens
Dark leafy greens are one of my favorite ways to add a quick and easy punch of nutrients to just about any dish.  Toss them in a smoothie, beef up a salad, chop them to add to a pasta dish, and more— the possibilities are pretty much endless.  These greens are full of folate and phytochemicals, both of which have been linked to improved mental function and performance.  In particular, folate has been shown to reduce symptoms of depression and shows promising results in slowing or reducing progressive signs of dementia.  Dark leafy greens are also a great source of vitamin A, vitamin C, vitamin K, iron, potassium, and fiber— making it easy to see why they fall in the "Superfood" category.
When you think about dark leafy greens, kale and spinach are probably the first things that come to mind, but they're not your only options.  Don't skip out on other choices, which include arugula, turnip greens, radish greens, beet greens, and my personal favorite, swiss chard.
Statements made on this website have not been evaluated by the U.S. Food and Drug Administration. Information provided by this website or this company is not a substitute for direct, individual medical treatment or advice. It is the responsibility of you and your healthcare providers to make all decisions regarding your health. Consult with your healthcare providers regarding the diagnosis and treatment of any disease or condition. Products sold on this website are not intended to diagnose, treat, cure, or prevent any disease.