These Holiday Dishes Will Help Keep Your Goals on Track

Does holiday food stress you out?  After all, you've spent all year working hard, following a nutrition plan, and then Thanksgiving rolls around and it seems like you're in for 6-straight weeks of food that doesn't exactly fit your plan.  It probably feels like you're left with a pretty unfair choice— either you miss out on all the holiday flavors you love or throw all your hard work down the drain.  
Well, I'm here to tell you it doesn't have to be that way. With a little thought and some simple adjustments, you can still indulge in all that decadent holiday goodness without ruining all the progress you've made.  So let's get festive — and stay focused — with 5 dishes guaranteed to please this holiday season.
Directions
In a large saute pan set over medium-high heat, drizzle the olive oil, then add the onion and celery. Stir frequently and reduce the heat to medium cooking for about 5 minutes to soften. 
Add the cauliflower and stir, then add the stock, sage, thyme, and pepper and stir. Raise the heat to bring the stock to a boil, then cover the pan and reduce heat to medium-low. Cook for 7 minutes, until the cauliflower is tender when pierced with a paring knife.
Uncover the pan and raise the heat to boil the liquids, until the pan is almost dry. Stir in the parsley and serve hot. (Pro tip: You can save yourself some holiday hassle by making this dish ahead of time— after cooking, transfer the stuffing to a storage tub, let cool completely, cover tightly, and refrigerate for up to 4 days.)
Nutrition
Serves: 3 | Serving Size: 1 cup
(Per Serving)
Total Calories: 116
Protein: 8g
Carbohydrates: 12g
Fat: 5g
Dietary Fiber: 4g 
Sugar: 4g
(Recipe courtesy of MyFitnessPal)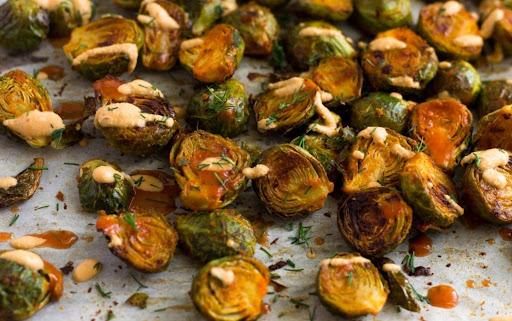 Cheesy Buffalo Brussels Sprouts
Ingredients
1 1/2 pounds Brussels sprouts (675g), trimmed and cut in half
1 1/2 tablespoons coconut oil, melted
1 1/2 tablespoons hot sauce
1 tablespoon nutritional yeast
1/2 teaspoon garlic powder
1/4 teaspoon paprika
1/4 teaspoon cayenne pepper
Salt and pepper, to taste
Directions
Preheat oven to 375ºF and line two baking sheets with parchment paper.
In a small bowl, combine the coconut oil, hot sauce, nutritional yeast, garlic powder, paprika, cayenne, salt and pepper. Add Brussels sprouts to a medium bowl and cover with hot sauce mixture. Toss to combine.
Spread Brussels sprouts evenly on the baking sheets and roast for 30–35 minutes, flipping once halfway through.
Nutrition
Serves: 4 | Serving Size: About 1/2 cup (50g)
(Per Serving)
Total Calories: 125
Protein: 7g
Carbohydrates: 16g
Fat: 6g
Dietary Fiber: 7g
Sugar: 4g
(Recipe courtesy of Eat the Gains)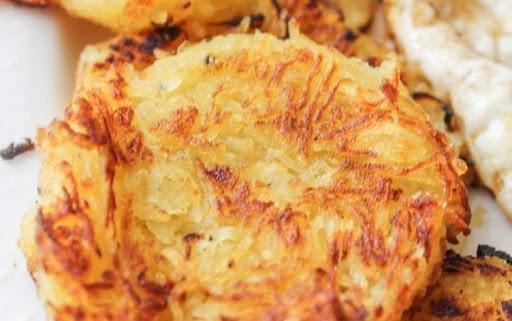 Spaghetti Squash Hash Browns

Ingredients
2 cups (300g) cooked spaghetti squash, shredded
1 tablespoon olive oil
Salt, to taste 
Directions
Heat the oil in a large non-stick skillet over medium heat.
Press the water out of the squash with paper towels and form small patties (2 tablespoons or so) by pressing the squash firmly between your palms.
Place the patties gently on the warmed skillet and let cook for 5-7 minutes per side. Only flip these once if possible to get the nice browned effect.
Transfer to paper towels to drain, then serve warm. Sprinkle with some salt if desired.
Nutrition
Serves: 2 |  Serving Size: 1 cup
(Per Serving) 
Total Calories: 104
Protein: 1g
Carbohydrates: 10g 
Fat: 7g
Dietary Fiber: 2g
Sugar: 4g
(Recipe courtesy of The Honour System)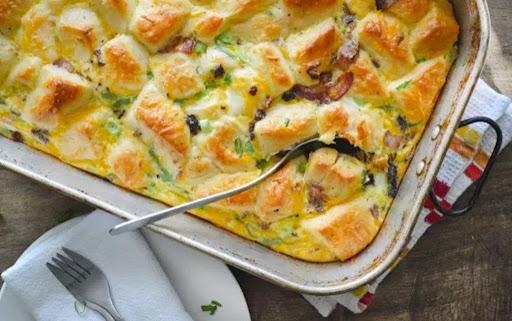 Stress-Free Holiday Morning Casserole

Ingredients
7 large eggs
1/4 cup skim milk
1 (16-ounce) package refrigerated flaky biscuit dough, cut into 1 1/2-inch pieces
1 1/2 cups sharp cheddar cheese, shredded
4 medium green onions, chopped
6 slices bacon, cooked, drained on paper towels and cut into 1-inch pieces
Directions
Preheat oven to 350°F and lightly grease a 9-by-13-inch casserole dish.
In a large bowl, beat together the eggs and milk. Add the biscuit pieces, cheese, onions, and bacon, and gently turn to evenly coat in the egg mixture.
Pour the mixture into the prepared baking dish and bake for 25–30 minutes. Eggs should be firmly set and the biscuits puffy and golden when the bake is done.
Nutrition
Serves: 12 |  Serving Size: 2-inch slice
(Per Serving)
Total Calories: 220
Protein: 10g
Carbohydrates: 18g
Fat: 13g
Dietary Fiber: 1g
Sugar: 3g
(Recipe courtesy of Food Fanatic)
For the filling:
1 pound, 10 ounces (737g) sweet potatoes (about 3 medium)
1/2 cup (118ml) canned coconut milk, well stirred
1/2 cup (118ml) maple syrup
3 tablespoons flour
1 tablespoon pumpkin pie spice
2 teaspoons vanilla extract
1/2 teaspoon salt
Whipped coconut cream, to serve (optional)
Directions
Preheat the oven to 425°F. 
Pierce the sweet potatoes all over with a fork. Roast on a baking sheet in the center of the oven until they are tender in the middle when pierced with a paring knife, about 45 minutes. (Pro tip: you can also microwave the sweet potatoes until tender if you're looking to speed things up). When cool enough to handle, peel and mash the sweet potatoes. You will need 3 cups mashed— reserve remaining for another use. Set aside.
Reduce the oven to 350°F. Spray an 8-by-8-inch pan with cooking spray. Combine the crust ingredients in a food processor or blender until finely ground and beginning to clump (about 1 minute). Press into the prepared pan and tamp down firmly with the bottom of a measuring cup. 
Bake until golden brown, 10 minutes.
Rinse and dry the food processor before putting the sweet potatoes and remaining filling ingredients in the food processor and process until smooth (about 2 minutes).
Pour the mixture into the crust. Bake until the top is set, and cracks appear around the edges, 35–40 minutes. Cool completely. 
Cut into 16 squares. Top each square with non-dairy whipped topping, if desired. 
Cover and store the leftovers in the pan in the refrigerator for up to 5 days.
Nutrition
Serves: 16 | Serving Size: 1/16 recipe/1 square
(Per Serving)
Total Calories: 164
Protein: 2g
Carbohydrates: 27g 
Fat: 46g
Dietary Fiber: 2g 
Sugar: 12g
(Recipe courtesy of MyFitnessPal)
Statements made on this website have not been evaluated by the U.S. Food and Drug Administration. Information provided by this website or this company is not a substitute for direct, individual medical treatment or advice. It is the responsibility of you and your healthcare providers to make all decisions regarding your health. Consult with your healthcare providers regarding the diagnosis and treatment of any disease or condition. Products sold on this website are not intended to diagnose, treat, cure, or prevent any disease.