These 5 Pantry Staples are Your Secret Weapon for Nutrition Success
Making healthy food choices is one of those things that's simple in theory, but isn't always quite so easy in practice. Trying to juggle all the things on your plate can make it really tough to find the time to grocery shop and prepare food, not to mention that the last thing you probably want to do after a long day is prepare a complicated meal.  So, what happens when you're exhausted and stretched too thin? Chances are, you find yourself really struggling to keep your nutrition on track.
But here's some good news –– making healthy choices doesn't always have to be complicated or time consuming. By making sure you have certain items in your pantry, you'll always have quick and easy options for meals and snacks at your disposal.  Check out 5 pantry staples that I always have on hand at my house (and you should, too).
High-Quality Protein Powder
This probably won't surprise you, coming from me, but when it comes to pantry staples, I believe there's nothing more important than stocking a high-quality protein powder like Nutrithority's Isothority 100% Whey Protein Isolate.  Not only is this a great way to meet your daily protein goal without a ton of carbs or filler, but it's also easily digestible with high bioavailability, meaning that you can get your muscles what they need while minimizing any stomach discomfort.  Plus, a great-tasting protein powder is perfect for treating yourself to something sweet without blowing through your daily macros.
When it comes to adding protein powder to your diet, the possibilities are almost endless.  Throw it in a shaker with water for some post-workout fuel, mix it with your morning oatmeal or smoothie for a balanced breakfast, or blend together a souped-up shake that can double as your nightly dessert (believe me, you won't even miss the Oreos you've been sneaking before bedtime).
Canned Tuna
Tuna might make you think of Grandma's tuna noodle casserole –– which might be a good or a bad thing –– but don't let your preconceived notions get in the way of a powerful tool in your pantry arsenal.  
Tuna is high in protein and omega-3s, low in fat, and a great source of vitamin D, making it a great food for boosting your immune function and helping to reduce inflammation, while providing some serious benefits to your brain and heart.  Tuna is also incredible versatile –– it can be whipped with some mustard to make a tuna salad sandwich, tossed into your favorite pasta dishes for a protein bump, or added to a salad for an easy lunch.  And the fact that it can be eaten hot or cold, without being cooked, makes it easy to bring along to the office or stowed in your bag when you travel.  Just be sure to choose cans or packets of tuna that are stored in water, not oil, when you're rolling through the grocery store.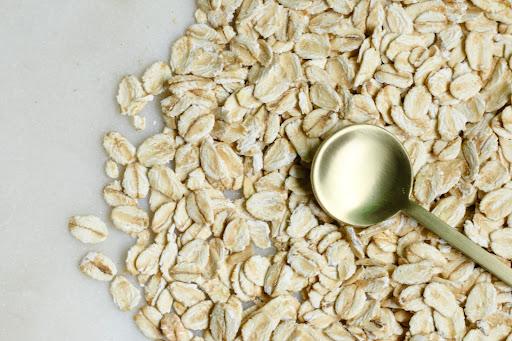 Why is this is a big deal?  By not breaking down into glucose in your small intestine, resistant starch doesn't raise blood glucose levels and it also promotes the formation of healthy bacteria in your large intestine, improving your gut health.  Beyond that, resistant starch helps you feel full for longer periods of time, can help to lower cholesterol, and improves issues with gas and constipation.



Plus, adding raw oats to your diet is pretty simple.  My favorite way to do this is by sprinkling them on top of a salad or by grinding them to a powder with a coffee grinder so I can add them to smoothies.  I typically make a big batch of ground oats and store them in an airtight container right along with the whole oats –– that way they're on hand and easy to add whenever I need them.  
Walnuts
For some reason, when it comes to nutritional benefits, almonds always seem to be at the front of everybody's mind (and with good reason –– almonds are a great addition to your diet).  But if you're serious about meeting your goals, don't skip out on the almond's nutty cousin, the walnut.
Walnuts are a powerhouse in their own right –– not only are they high in protein, fiber, and antioxidants, but they also contain more of the

omega-3 fatty acid known as ALA

than any other type of nut.  Like many of the other things on this list, walnuts can be easily added to just about anything you can think of, from oatmeal and salads, to smoothies and ice cream (hey, if you're having dessert, you might as well bump up the nutritional value, right?).  And another great way to add walnuts to a dish is to grind them up and substitute them for breadcrumbs the next time you're baking a few chicken breasts.  Just keep in mind that your container of walnuts should be moved from the pantry to the fridge or freezer once they've been opened.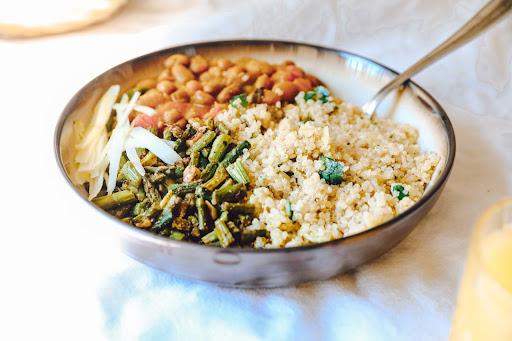 Quinoa
While rice might be your go-to carb when you're raiding the pantry, don't sleep on adding quinoa to the mix.  Quinoa is high in protein, fiber, and nutrients, and has the added benefit of being a gluten-free source of carbohydrates (if that sort of thing matters to you).  And just like rice, it's great for building protein bowls, and can even be added to salads or other dishes. 

If you've never cooked quinoa before, don't let that intimidate you –– it's really easy to prepare.  While you can cook quinoa on the stove by boiling one part quinoa with two parts water, I think the easiest way to do it is with an Instant Pot or another type of pressure cooker. 
For every cup of quinoa, add 1.5 cups of water and cook on high pressure for 3 minutes (with a 10-minute natural pressure release).  It comes out perfectly cooked and fluffy each and every time.  And the best part for me is that you can make as much as you like, all you need to do is keep the ratio of quinoa to water and the cooking time the same, which makes it perfect for meal prep.
Statements made on this website have not been evaluated by the U.S. Food and Drug Administration. Information provided by this website or this company is not a substitute for direct, individual medical treatment or advice. It is the responsibility of you and your healthcare providers to make all decisions regarding your health. Consult with your healthcare providers regarding the diagnosis and treatment of any disease or condition. Products sold on this website are not intended to diagnose, treat, cure, or prevent any disease.