Yes, The World Is On Fire — But Don't Let Stress Rule Your Life.
2020 has been one hell of a roller coaster.  

Wildfires (remember when that happened?), a global pandemic, unprecedented quarantine procedures, nationwide rioting — and we're not even to the halfway point yet. 
For months, you've probably been confined to your house, and living in a constant state of anxiety — over your health, your employment status, working from home and trying to homeschool your kids, or tons of other, overwhelming things.
And in a world where you can expect to experience stress on a daily basis, the last few months might have pushed you over the edge.  So it's no wonder you're not sleeping well, your mood is all over the place, and your jeans don't fit.  Stress can cause weight gain, as well as problems with depression, anxiety, and disrupted sleep.
But don't count yourself out just yet.  
"Stressed" doesn't have to be your perpetual state. You can break yourself out of the stress cycle and start feeling more like yourself again, even in the middle of chaos.
What is Stress, Anyway?
Stress is one of those words we constantly throw around without thinking much about it.  
But what does it really mean to be "stressed"?
Stress is your body's response to any situation that requires a reaction.  You might think of stress as a negative, but it also occurs in positive situations — the birth of a child, a promotion at work, a new house.  The stress reaction is what motivates you, as well as alerts you to things that might cause you danger or pain.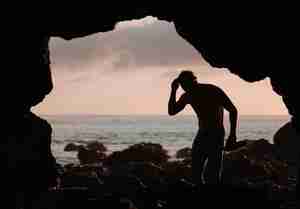 Stress is a primal reaction. It's probably the closest you're going to get to unleashing your inner caveman (if that's your thing).  Back in the days when your next meal, a warm cave, and your very survival relied on your instincts, your body's stress response kept you alert and motivated to thrive.
As part of its stress response, your body produces a hormone called cortisol.  During stressful situations, cortisol is what primes your body for action — it increases your heart rate, respiration, and muscle tension to prepare you to react.  It also shuts down body systems that you don't need immediately (like your digestive and reproductive systems) to conserve energy and protect your vital organs.
Stress increases productivity, alerts you to danger, and prepares you to take necessary action. 
It's what flips your switch from Bruce Banner to the Incredible Hulk.  
So Why Is Stress a Bad Thing?
All those things sound great, right?
If stress motivates you, signals danger, and primes your body for action, isn't that a good thing?
Well yes and no.
When stress is part of your body's flight-or-fight response, it's great — your stress levels go up when they need to and quickly return to normal once the excitement is over.
But remember when we talked about that primal caveman who needed the stress response to survive?  He's long-gone.  We've left our hunting, gathering, sabertooth-tiger-fighting past behind us. 
Unfortunately, your body didn't get the memo.
Your body doesn't separate the stress of basic survival from the stress of juggling family, work, and everyday life.  It doesn't know that you're losing sleep because you're worried about a big presentation and not watching for predators. And it doesn't recognize that the anxiety of watching the world fall apart on the news isn't an imminent threat.  
All it does is react.  And that's where the trouble starts.
Your body is meant to recover and reset between periods of stress.  After the stressful situation has passed, your cortisol levels drop and your body relaxes.  This helps to create a hormone balance and keep your body healthy.
But the constant demands that go along with a fast-paced, modern life — and the chaos of the world right now — may mean your body is operating in stress-mode more than it should. And this constantly-heightened state can lead to too much cortisol production, with a side of some seriously-unpleasant side effects.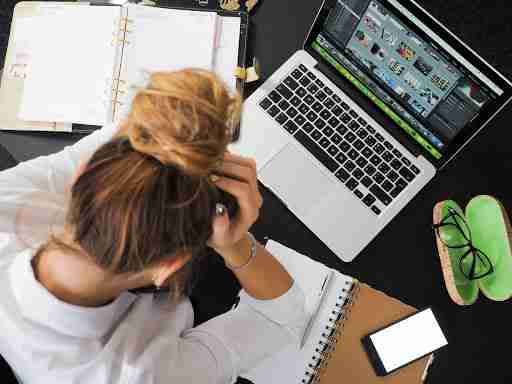 Negative Effects of Too Much Cortisol
Among other things, cortisol helps your body to protect itself from outside threat.  One of the main ways it does this is by storing fat, particularly around your midsection, where your vital organs are located.
This is awesome if you're facing a crocodile attack or potentially starving during a long winter — not so much when you've been stuck at home, eating your feelings for a few months.
And unfortunately, the hits keep on coming. Research has shown that excess abdominal fat can also lead to increased cortisol production, creating a vicious cycle of weight gain and other increased risk factors, such as high blood pressure, diabetes, and heart attack.
Just great, isn't it?
Plus, the effects of cortisol overproduction can be especially problematic for women.
When stress levels are consistently high, the female body depletes its stores of the progesterone to help produce cortisol.  This progesterone deficiency can lead to the overproduction of Estrogen — a condition known as Estrogen Dominance — which comes with its own set of undesirable side effects:  weight gain, anxiety, depression, and low sex drive (just to name a few).
What can you do about it?
There's an obvious answer to your high-stress problems — cut it out.
Quit your job, move to an island, and spend the rest of your days sipping pina coladas on the beach (just make sure it's a hurricane- free island, because hurricanes are super stressful).
But if for some reason you can't pull that off, don't worry.  You're not doomed to live life as an overweight, miserable, shell of a person.  
First, you really should take some time to realistically examine the things that pull you in every direction.  Are there any stressors that you can reduce or eliminate?  Can you carve out time to get more exercise — it can be as simple as a walk — or actively relax your mind? Even short meditation can do wonders for your stress level.
(And if the 24 hour news cycle is adding to your stress, it's time to consider cutting back on that, too.)
Next, consider using a high-quality supplement to help balance your hormone levels and improve how you feel.  Equilibrium by Nutrithority was created specifically to help you combat the seemingly-endless cycle of stress in your life.  Equilibrium's proven formula is formulated to help your body counteract the effects of too much cortisol and lower your estrogen levels.
And the result?
More fat loss, better sleep, less anxiety, and an overall feeling of improved well-being.    
Take that, 2020.
Statements made on this website have not been evaluated by the U.S. Food and Drug Administration. Information provided by this website or this company is not a substitute for direct, individual medical treatment or advice. It is the responsibility of you and your healthcare providers to make all decisions regarding your health. Consult with your healthcare providers regarding the diagnosis and treatment of any disease or condition. Products sold on this website are not intended to diagnose, treat, cure, or prevent any disease.