Stop Letting These 6 Sneaky Sleep Behaviors Ruin Your Night
Does it feel like you're lying awake for hours in bed each night before you finally doze off?  Or is it a huge chore to get out of bed in the morning?  Yeah, I've been there, too.

Quality sleep is vital to your wellbeing –– not only does sleep deprivation make you crabby, but it can also have some seriously negative effects on your health.  In fact, doctors and sleep specialists recommend that you consistently get 7-8 hours of sleep, per night, in order to maintain optimum health.

Are you guilty of any of these sleep-busting activities?  Let's explore how you can stop engaging in negative sleep behaviors and you start forming better habits when it comes to getting your zzz's.
You don't know when to put away the devices.
Are you a doomscroller?  All that negative news, social media feeds, and all those unanswered emails in your inbox can make it really hard to unwind and relax, especially in the evening.  Instead of drifting off for a good night's rest, your brain is racing to rehash what you saw and stressing over things that still need to be done.  Or even worse, you're so locked into that screen that you have a tough time shutting it off till the wee hours of the morning.



And it isn't just what's on the screen that's causing you problems, either –– the

blue light

from your phone, computer, or tv screen can seriously impact your ability to settle down and fall asleep (

research

has even shown a connection between blue light, sleep deprivation, and disease, but that's a conversation for another time).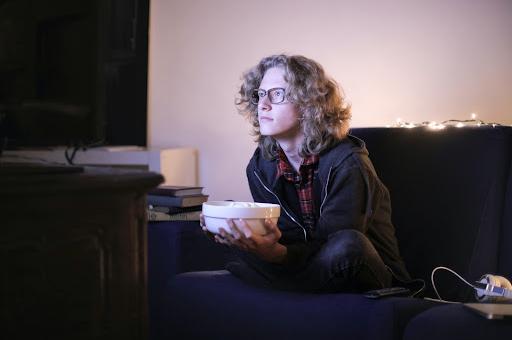 Why?  Because blue light has been shown to increase alertness and attention –– two qualities that are great in the middle of your day, but not very helpful when you're trying to drift off for the night. To help your body prepare for bed, shut off the screens 30-60 minutes before bed.  It might take some getting used to (try reading a book, if you need a distraction), but it'll pay off in a big way when you're sleeping like a baby.
Your sleep schedule is all over the place.
Our bodies are governed by a pretty intense sleep-wake cycle, known as circadian rhythm.  In normal circumstances (unless your body has learned to be awake at other times, like it does for many shift workers), sunlight plays a big role in this process –– we're awake when the sun is out and ready to sleep when it gets dark.  In fact, one of the reasons you might find yourself getting more tired during the winter can be attributed to less sunlight.
When your circadian rhythm is functioning well, you're likely to find that not only are you getting more restful sleep, but you're also able to fall asleep much quicker and have an easier time waking in the morning.  In fact, you might find that you don't even need to set an alarm –– your body will naturally learn to wake at the same time each day.  But when that rhythm is out of whack (because the times that you're waking up and going to sleep are all over the place) it can cause major problems when it comes to bedtime.  Because your body doesn't instinctually know that it's time to rest, you're much more likely to lay awake in bed, getting frustrated and exhausted in the process.
So, do yourself a favor and start going to sleep and waking up on a consistent schedule.  As much as you want to finish binge-watching that show, it will still be there waiting for your better-rested self the following night.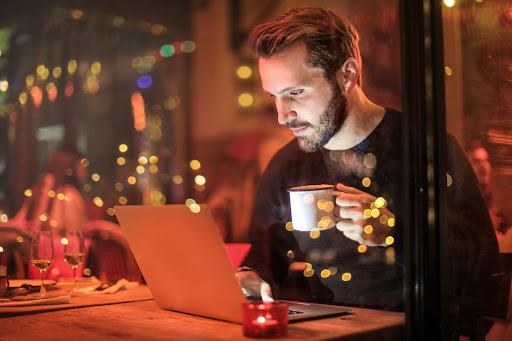 You're consuming caffeine, alcohol, or large meals at night.
When you eat a large meal or drink alcohol in the evening, your body still has to go through its normal digestive and metabolic processes of breaking those things down, even when you're ready to hit the hay.  And since your engine is still running, that can spell trouble when it comes to settling down in bed. Caffeine, on the other hand, is a stimulant.  If it's keeping you awake, it's actually doing its job.

How much of these substances you can tolerate is highly personal –– they might affect you very differently than they do someone else.
For that reason, it's probably going to take some experimenting to find out how late you can eat or drink without it disrupting your ability to sleep, especially when it comes to caffeine (personally, I know that I need to cut out the coffee by noon if I don't want to risk it keeping me up at night). As a general rule, though, I suggest giving yourself at least three hours between dinner or drinks and bedtime for the best results.

Now, you don't need to starve yourself –– by all means, have something light if your stomach is grumbling, about 30-45 minutes before you turn in.  Just try to stay away from sugary snacks that might give you an unwanted burst of energy.
You're keeping your bedroom too warm.
As you begin to relax, your body temperature also begins to drop, which is another signal to your brain that it's time to sleep.  For this reason, cooler bedtime temps can also help you to fall asleep faster and get more rest.  And it's not just an overactive thermostat that might be to blame –– exercise also elevates your body temperature, which can make it harder to fall asleep if you're hitting the gym late at night.  To create the best sleeping scenario, ease off the intense exercise several hours before bedtime and aim to keep your room between 60-70 degrees overnight.
You don't know when to chill out.
You can actually help your body make the shift from "It's time to go" to "It's time to chill" by engaging in a relaxing, low-tech activity.  Much like improving your circadian rhythm, after a while, these behaviors can even help to signal to your body that it's time to rest.  Read a book (just like a grownup bedtime story), make yourself a cup of camomile tea, meditate, take a warm bath –– your options are pretty much endless.  Whatever you choose, just make sure that it helps you wind down rather than getting your fired up.

You're using your bed for other things.
I'm not talking about

those

"other things" –– that's a perfectly appropriate use of your bedroom.  I'm talking about activities like working, watching tv, eating a snack, or even working out.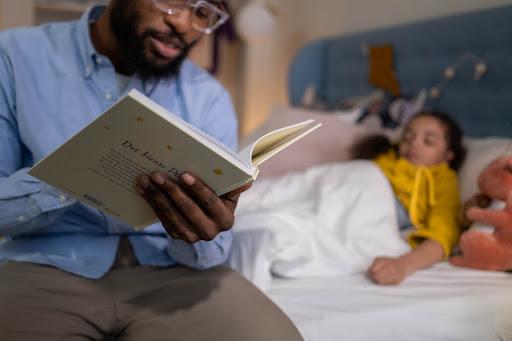 In case you haven't noticed, the human brain is really susceptible to suggestion and association.  When your brain understands that your bed is reserved for sleep, you're more likely to have a natural urge to relax and rest each time you walk through the door.  But when you confuse that message by using your bed for other activities, you're confusing those circuits and taking away that natural connection to rest.  If you really can't resist scrolling through your phone or watching tv right before bed, it's best to head to another room and return to bed when you're ready to shut things down for the night.
Statements made on this website have not been evaluated by the U.S. Food and Drug Administration. Information provided by this website or this company is not a substitute for direct, individual medical treatment or advice. It is the responsibility of you and your healthcare providers to make all decisions regarding your health. Consult with your healthcare providers regarding the diagnosis and treatment of any disease or condition. Products sold on this website are not intended to diagnose, treat, cure, or prevent any disease.