Stay Merry and Bright This Year with these Holiday Macro Hacks

Worried that you won't be able to enjoy those holiday parties this year and still keep your numbers on track?  It might seem like a tall order, but it's totally possible to enjoy all the food and festivities of the holiday season and make the numbers work at the same time.  With a little planning, some creative swaps, and a mindful approach, you can feel good about what goes in your mouth and still indulge in that holiday feast.  Here are 9 hacks to help you hit your macros and make the most of this holiday season.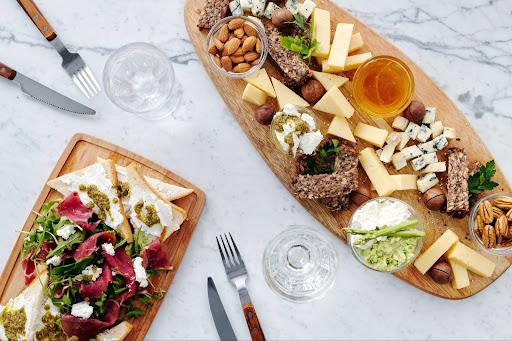 Up your app game.

Holiday appetizers might be a crowd pleaser, but that table of dips, breads, and cheeses likely won't be doing you any favors in the macros department.  Not only are they likely full of carbs and fat — which might be tough to fit into your daily numbers, depending on your goal — but they're not even the main attraction.  If you're not careful, you'll be blowing your numbers way out of the water before the meal actually starts.
Instead of heading straight for the dip, opt to snack on the raw veggies, nuts, or olives that usually accompany the main appetizer spread.  You'll keep hunger in check before the main meal comes out, while still leaving plenty of room in your numbers for the real deal.
Lean-out your veggies.
Casseroles might be the first thing that comes to mind when you think of veggies on the holiday table, but these don't tend to be macro-friendly affairs— creamy bases, cheesy toppings, and crispy fried onions are usually the stars of the show.  And as tasty as these  might be, they're definitely not what I would call macro-friendly.  So why not skip the casserole in favor of a better choice?
Oven-roasted veggies — like broccoli, asparagus, and winter squashes — are the perfect compliment to a holiday meal, especially when they're dressed up with winter herbs and spices like rosemary, sage, cardamom, and allspice.  Or, if you're looking for something that still feels festive and decadent, give these bacon-wrapped green-bean bundles a try.  I promise, you won't miss those casseroles for a second!
Mix up your mashes.
I love mashed potatoes, but on a holiday table that's already loaded with carbs, your numbers can run off the charts pretty quickly.  Thankfully, mashed dishes are the perfect place to make some substitutions that can cut back on carbohydrates without sacrificing any taste.
Instead of traditional potatoes, why not give sweet potatoes, cauliflower, parsnips, or turnips a try (or even go nuts and combine a few of your favorites)?  My favorite way to do this is to roast any of these root vegetables in big batches, before peeling and mashing them with some herbs, olive oil, and a little milk.  Not only do they taste great and kill it in the macros department, but this is also an easy way to prep for a large holiday crowd with minimal mess.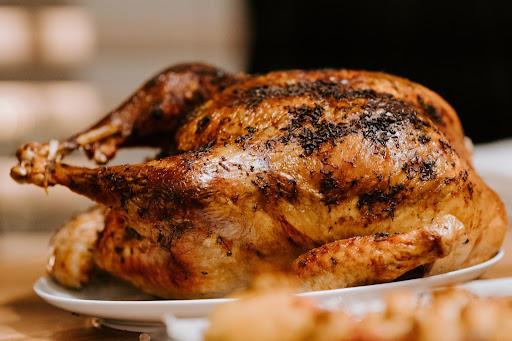 Don't overlook the dark meat.

Turkey usually takes center stage during the holidays and that's great news for macro counters — turkey is a great source of lean protein to help you fill your plate.  But if you're only opting for the white meat when it comes to turkey because you think it's a much better choice, you're definitely overlooking a tasty option sitting right in front of you. 
A 3-ounce serving of dark turkey meat only has about 2 more grams of fat than white meat, which adds up to about 20 calories (not much in the grand scheme of things).  But here's the kicker — dark meat typically has more moisture and a deeper flavor than white meat, meaning you might not feel the need to dress it up with gravy or cranberry sauce, two things that quickly add carbs and fat to your meal.
Skip the filler and make your stuffing more about the "stuff".
Instead of making bread or biscuits the focus of your holiday stuffing, why not up the other stuff, instead?  
Adding veggies like mushrooms and squash is a great way to add lots of winter flavor to your recipe and bulk up the dish while cutting back on the carb-loaded filler.  Another great option is substituting another grain, like quinoa, for some or all of the bread.  You'll be offering your guests a tasty, nutrient-packed dish while still helping to keep those macros under control.
Try a new technique for sauce and dressing.
It can be tempting to slather your turkey or salad in gravy, cranberry sauce, or dressing, but these are typically full of fat and carbs — meaning it's easy to blow your numbers in condiments instead of actual food.  But just because you've got your mind on the numbers, that doesn't mean you have to give up these things, all together.  
Rather than slathering your food in sauces, try this instead.  Put a dollop of your favorite sauce or dressing on the side of your plate or in a small cup.  Then, instead of dipping each bite of food in the sauce, dip your empty fork before placing the bite on your utensil.  You'll still get a taste of sauce with each bite, but you'll be using a fraction of what you would be by dipping or covering the food.
Focus your plate-filling strategy.
Just like in your everyday life, successfully hitting your macros during the holidays is often as much about how you fill your plate as what you fill it with.  
Instead of heading straight for the casseroles and mashed potatoes — which can help things get out of hand — choose to load up on the lean turkey and vegetables, if possible.  Then, fill in the gaps with small portions of potatoes, mac and cheese, or other high-carb, high-fat sources.  You'll still be getting a taste of all your holiday favorites, but filling yourself up with a base of options that better aligns with your goals.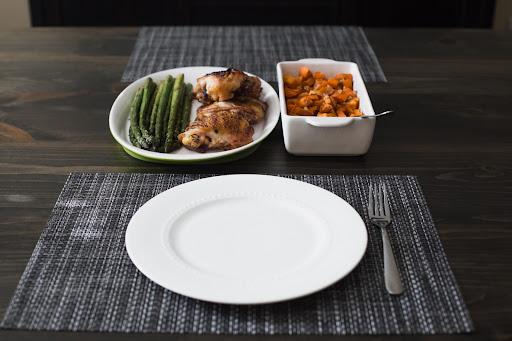 Slow down and savor your sweet treats.
This might surprise you, but I'm not going to tell you to skip the holiday desserts or settle for some sad dessert substitute instead of your favorites.  After all, there's a good chance that you've been waiting all year for that slice of pecan pie or pumpkin roll and feeling like you have to deprive yourself isn't the idea.  In fact, macros should be about helping you reach your goals while living your life — which also includes enjoying dessert while you celebrate the holidays with family and friends.
So how do you make it work?  Well, the main thing to do is to consciously choose what you're eating and remember to slow down while you enjoy it.  Pick something you love and resist the urge to keep grazing from the dessert table.  Take time to enjoy each bite instead of just shoving it in your mouth.  You might be surprised to find that mentally connecting with the experience helps you to feel satisfied after a few bites — or a single serving — and move on.
The other thing to keep in mind is that many traditional side dishes, from sweet potato casserole to creamed corn, can also be very high in sugar.  If you have your eye on those peppermint brownies or a slice of apple pie, consider skipping one of the sides in favor of dessert.
Go easy on the cocktails.
Holiday cocktails can add to the festive vibe of your holiday gathering, but it's important to remember that alcohol can play a big role in keeping your numbers on track— at 7 calories per gram of alcohol, things can add up pretty quickly.
Instead of keeping a cocktail or craft beer in your hand all night, consider committing to really enjoying a drink or two that you love, then switching to something macro-friendly, like flavored sparkling water for the rest of the night.  Not only will you help keep your numbers on track, but you'll be warding off the next-day hangover, as well.
Statements made on this website have not been evaluated by the U.S. Food and Drug Administration. Information provided by this website or this company is not a substitute for direct, individual medical treatment or advice. It is the responsibility of you and your healthcare providers to make all decisions regarding your health. Consult with your healthcare providers regarding the diagnosis and treatment of any disease or condition. Products sold on this website are not intended to diagnose, treat, cure, or prevent any disease.