Dining Out? Make Better Restaurant Decisions With These Top Tips
When you're making nutrition a priority, it's usually easiest to cook for yourself at home –– you control the ingredients and portions, making it easy to stick to your meal plan.  But that all goes out the window when you're dining out at a restaurant.  And while you might be craving the excitement and socialization that comes with a night out (not to mention giving yourself a break from the kitchen), it can also be stressful when you're worried about how to make a meal "fit" into your diet.

So does that mean you need to give up going out till you reach your nutritional goals?  Are you destined to go months without joining your friends and family for a meal?  No.  Believe me, you don't have to swear off all restaurants to stick with your plant.  All you need is to arm yourself with a few strategies for ordering and eating before you sit down to enjoy your meal.  Here are some of my favorite tips for making good decisions that align with your nutrition goals when you're dining out.
Don't starve yourself to "save" your calories.
I know how tempting it can be not to eat during the day when you'll be dining out later.  After all, if you're trying to keep your calories within a reasonable range, why not save them up and enjoy yourself, right?

While this might sound like a good idea, in theory, this type of behavior usually backfires in the real world.  By going the entire day without eating, you're going to be starving by the time you sit down for your meal.  That means you're much more likely to binge or overeat once you get to the restaurant.  If you want to eat lighter meals during the day to save a few extra calories for dinner, that's fine –– just don't go more than 4-5 hours without eating.
Scope out the menu ahead of time.
Choosing a meal from the menu can be overwhelming.  When you're forced to make a snap judgment, it's easy to make an emotional decision, instead of a smart one.  While "rational you" knows the 1,800 calorie cheeseburger probably isn't the best choice, "emotional you" thinks the picture looks really good (plus, everybody else already ordered and you're holding things up) –– cheeseburger it is!
That's why I recommend looking over the menu before you arrive at the restaurant, if at all possible.  You'll have more time to explore all your options, think things through, and pick the best choice.  And hey, the best choice might still be that monster cheeseburger –– and that's okay!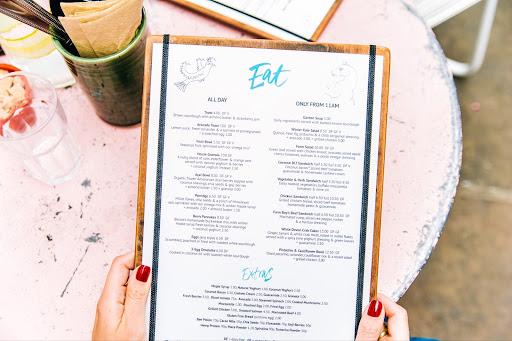 But at least you'll be making the decision because that's really how you want to spend your calories, not because you were feeling overwhelmed.
Learn the high-calorie lingo.
When it comes to reading the menu, you'll want to pay attention to words that can automatically tell you a dish is going to be higher in calories.  I'm talking things like deep-fried, crispy, creamy, breaded, cheesy, rich, buttery… the list goes on, but you get the idea.  If you're hoping to keep your calories within reason when you dine out, it's probably best to avoid food with these words in the description.
Resist the temptation to eat
all
the things.
It can be easy to get carried away at a restaurant, especially if eating out is a rare occasion for you.  With appetizers, salad, soup, meals, sides, and dessert it's easy to let a simple dinner turn into a marathon feeding frenzy.  Your best bet is to try and make decisions that align with what you really want and accept that you'll need to make concessions in other areas.  If you're really looking forwards to dessert, skip the appetizers.  If you've been dreaming about a burger all week, opt to pass on the beer.  Remember, just because it's an option, that doesn't mean you have to order it.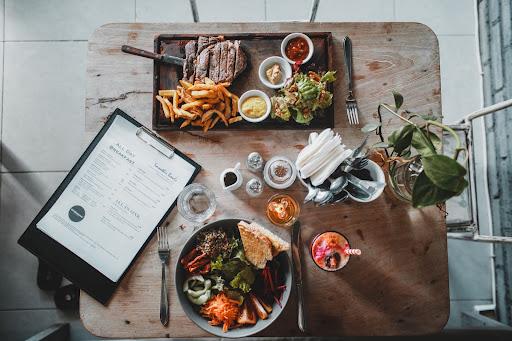 Approach portions with care.
Restaurant portions typically tend to be larger than what you would serve yourself at home.  And considering that most of us have been conditioned to finish everything on our plates since we were kids, it can be really tough to know when to stop eating when you're dining out. 
The most important thing is to listen to your hunger cues.  You know what it feels like when you're starting to get full –– don't feel pressure to eat more than that just because it's in front of you. 

Another great strategy to employ is to ask your server to bring you a box or box up half your meal as soon as it arrives.  Not only will you be less tempted to plow through your entire plate, but you'll also have leftovers to enjoy later.
Seek out the veggies.
Sometimes vegetables can be hard to find on the menu, but you almost always have some sort of veggie option.  Don't be afraid to choose the salad as a side instead of fries.  See if you can get steamed broccoli or asparagus to go with your steak.  Or split an entree with someone else at your table and order a big salad to go with it.  That way you'll still get a taste of the meal you want, but you can help to fill yourself up with healthier options.
Don't be afraid to make special requests.
I get it –– you don't want to be the one at the table making 100 requests to your server (or chance them spitting in your food, right?).  But as long as you come at your waitstaff with absurd requests, they're usually pretty willing to make basic substitutions for your meal.  Don't hesitate to ask that your meal not be cooked in butter or oil, or to have your sauces and dressings put on the side.  You should also be able to ask if healthier substitutions can be made for sides like fries or onion rings.  

One of my favorite requests is to ask for grilled chicken on a sandwich in place of a burger (as long as I know that grilled chicken is a menu option).  I'm not asking them to create a whole new item, I'm just asking them to assemble things a little differently.  Just make sure to remember the golden rule of menu requests –– always, always, ALWAYS be polite (and if they tell you something can't be done, be prepared to pick something else).
Don't waste your calories.
We touched on this earlier, but it bears repeating –– you don't have to order something just because it's on the menu.  If dessert looks amazing, order it and enjoy yourself.  But if you're settling for a sub-par piece of cheesecake because you "feel like you want dessert", you're probably better off taking a pass. 

Don't fall into the trap of ordering something that sounds "just okay".  Order something that you're craving or that you love –– otherwise, don't waste your time or your calories.
Take a mindful approach to your meal.
Enjoying a meal out with family or friends should be an experience –– and getting caught up in conversation is usually a big part of what makes it so great.  But focusing on the company doesn't mean you can't take a mindful approach to eating your meal.  Before you dig in, pay attention to the details.  Notice how it looks and how it smells.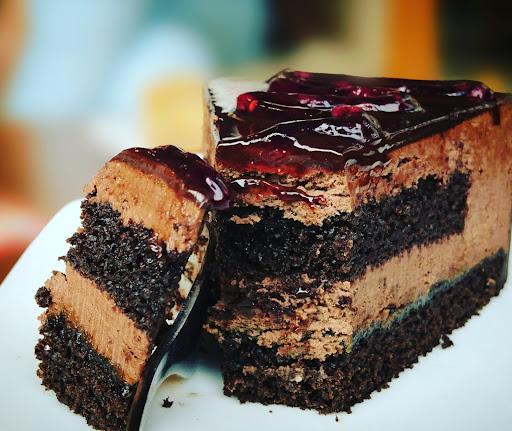 As you take a bite, really try to connect with what you're tasting.  And don't hesitate to put your fork down as you chew or stop to speak with someone else in your party.  Not only can all of these things help you to avoid mindlessly shoveling food in your mouth and ignoring your hunger cues, but by taking a slower approach to your meal, you'll also be able to draw out the experience and enjoy it a little longer.
Statements made on this website have not been evaluated by the U.S. Food and Drug Administration. Information provided by this website or this company is not a substitute for direct, individual medical treatment or advice. It is the responsibility of you and your healthcare providers to make all decisions regarding your health. Consult with your healthcare providers regarding the diagnosis and treatment of any disease or condition. Products sold on this website are not intended to diagnose, treat, cure, or prevent any disease.