Struggling to Get a Handle on Hunger?  This Can Help You Take Control.

It can be easy to view hunger as a bad thing— cravings and overeating are often hurdles standing in the way of meeting your physique goals.  But it's also important to remember that hunger is one of the most basic systems in your body.  When your body sends you true hunger cues, it's telling you that you need more energy to keep going.  
That's why it can be so frustrating when you're experiencing feelings of constant (and often unnecessary hunger).  You know you don't really need to eat more, but your body is telling you to do it, anyway.
Thankfully, you don't have to be ruled by feelings of constant hunger.  All it takes is a little work to improve your body's hunger cues and understand what it means to feel truly hungry (instead of feeling everything else).  
Take a look at 7 reasons you may be battling hunger— and what to do about it.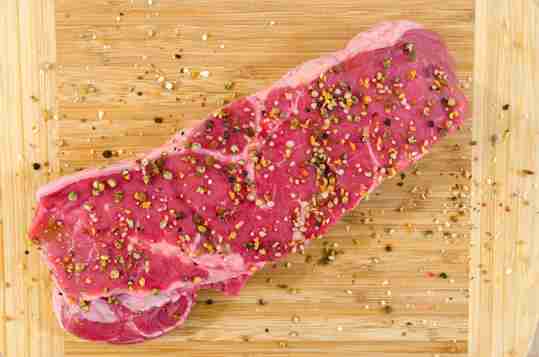 You're low on protein (and fiber).
Each of the macronutrients in food— protein, carbohydrates, and fat— has a specific role to play in helping your body to perform at it's best.  
But while carbs might be great for giving you an energy boost, it's the protein and fat (and fiber!) in your diet that's going to sustain that energy and keep you feeling full.
Research shows that high-protein foods are the most effective when it comes to appetite control and feeling full.  And foods that are high in fiber add volume to the food in your stomach and take longer to digest, helping you to feel satisfied for longer periods of time.
If you feel like you're getting too hungry, too quickly, adding high-protein, fiber rich foods to your diet is a great place to start.
You're distracted.
Your life is crazy.  You're constantly trying to balance work, family obligations, and carve out some time for your health, which probably doesn't leave you with much time to enjoy slow, leisurely meals.  
More likely, you're eating your meals on-the-go, while scrolling through your phone, or in the tiny pockets of time between one activity and the next.  So it's understandable that your mind is elsewhere while you eat.  
Unfortunately, though, distracted eating can have a big impact on your hunger cues.
A british study showed that distracted eaters have a much harder time recognizing when their body is actually full.  While non-distracted eaters reported less desire to finish everything on their plate, distracted eaters were more likely to finish everything in front of them, regardless of whether they were feeling full or not.
If your meals don't feel satisfying (or if you find yourself constantly overeating), try eliminating the distractions during mealtimes.
Your calories are too low.
Whether you're cutting calories for weight loss, skipping meals due to a busy schedule, or are very active, you probably find yourself feeling constantly hungry.  That's because you're not eating enough to meet your body's biological energy needs.
Real hunger (not the type that comes from boredom or emotion) is your body's way of telling you that it needs more energy to get the job done.  And while it may come in the form of a growling stomach, hunger also manifests itself as fatigue, trouble concentrating, dizziness, headaches, and more.  
If you're feeling any of these symptoms— or find yourself constantly thinking about food—  it might be time to evaluate whether you're feeding your body enough to meet its needs.
You're a speed eater.
Have you ever been so hungry that you've devoured 5 slices of pizza, only to feel miserable a little while later?  Yep, I think we've all been there.  And that's because you didn't take time to let your brain catch up with your body (also, pizza is delicious).
It's important to understand that feeling full isn't an instantaneous reaction.  It takes time for your gut to send a signal to your brain that it's time to stop stuffing your face.  That's why constantly speeding through meals can mess with your body's hunger cues and lead to overeating.
If you find that speed eating is a problem, try something as simple as taking a sip of water between each bite.  You don't necessarily need to stretch every meal into an hour-long affair, but by giving your brain a chance to catch up to your stomach, you'll have a much better understanding of whether you're truly hungry (or not).
Your metabolism is working overtime.
This one always feels like a great problem to have.
Whether you're suddenly more active, have increased your muscle mass, or have a biological need for more energy— like during pregnancy or breastfeeding— there are times when your body is burning through calories at a higher rate.   And this energy mismatch typically shows up as a constant feeling of hunger.
If you've recently undergone this type of change, it's probably time to reevaluate your body's energy needs (and give yourself a calorie bump— score!) to help you keep feeling and performing at your best.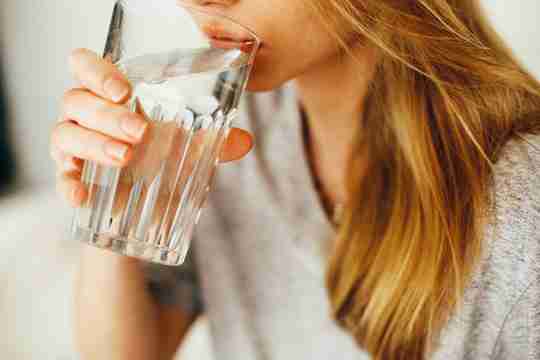 You're not drinking enough water.
Do you ever find yourself "just looking for something to snack on"?  Have you noticed that these feelings usually take hold later in the day?  
Sure, you might actually be hungry (especially if you aren't eating consistent, balanced meals).  But there's also a pretty good chance that what you're feeling isn't hunger at all—  it's thirst.  People always look at me like I'm crazy when I say this, but it's true.  
In fact, a study published in Physiology and Behavior showed that participants were unable to accurately differentiate between hunger and thirst, confusing those signals 62% of the time. 
That's because symptoms of dehydration can actually mimic what we recognize as the feeling of hunger.
If you feel like you're constantly hungry, especially after eating a balanced meal, try drinking a glass of water or two.  If you still feel hungry a while later, go ahead and try eating a snack that's high in protein or fiber.  If not, focus on drinking more water to help improve your body's true hunger cues.
You're not getting enough sleep.
Not only does sleep help your body to battle fatigue, it also plays an important role in regulating hormone function.  
Among other things, disordered sleep patterns have been shown to increase ghrelin levels (a hormone that stimulates appetite) and decrease leptin levels (a hormone that signals feelings of fullness to your brain).  So it's no wonder that you struggle to fight off those cravings for a midnight snack when you're especially tired.
Focusing on better sleep habits—  things like cultivating consistent sleep/wake schedules and eliminating the use of electronics before bed— can help your body get more restful sleep and help you fight-off those unnecessary cravings for sugary, high-fat foods.
Looking for more help when it comes to hunger?
The best way to fight off feelings of hunger is to make sure you're fueling your body with everything it needs to keep up with your busy lifestyle.
That's why I created Nutrithority's Excellence Academy, a completely free set of resources to help you understand how to meet your specific energy needs. Here, you'll find all the tools you need to transform your mind and body— leaving you confident and feeling your best.  Check it out! 
And if you have any questions, feel free to hit me up at jared@nutrithority.com.
Statements made on this website have not been evaluated by the U.S. Food and Drug Administration. Information provided by this website or this company is not a substitute for direct, individual medical treatment or advice. It is the responsibility of you and your healthcare providers to make all decisions regarding your health. Consult with your healthcare providers regarding the diagnosis and treatment of any disease or condition. Products sold on this website are not intended to diagnose, treat, cure, or prevent any disease.