Cutting Carbs?  Here's How To Do It The Easy Way.
Look, I'm not necessarily advocating a low-carb diet here, but whether you're cutting macros or just trying to adjust your eating patterns, there are times when reaching a certain nutritional goal probably means you'll be cutting back on the carbs.
But for most people, carbs are also the body's primary energy source, which means that cutting them out completely isn't ideal (plus, it can make you feel pretty lousy).  The great news, though, is that there are plenty of ways to reduce the number of carbs you're eating without swearing off bread, skipping the fruit, or passing up on the occasional dessert.
Ready to give it a try? Here are 5 easy ways to cut back on carbs without cutting them completely from your diet.
Pair down your portions.
When it comes to nutrition, labeling foods as "good" or "bad" can really start to mess with your mind.  Sure, eating an entire pint of ice cream might not fit your daily macros or help you reach a specific goal, but it's important to understand that food isn't the enemy –– unless you have an allergy or sensitivity that can actually impact your health, it's the choices you make that count.
That means you don't have to punish yourself by taking away something you love in order to eat fewer carbs, all you need to do is focus on your portion sizes.  If you usually enjoy a huge pile of fries alongside your burger, eat half of what you normally would.  Pull out the measuring cups to see how much rice you typically put in your burrito bowl and then use a smaller cup to dish it up.  Just keep in mind that eating carbs doesn't need to be all or nothing –– by reducing your intake (and even replacing it with an extra helping of lean protein), you'll be fueling your body without feeling deprived.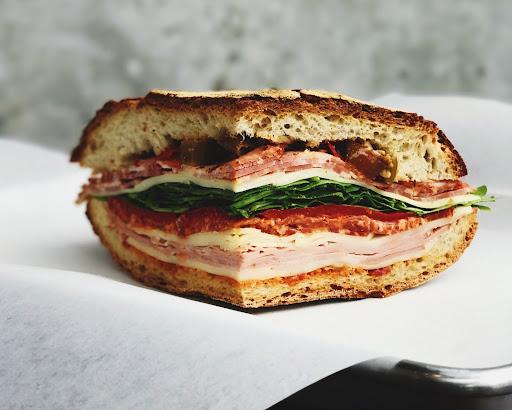 Dig deeper (or open things up).
There are few things I love more than a great sandwich.  Maybe it's a throwback to elementary school, but a solid sandwich always feels like a hearty meal for me.  And while it might sound strange, a sandwich can actually be a great place to shave some carbs while still filling you up.
My favorite way to do this is by carving out the top of an unsliced sandwich roll.  I like to slice the bottom of the roll as thin as possible –– but still leave enough to support the "filling" –– and then use a spoon or my fingers to carve out the inside of the top of the roll (if you want an accurate count of how much bread you're removing, weigh the roll before cutting it and then again after you're done carving it out). 
Not only is this a great way to shave a few carbs that you probably won't even notice, it's also creates a perfect pocket for building a loaded sandwich.  Now you have plenty of room to load up on protein, tomatoes, onions, lettuce, and just about anything else you can imagine.


Another great option is to take a page from the avocado toast on your brunch menu and try an open-faced sandwich instead.  You'll still get to enjoy your sandwich and you'll be cutting the carbs in half

— it doesn't get much easier than that. 
Mix up your "noodles".
Pasta might feel like the ultimate comfort food, but there's no question that it's an easy way to blow your carbs through the roof.  But by swapping out the pasta noodles for a veggie alternative, you can still enjoy all the comforts of your favorite dish for a fraction of the carbs.


My favorite pasta swap is spaghetti squash.  I typically cut it in half, scrape out the seeds, and roast it (cut-side down) in a 450-degree oven for about 30-45 minutes (you'll know it's done when you can easily pierce the skin with a fork).  Not only is the squash strong enough to support even the meatiest of sauces, but at only 10 carbs per cup, it has about ¼ of the carbs you'll find in traditional wheat-based pasta.    



Another good option is to use a spiralizer to create noodles with zucchini or another type of squash.  For me, the only downside to this is that these noodles can

really

water down your sauce if you're not careful.  Just make sure to give them a good squeeze with a paper towel or

sauté

them in a pan to help evaporate the water before you douse them with sauce.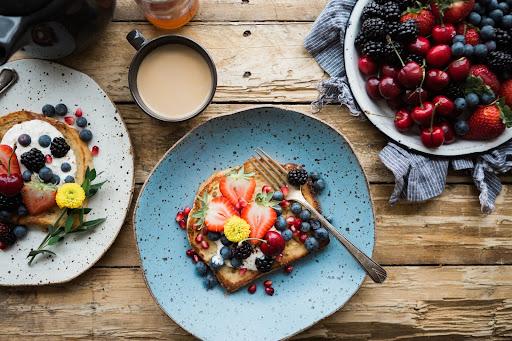 Make your preference a priority.
Sometimes, paying attention to

how

you like to eat can be just as important as

what

you like to eat, especially when it comes to carbs.  Are you somebody that needs to start your day with a big bowl of oatmeal, loaded with berries?  Or do you prefer potatoes or rice to go along with your dinner? Whatever it is, take a close look and see if there are certain times when eating carbs makes you feel more satisfied, and make them a priority for you.



For instance, I really enjoy egg whites and turkey sausage or Canadian bacon for breakfast –– I really don't feel like I need to start the day with a carb feast.  So for me, if I'm trying to reduce my carb intake, that's a great place to skip the carbs and save them for the rest of my day.
But the important thing is understanding that what works best for me might not be right for you.  By paying attention to your own habits and making the right adjustments, you might can reduce your overall carb intake and still enjoy eating some of the things you love.
Let fruit be the star of the show.
While it's true that fruit has carbs, it's also full of plenty of vitamins, nutrients, and most importantly, fiber –– which means your body digests those carbohydrates more slowly than sugary desserts and fruit can also help you feel more satisfied for longer periods of time.  Plus, it's likely lower in carbs than your favorite baked goods and it gives you that burst of sweetness, which can help you curb cravings without excess carbs or fats.
And as it just so happens, summer is the perfect time to use fruit as your daily dose of dessert. Frozen berries make a great substitute for sugary popsicles and you can even slice and freeze bananas, then drizzle them with chocolate, for a perfect treat –– plus, both of these are great for cooling you off on a hot day.  You can also opt for a smoothie bowl instead of ice cream or dish out some watermelon for barbeque (you get the idea, the possibilities are almost endless).  So why not let nature's candy take center stage for dessert this summer?  Who knows, you might not even miss that nightly bowl of ice cream, after all.
Statements made on this website have not been evaluated by the U.S. Food and Drug Administration. Information provided by this website or this company is not a substitute for direct, individual medical treatment or advice. It is the responsibility of you and your healthcare providers to make all decisions regarding your health. Consult with your healthcare providers regarding the diagnosis and treatment of any disease or condition. Products sold on this website are not intended to diagnose, treat, cure, or prevent any disease.