Can a Simple Walk Really Help You Lose Weight?
I'm a huge proponent of making walks a consistent part of your fitness routine.  Not only is walking a great, low-impact exercise, it's an excellent way to relieve stress and recover from other workout activities.  But can walking alone actually help you lose weight? You bet it can.  Here's everything you need to know about using your own two feet to burn calories and reach your goals this summer.
The duration of your walks matter.
So how much walking does it really take to start seeing results?  As with anything else, that really depends on your goals.  Walking is an excellent, low-intensity way to improve your cardiovascular health and reduce your risk of a whole host of other health conditions.  To start reaping these benefits, the American College of Sports Medicine (ASCM) recommends walking 150 minutes per week, which shakes out to 5 days a week of 30-minute walks. If you've been leading a sedentary life, it's important to just get out and move, so setting a 150-minute goal is a great place to start.  
But if you're really focusing on weight loss, it's probably going to take more than a few 30-minute walks to get the results your after.  For that reason, the ASCM recommends increasing your total walking time to 200-300 minutes, if weight loss is your goal.  While taking a 45-minute walk 5-7 times a week will get the job done, you could also break that block into smaller increments.  If you take your dog for a 15-20 minute walk before work, add in a 30-minute stroll after dinner to round out your day (as an added bonus, walking after a meal is great for digestion, too) –– when it comes to duration, balancing your lifestyle factors with your total minutes for the week is key to seeing long-term results.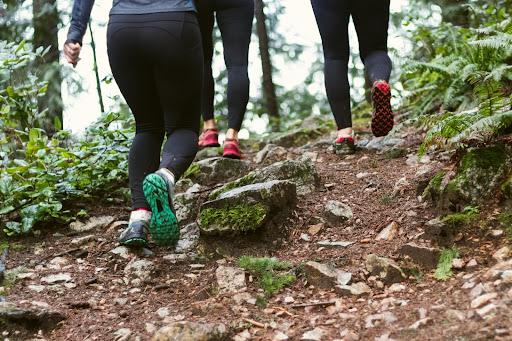 Walk with intensity.
While you don't need to swing your arms and hips like an Olympic Race Walker to reach your weight-loss goal, the intensity of your walk is still an important factor in the equation.  In general, you should be aiming to up your heart rate to a moderate level (which the CDC defines as between 46% and 76% of your maximum heart rate). 
If you have a watch or another wearable device that can monitor your heart rate, feel free to use it, but don't feel like you need fancy equipment to get the job done.  You can also you the perceived exertion to make sure you're walking with enough intensity –– on a scale of 0-10 (0 is sitting on the couch, 10 is sprinting for your life away from an angry bear), aim for something in the 5-7 range. 
In other words, the type of effort where you might be a little winded by talking, but you're still able to carry on a conversation.



And if you decide to add some hills or small bursts of running into the mix, remember that as your intensity goes up, the amount of time you'll need to walk to achieve the same results decreases.  In other words, walking with your heart rate at 75% to 85% for 30 minutes will likely have a similar benefit to walking for 60 minutes at a lower intensity. So by all means, challenge your inner race walker if you're feeling up to it.



How does walking stack up to running when it comes to weight loss?
While many people automatically think that running is necessary when it comes to weight loss, walking may actually be a better choice for more people.  Not only is walking an exercise that can be performed by just about anyone, but it also comes with a much lower risk of injury, making it an excellent choice for anyone who is prone to knee, hip, or back problems. 

Just keep in mind that in order to see the same results from walking, you're probably going to need to increase the duration of your walks to match a run.  



For instance, you can expect 150-pound person running a 10-minute mile to burn between 10-11 calories per minute.  This shakes out to around 300-330 calories during a 3-mile run.  By comparison, the same size person walking the same distance at a moderate pace can expect to burn somewhere between 3-4 calories per minute.  If this takes you somewhere around 60 minutes to complete, you're burning somewhere between 180-240 calories during your 3-mile loop. 



While this difference in calories doesn't tell you that one exercise is better than the other, it does show that running burns calories more efficiently than walking.  In other words, you'll need to walk about 4.5 miles to equal the same calorie-burning output of a 3-mile run.
Walking alone isn't going to get the job done.
Have you ever heard the saying, "You can't exercise away a bad diet?"  It might sound cliche, but it's true –– while any type of exercise, including walking, is an important part of the equation when it comes to weight loss, the only way you're truly going to get the results you want is by cleaning up your diet.
And while healthy eating might seem complicated, especially if you've struggled with it in the past, you don't have to settle for a lifetime of restriction and misery to lose weight.  By focusing on getting the right macros –– protein, carbs, and fat –– to properly fuel your body, you'll be satisfied, energized, and getting results all at the same time. 
For more information on using macros to fuel your body the right way, you'll want to sign up for Nutrithority's Excellence Academy.  Whether you're a seasoned macro pro or just getting started, it's a great resource to help you fine-tune the food you're putting in your body.  And the best part?  It's a completely free resource, so be sure to check it out.

Statements made on this website have not been evaluated by the U.S. Food and Drug Administration. Information provided by this website or this company is not a substitute for direct, individual medical treatment or advice. It is the responsibility of you and your healthcare providers to make all decisions regarding your health. Consult with your healthcare providers regarding the diagnosis and treatment of any disease or condition. Products sold on this website are not intended to diagnose, treat, cure, or prevent any disease.