Want to Lose Weight Faster? Build a Better Walking Routine.
Whether you're focused on active recovery or looking for a low-impact way to pump up your calorie burn, walking is a great tool for both dropping a few pounds and maintaining your weight.  And the best part?  It doesn't require a fancy gym membership or specialized equipment –– it can be done anytime, anywhere, and it's

100% FREE

(seriously, how many things can you honestly say that about in your life).



But while walking might seem like a no-brainer, your workouts should still be intentional, focused, and challenging, if fat burning is your goal. Here are six ways to build a better walking routine to maximize your weight-loss results.
Vary your route.
While there's no question that any type of exercise is better than none at all, if you're walking the same two-mile loop in your neighborhood every day, your probably not getting all the benefits from your workout that you could be.  Why?  Because over time, your body adapts and the work you're doing becomes less challenging.  
For better results, change up your location.  Head to a local park, hike on a safe trail, or walk along the beach (if you're lucky enough to have one nearby).  Even switching things up and walking on dirt or sand instead of concrete sidewalks can recruit different muscle groups to help you burn more calories. 
Personally, I like to have two or three different routes and rotate through them every few days.  Not only does it help to keep my body guessing, but it's also mentally refreshing and helps to keep me from getting bored.
Up the intensity.
While a liesurely stroll through the park is a good way to get some extra steps in, it's probably not giving you the best return in the fat-burning department.  If you really want to make the most of your walks, you need to get your heart rate up.  If you're new to higher-intensity activity, start with one 30-45 min. power walk a week (in addition to your other walks) and add from there.
Research has even shown that varying your intensity during your workout can have a huge payoff.  In fact, a study out of Ohio State University found that changing up your pace throughout your walk can burn up to 20% more calories than just walking at a steady pace.  A great way to start doing this is by adding 30-45 seconds of walking as fast as you can (without jogging) every 3 minutes throughout your walking.  In addition to burning more calories, this type of interval work will help to make your workouts feel like they're flying by.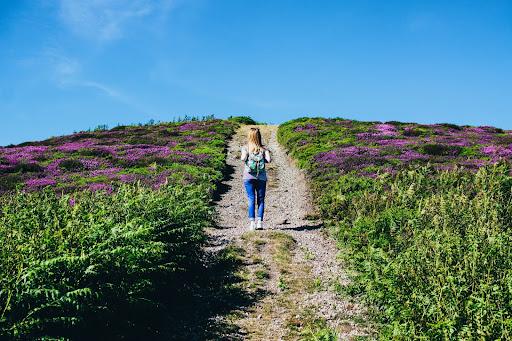 Get friendly with hill workouts.
Like varying your speed, walking at an incline can provide a serious challenge for your body and help to burn more calories in the process.  If you live in a hilly area, this might be as simple as heading to your local park or finding a new trail.  But don't be discouraged if you live in a flat area (believe me, I feel your pain) –– you can still get the benefits of an incline.
Treadmills are a great way to add incline workouts to your routine several times a week.  You can either use one of the pre-programmed hill workouts on your machine or set the include at a steady climb for more of a challenge.  You can hit the stairs at your local track or high school stadium, if it's open to the public. 
Start by walking a few laps and then throwing one set of stairs into the mix –– as your fitness improves, increase the frequency or speed of your climb for more of a challenge.
Focus on a step goal.
In addition to your specific walking workouts, getting into the habit of walking more throughout your day can have a huge impact on weight loss.  One great way to add more walking to the mix is by creating a step goal for yourself.  And I'm not talking about adding extra hour-long walks into your routine (although that would definitely get the job done if you have the time and motivation to do it) –– I mean finding more ways to add basic movement to your day.

I recommend looking at your steps count for a week or so and setting a goal that adds 1000 steps to your average.  After a few weeks of this, feel free to bump that number up again (and keep going).  It doesn't need to be complicated –– add a 20-minute walk after dinner, park at the back of the grocery store parking lot, or commit to taking the stairs instead of the elevator.  You might be surprised how quickly those extra steps add up.
Improve your form.
Walking is one of the most basic daily movements that humans perform, so you probably aren't giving much thought to form during a walk.  But eventhough it might seem like second nature, paying attention to the way your body moves can help maximize the results of your work.  Not only does correct walking form help you to move more efficiently, helping you to push harder and burn more calories, but it can also help to prevent fatigue and injury to keep you moving.


When you're walking on a relatively flat surface, you should be focusing on keeping your core engaged, you spine elongated, you back relaxed, and your shoulders in a neutral position.  You'll also want to keep your eyes forward (no looking at the ground) and make sure that your foot is striking the ground with your heel first, before rolling to the ball of your foot as you step.  If you're walking on an incline, your body should be leaning forward slightly and your knees should be bent as you take a step –– you dont want your foot to strike the ground with the back of your knee straight.
Don't skimp on your recovery.
Unless you're walking miles upon miles at a time, you probably don't need to take full rest days from your walking workouts –– after all, the low-imact nature of walking is one of the things that makes it great for active recovery, in addition to traditional workouts. 
But just because you don't need a huge break from your routine, that doesn't mean you shouldn't have a recovery strategy.  After all, allowing your body to recover properly helps to prevent injury and improve performance, which will help to increase your overall weight-loss results.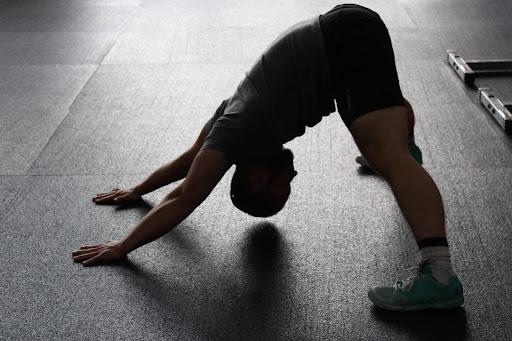 Stretching and foam rolling are great ways to decrease muscle soreness, improve range of motion, and promote better recovery.  And another key piece of the puzzle? Making sure you're properly hydrated.  Just make sure that you're focusing on water instead of sugary sports drinks –– these popular beverages might sounds refreshing, but they also add empty calories, which can quickly counteract the effects of the calories your burning during your walks.
Statements made on this website have not been evaluated by the U.S. Food and Drug Administration. Information provided by this website or this company is not a substitute for direct, individual medical treatment or advice. It is the responsibility of you and your healthcare providers to make all decisions regarding your health. Consult with your healthcare providers regarding the diagnosis and treatment of any disease or condition. Products sold on this website are not intended to diagnose, treat, cure, or prevent any disease.