Cutting Calories? Battle Hunger All Day Long With These Breakfast Strategies
There's a good reason we call breakfast the most important meal of the day.  It doesn't necessarily matter whether you eat as soon as you wake up or wait a few hours to break your fast, but what you choose to eat during that first meal can have a serious impact on how hungry you feel for the rest of the day.  And this becomes especially important when you're eating in a calorie deficit –– depending on the choices you make, its easy to go from satisfied to starving in an instant.

So, let's all get started on the right foot, okay?  Here are powerful 6 breakfast strategies to fill you up and help you stay satisfied all day long, even when you're cutting calories.
Make protein a priority.
Protein is the foundation of a healthy diet, but it plays an especially important role early in the day.  That's because, in addition to all the other good things it does for your body, protein is also the most satisfying macronutrient. 

Studies have shown

that protein changes the levels of ghrelin and glucagon-like peptide-1, two hormones that help regulate your body's insulin production to keep you feeling full and energized.  By aiming to eat at least 20 grams of protein during breakfast, you'll be setting yourself up to feel more satisfied for the rest of the day.
Don't go naked.
I'm not talking about your wardrobe, here –– by all means, you do you when it comes to your morning attire.  But if you're looking to stay full for the long haul, you need to stop letting your carbs go naked during breakfast.  

While carbohydrates provide a good burst of energy to start your day, they can also spike your blood sugar, leading to increased feelings of hunger (not to mention an energy crash) as the day goes on.  Instead of opting for plain oatmeal, cereal, or fruit in the morning, add a quality protein and fat source to help stabilize your blood sugar levels.  Try pairing an egg and avocado with your morning toast or combine some full-fat Greek yogurt with berries and granola to make a breakfast parfait to up that fullness factor.

Turn up the volume.
When you're looking for foods to help you stay satisfied, your best bet is to pick options that provide lots of volume, relative to their calories.  High-fiber foods are my favorite choice when it comes to volume –– whole grains, sweet potatoes, fruits, and veggies are all easy to incorporate into your morning meal and provide a lot of bang for your buck in the volume department. 

 
And if you want to get really crazy, why not try eating a big salad for breakfast?  Not only can your greens and chopped veggies provide a ton of volume, but when you add a quality protein source and vinaigrette made with healthy fat, you'll be helping yourself to stay satisfied for hours.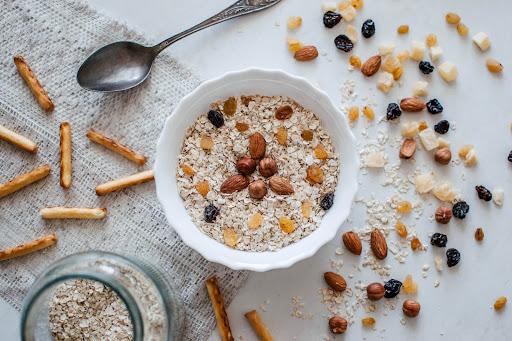 Stop drinking your calories.
If you're anything like me, your day doesn't really start till you've had the first cup of morning coffee.  But if your idea of a cup of Joe includes creamers, sweeteners, and all kinds of crazy flavors, what you're having is more of a dessert than a morning beverage.



And not only are these drinks high in calories (which probably isn't helping your diet), but those calories aren't nutrient-dense, which means they aren't doing anything to help you fuel your body or keep you feeling full.  It might take some getting used to, but switching to black coffee (or coffee with a small splash of milk or cream) can

work wonders

to help you reach your weight-loss goals.  Take those empty calories you were consuming in your beverage and feed yourself a real meal –– I promise, your stomach will thank you.
Slow down.
When it comes to feeling (and staying full), your stomach isn't the only thing at work ––

satiety also has a lot to do with your brain

.  Because while your brain and body might seem to connect instantaneously, the truth is it can take a while for them to fully sync.




When your stomach fills with food or water, receptors send signals to your brain that tell it to release hormones that trigger feelings of fullness, pleasure, and satisfaction related to food.  But here's the kicker –– it can take up to 30 minutes for this process to fully unfold.  When you rush through breakfast as you're running out the door, you're not giving this intricate system time to unfold.  Not only can this lead to overeating (because your brain doesn't actually realize you're full when you're scarfing down that donut), but you're also at risk of missing that dopamine release that helps you to feel satisfied and makes you less likely to overeat as the day goes on.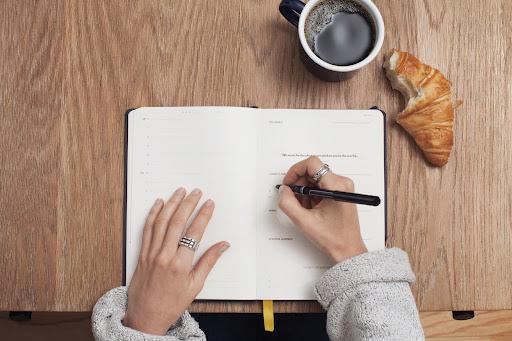 See what's trending.
Hunger is a tricky beast.  What works to help one person feel full and satisfied might not necessarily work for someone else.  It might even vary for you from one day to the next –– for instance, even though you're eating plenty of protein for breakfast, you might find that some days you're fine and some days you're starving by noon. 
So how do you crack the code and find out what works best for you?  I suggest keeping a food journal for a week or two to see if you can identify trends in your hunger patterns.
Here's what I mean. Maybe some days you choose Greek yogurt for breakfast and some days you eat eggs.  Even though you're getting the same amount of protein each day, you might find that you're much hungrier on the days you eat yogurt.  That doesn't mean that there's anything wrong with yogurt, it just means that for whatever reason, it doesn't do it for you when it comes to staying full.
  




Once you identify these trends, you can help yourself choose foods that are more likely to help you stick with your reduced calories.
 




And if you need help figuring out how much food your body really needs to meet your goals, be sure to check out

Nutrithority's Excellence Academy

–– it's your completely free resource for everything you need to know to make counting macros work for you! 
Statements made on this website have not been evaluated by the U.S. Food and Drug Administration. Information provided by this website or this company is not a substitute for direct, individual medical treatment or advice. It is the responsibility of you and your healthcare providers to make all decisions regarding your health. Consult with your healthcare providers regarding the diagnosis and treatment of any disease or condition. Products sold on this website are not intended to diagnose, treat, cure, or prevent any disease.