9 Fruits and Vegetables to Put a Spring in Your Step This Season
I'm sure I don't need to tell you that fruits and vegetables are an important part of a healthy diet.  Not only are they a great source of micronutrients, but they're often full of fiber and low in calories per serving, making them a great way to increase the volume of your meals without blowing your entire allotment of macros for the day.  Plus, they make your meals a lot more interesting –– anything that fills you up, tastes great, and gets you closer to your goals is a big win in my book.
And as it turns out, tons of fruits and veggies are really hitting their stride and entering their peak season during the spring and early summer, so now is the perfect time to make them a focal point of your diet.  Next time you head to the store, here are 9 seasonal vegetables and fruits that you'll definitely want to add to your shopping cart.
Asparagus
Asparagus is one of my favorite veggies, year-round, but it really shines in the spring during its peak season.  Asparagus is packed with vitamins and micronutrients –– vitamins A, B6, C, E, K, as well as folate, copper, and iron –– plus, it's a great source of antioxidants.  It's also packed full of fiber and only contains around 32 calories per cup, meaning you can fill your plate (and your stomach) without using a big chunk of your daily macros.
Carrots
Like asparagus, carrots are a great source of fiber, as well as vitamins A and C. They're also a great source of beta-carotene, which can help to prevent eye degeneration, reduce inflammation, and boost your body's immune response.  They're also full of carotenoids –– like retinol, biotin, and lycopene –– which can do wonders for both your skin's appearance and its ability to heal more effectively.  Finally, carrots contain a compound called Luteolin, which has been shown to not only improve memory, but also to help reduce mental decline as you age.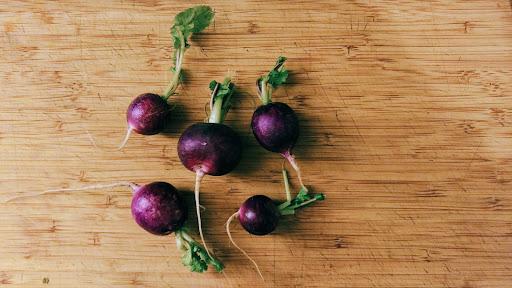 Turnips
Turnips might not be part of your typical rotation, but don't let that intimidate you –– this purple vegetable is a heavy hitter.  Turnips are full of fiber, high in calcium, low in calories, and a single serving contains more than half your daily recommended vitamin C intake.  My favorite way to eat turnips is roasted along with other veggies (they're a great complement to roasted carrots and sweet potatoes), but you can also saute the greens, or even add thinly-sliced raw turnips to your favorite salad.  Do yourself a favor and add these beauties to your cart during your next grocery run –– I promise you won't be disappointed.
Spinach
When it comes to spinach, the benefits to your health seem to go on forever.  Spinach is high in vitamin K, magnesium, iron, calcium, and folate (just to name a few), as well as a great source of fiber.  Spinach is also high in nitrates, which have been shown in studies to improve cardiovascular blood flow and lower blood pressure.  There's even promising ongoing research demonstrating the link between the polyphenols in spinach and a decreased risk of diseases like breast and colon cancer.  In addition to being seasonal in the spring, it's also a super versatile vegetable that can easily be added to just about anything –– sautee it as a side dish, throw it in soups, sauces, or purees, or even use it as the base for a salad.  
Mushrooms
Mushrooms come in all shapes and sizes, with tons of varieties to choose from, but the one thing they all have in common is a big nutritional payoff.  Mushrooms are high in fiber (you're probably noticing a theme here), B vitamins, potassium, and vitamin D, and are a great spring veggie if you're looking for some extra immune support.  And one of my favorite ways to use mushrooms is to beef-up meat dishes (pardon the pun).  One cup of mushrooms only contains about 15 calories, so they're great to chop small and add to ground turkey for tacos, chili, or pasta, making your dish more filling (and nutrient-dense) without messing with your macros.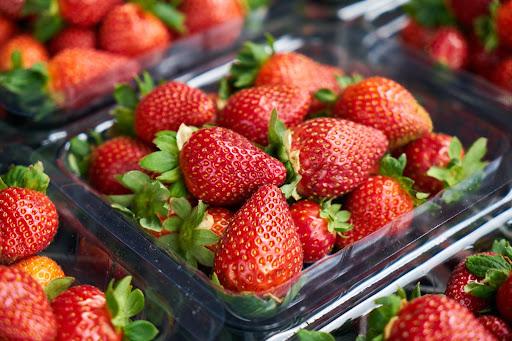 Strawberries
While I probably don't need to sell you on strawberries, you might not realize just what a great addition they can be to your spring diet.  As their bright color indicates, strawberries are a great source of vitamin C and manganese, as well as a decent source of folate and potassium.  Strawberries are also rich in antioxidants and polyphenols (just like spinach), which have been shown to be effective in reducing the risk for certain cancers, as well as type 2 diabetes.  And since strawberries are low on the Glycemic Index, they're a great option for helping to control blood sugar.  Strawberries are at their peak season from late spring through early summer, so now is a great time to pop them in smoothies and salads, or enjoy them on their own for a sweet treat.

Lemons
Like most citrus fruits, lemons are a great source of vitamin C, as well as soluble fiber.  They're also a great source of antioxidants and have been shown to boost immune health, improve blood pressure, and aid in digestion.  And while you're probably not going to bite into a lemon the way you would an orange (but no judgement, if that's your thing), there are plenty of easy ways to add lemon to your diet all day long.  You can squeeze lemon in your water or tea, slice it up to roast with fish or chicken, or add some heart-healthy oil and spices for a solid salad dressing.  
Cherries
Chances are you're not loading your cart with cherries the way you do blueberries and strawberries, but maybe you should be.  Cherries are full of fiber, antioxidants to help combat cellular degeneration, and anti-inflammatory properties that have been shown to be particularly beneficial for osteoarthritis sufferers.  Cherries (especially the tart varieties) are also one of the few food-based sources of melatonin, meaning they may promote healthy sleep-wake cycles and help you get a good night's sleep.  Like strawberries, cherries typically come into season from late spring to mid-summer, so now is a great time to pop a carton or two in your cart during your next trip to the grocery store.
Grapefruit
While peak grapefruit season typically begins in the winter in many parts of the USA, it continues through the spring, so now is a prime opportunity to enjoy them while they're at their best.  Like lemons, grapefruit is a citrus fruit that's high in vitamin C, as well as vitamin A, beta-carotene, lycopene, and other antioxidants.  Grapefruit is also high in flavonoids, and it has

been shown

to be particularly effective at lowering the risk of stroke for women.  Grapefruit is also relatively high in fiber and research has shown that it can also be used to combat insulin resistance.  While this probably won't give you the results you see promised from fad diets, grapefruit can be a great addition to a nutritional program aimed at weight loss.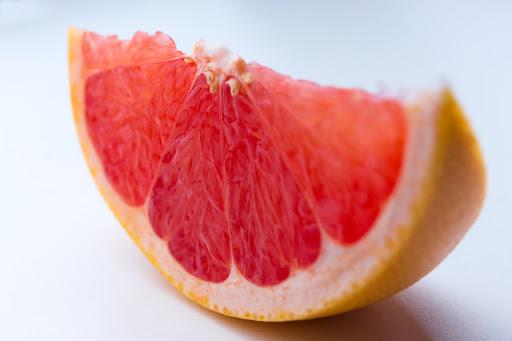 Statements made on this website have not been evaluated by the U.S. Food and Drug Administration. Information provided by this website or this company is not a substitute for direct, individual medical treatment or advice. It is the responsibility of you and your healthcare providers to make all decisions regarding your health. Consult with your healthcare providers regarding the diagnosis and treatment of any disease or condition. Products sold on this website are not intended to diagnose, treat, cure, or prevent any disease.