3 Tricks for Better Posture to Help You Manage Anxiety

After the last year and a half we've all had, you've probably felt your share of anxiety.  So how are you managing the stress in your life?
When it comes to dealing with anxiety, talk therapy, meditation, or exercise might be the first things that come to mind, and with good reason— these are all amazing ways to calm a racing mind and help center your thoughts.  
But it might surprise you to find that there's one solution for managing anxiety that is staring right at you when you look in the mirror— your posture.  Because the way you stand and the body language you adopt can have a big impact on what goes on in your mind.  In fact, research has shown that people who adopt a slumped posture have more negative thoughts and less ability to mentally recover from negative or stressful situations.  One the other hand, people who sit up straight have been shown to exhibit more confidence and better recovery from negativity. 
So, next time you find yourself feeling anxious, out of control, or overwhelmed, try one of these three methods to correct your posture for a quick and effective way to help reduce some of that stress.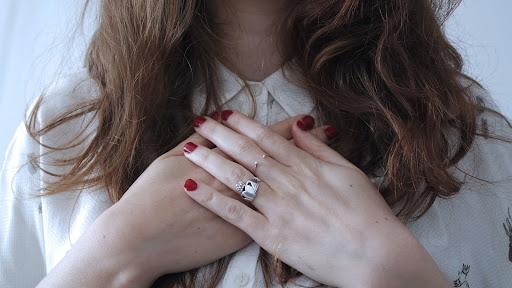 Improve your breathing from the chest up.

When I told you we were going to talk about posture, what was the first thing you did?  If I had to guess, you probably tried to yank your shoulders back to counteract any hunching of your back.  Because that's what we've all been told, right?  Good posture means getting your head up and your shoulders back.
But here's the thing— pulling your shoulders back really doesn't do much (besides making you pretty uncomfortable).  There's a much more effective way to correct the negative effects of slumping over a computer all day, but first let's talk about why this position makes you feel so crummy in the first place.
When you sit in a curved position (think banana-shaped), like many of us do in front of a screen all day, the muscles tighten throughout your chest and abdomen.  As gravity takes over, your rib cage pulls down and your shoulders hunch forward.  This compressed position increases the pressure on your lungs, making it more difficult to breathe.  And the end result?  Shallow breathing that can increase stress and feelings of anxiety.
To help yourself feel calmer, try this trick.  Place one hand on your sternum, just under your collar bones, and focus on lifting your chest forward towards your hand as you take a deep breath.  As this happens, your shoulders shift backwards, naturally— a position that should take a lot less effort to maintain than that yanking move you tried earlier.
Use your knees to engage your core.
Your knees might not be the first thing that comes to mind when we talk about engaging your core, but it's time to put them on your radar.  
When you use your core to sit up straight, your body takes up more space. This is an important tool when it comes to decreasing anxiety— not only have yogis been utilizing the practice of expansive poses to induce calm for generations, recent research has also shown this to be true. Additionally, this position decreases pressure on your spine.  As a result, breathing becomes easier, increasing the feeling of calmness.
So what does this have to do with your knees?  It's much more difficult to engage your core and sit up straight when your legs are in a random, relaxed position.  But by actively bringing your knees together, the position becomes much easier to initiate.  Ready to give it a try?  In a seated position with your feet firmly planted on the floor, squeeze a small ball or pillow between your legs tight enough that it doesn't fall.  As you squeeze, notice how your glutes tighten and your abdominal muscles engage, making it easier for you to create that expansive sitting position.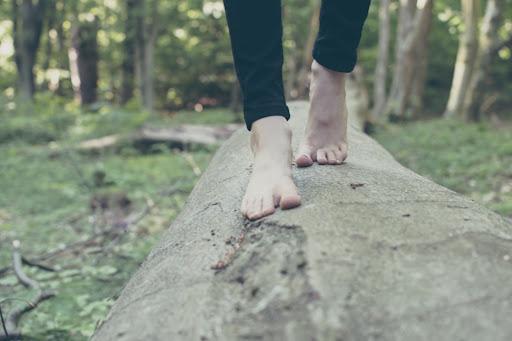 Stay grounded by rooting your feet to the floor.
Have you ever heard the term future tripping?  Also known as anticipatory anxiety, this is the practice of overthinking about the future— leading to feelings of anxiety over events that haven't even happened yet.  
The best way to cope with this type of worry and dread is to bring yourself back to the present, but sometimes that's easier said than done. If you're struggling, one powerful way to do this is to connect your mind and body through sensory perception— in other words, focus on what your body is feeling at this moment.  By focusing on these immediate sensations, you instantly bring your attention back to the present.
Because your feet are full of sensory receptors, they're a great place to start when it comes to sensory perception.  If going barefoot is an option, close your eyes and really focus on what the ground feels like as you shift your weight from one foot to the other.  But even if you can't set those toes free— say when you're sitting in the middle of your office— you can still use your feet to help you stay in the moment.  Begin by closing your eyes and planting your feet firmly on the floor.  Lean forward, paying particular attention to how the weight on your feet changes as you stretch your spine, and allow your mind to return to the present.
Statements made on this website have not been evaluated by the U.S. Food and Drug Administration. Information provided by this website or this company is not a substitute for direct, individual medical treatment or advice. It is the responsibility of you and your healthcare providers to make all decisions regarding your health. Consult with your healthcare providers regarding the diagnosis and treatment of any disease or condition. Products sold on this website are not intended to diagnose, treat, cure, or prevent any disease.