Get a Healthy Dinner on the Table in a Snap With These Meal Prep Shortcuts
So you've decided it's time to really get serious about the food that goes in your mouth.  You're motivated to eat healthy, whole foods and stop eating out so much.  Maybe you're even ready to start counting macros to make sure you're fueling your body with exactly what it needs.  Good work!  I promise you won't regret making that commitment to your health.



There's just one problem, though –– preparing all that food takes

a lot

of work.  Whether you're prepping for an entire week or just planning to cook healthy meals at the end of a long day, getting dinner on the table can eat up a serious chunk of your time.  And unless you've figured out a way to add an extra 5-10 hours to your week (seriously, clue me in if you have), there's a good chance that finding more time to prepare meals is going to be a struggle.

So while I can't wave a magic wand to add more hours to your day, I can clue you in on a few secrets to preparing healthy meals, even when you're short on time.  Take a look at six of my favorite ways to help you get a healthy meal on the table in a flash.
Frozen is your friend.
When life gets busy, a freezer stocked with frozen veggies is like a treasure chest.  From broccoli florets to cauliflower rice, and even diced onions and peppers, you'll always have a vegetable on hand when time is tight.  And say goodbye to washing and chopping, because all you'll need to do is pop them in the microwave to steam or sautee them in a pan for a quick meal that's ready in no time. Frozen vegetables are also great if you have a habit of buying fresh produce, only to throw it out untouched in a week or two –– by cutting back on your food waste, you'll be looking out for your wallet, too. 



And don't just stick to veggies –– frozen fruits can be a lifesaver for a packed schedule.  Pop some in a blender to bulk up your smoothie (without using ice which can water it down) or heat them in the microwave to top your morning oatmeal or pancakes.  It's a great, hassle-free way to get to

micronutrients

in without a ton of prep time.
Let someone else do the slicing and dicing.
Another great option when it comes to quick fruits and veggies is to pick up some of the precut options from the produce section of your local grocery store.  Now, I know what you're going to say –– they're expensive!  And that's true, they can be. 


So I probably wouldn't suggest making this your

only

source of vegetables unless you've got a money tree growing in your backyard.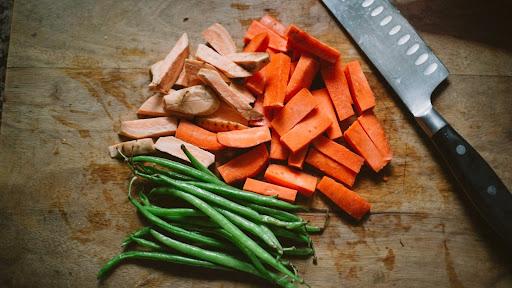 But there's no denying that this is an incredibly useful tool to have in your arsenal when you're seriously pinched for time.  Chopped Brussels sprouts, spiralized zucchini noodles, and asparagus are some of my favorite fresh veggies to grab on the go.

I've even been known to grab the precut celery and carrots to bring along on a car trip or pack for a midday snack at the office. You don't have to use it often, but this is a great solution to keep in your back pocket when you need it.



Embrace the pre-cooked protein.
Even if you're not spending days dry-aging your steaks or hours marinating your chicken breasts, prepping protein takes time.  And you might not have the time to spend cooking protein after a long day at work (even if you want to), which probably makes it more likely that you'll hit the drive-thru on your way home.  This is where pre-cooked protein options can come in handy.

One of my favorite sources for pre-cooked protein is rotisserie chicken, which you can usually find near the deli in almost any grocery store. You can also try packaged tuna, pre-cooked shrimp, frozen turkey meatballs, and even canned beans for low-effort sources of protein.  The one caveat here is you'll want to watch the sodium and added ingredients in these items, so be sure to read the labels.  Where possible, opt for pre-cooked with 20% of the daily value of sodium per serving or less.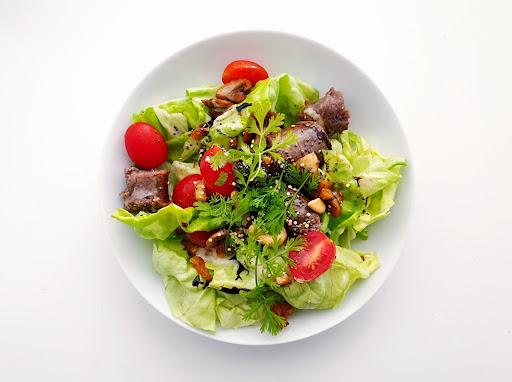 Let a kit get creative for you.
Salads are a great option when it comes to a healthy dinner, but there's no question that there's a lot of effort involved.  That's what makes a salad kit so great for busy nights. Everything you need –– from lettuce, to veggies, to dressing –– is already chopped, packaged, and ready to toss together (not to mention that when you pair a salad kit with some of that pre-cooked protein we just talked about, you'll have a whole meal on the table in no time).

Just keep an eye on the dressing that's included. If it doesn't fit into your meal plan, don't hesitate to swap it out for a better option, even if it just happens to be something you like better. 



Diversify your sauce portfolio.
Whether you're prepping bulk chicken for the entire week or using pre-cooked protein and frozen veggies, eating the same thing night after night can get pretty boring after a while.  But there's a quick and easy way to change things up without spending tons of time preparing different ingredients –– switch out your sauces.

Toss some teriyaki sauce over your chicken and rice on Monday, make it green enchilada sauce on Tuesday, and Wednesday?  Go for jarred pasta sauce and switch out the rice for zucchini noodles.  You'll have managed to make three totally different meals and the only thing you've swapped out (other than the sauces), is the rice for noodles.  So next time you visit the store, take a stroll down the sauce aisle for a quick fix that can have a big payoff for your weekly meal prep.
Get your dinner on-demand.
Sometimes it's nice to go through the ritual of making dinner, even when you don't have a ton of time on your hands.  That's where delivery meal kits can really shine.  

There are tons of options out there, from macro-friendly services to gourmet feasts, and it all comes straight to your door, ready to give you the feeling of accomplishment that comes with preparing a home-cooked meal, without the extra time and effort that it traditionally takes to make it happen.  Most kits even allow you to modify the number of meals and how many people you'll be cooking for, so you can cook for yourself or the whole family, anytime you choose.  For a delicious meal in a flash, I definitely recommend giving a meal kit delivery service a try.
Statements made on this website have not been evaluated by the U.S. Food and Drug Administration. Information provided by this website or this company is not a substitute for direct, individual medical treatment or advice. It is the responsibility of you and your healthcare providers to make all decisions regarding your health. Consult with your healthcare providers regarding the diagnosis and treatment of any disease or condition. Products sold on this website are not intended to diagnose, treat, cure, or prevent any disease.