Regular price
Sale price
$9.99 USD
Unit price
per
Sale
Sold out
Nutrithority branded BlenderBottle® Classic™. The world's best-selling shaker cup.
Carrying loop
Ergonomic flip cap and spout design
Patented BlenderBall® inside
Leak-proof seal
Wide mouth makes it easy to add ingredients
StayOpen flip cap™ won't close on your nose
GripperBars™ make it easy to hold
Embossed ounce and milliliter markings
Fits in most car drink holders
BPA and Phthalate free
Everything else is just a shaker cup. The BlenderBottle® Classic™ revolutionized the industry back in 2004 with its leak-proof seal, iconic design, and the BlenderBall® wire whisk. Now, years later, it's still the best-selling shaker on the market. Why? Because it works.
Description
SMOOTH TASTES GOOD
Say 'goodbye' to lumpy protein shakes and 'hello' to smooth, great-tasting drinks. Our patented mixing system uses the BlenderBall® wire whisk—found only in BlenderBottle® brand shaker cups—to mix even the thickest ingredients as you shake.
CLIP IT, LOOP IT, HANG IT
Integrated with the StayOpen™ flip cap, the adjustable carry loop lets you hold more when your hands are full and offers a convenient place to attach keys while at the gym.
100% LEAK PROOF
The Classic's screw-on lid and secure flip cap keep your gym bag and car seat dry. With a snug twist of the lid and the assuring "snap" of the flip cap, you're ready to roll.
WORRY FREE
Made from only the highest-quality materials, BlenderBottle® brand shaker cups are—and always have been—BPA and Phthalate free.
Share
View full details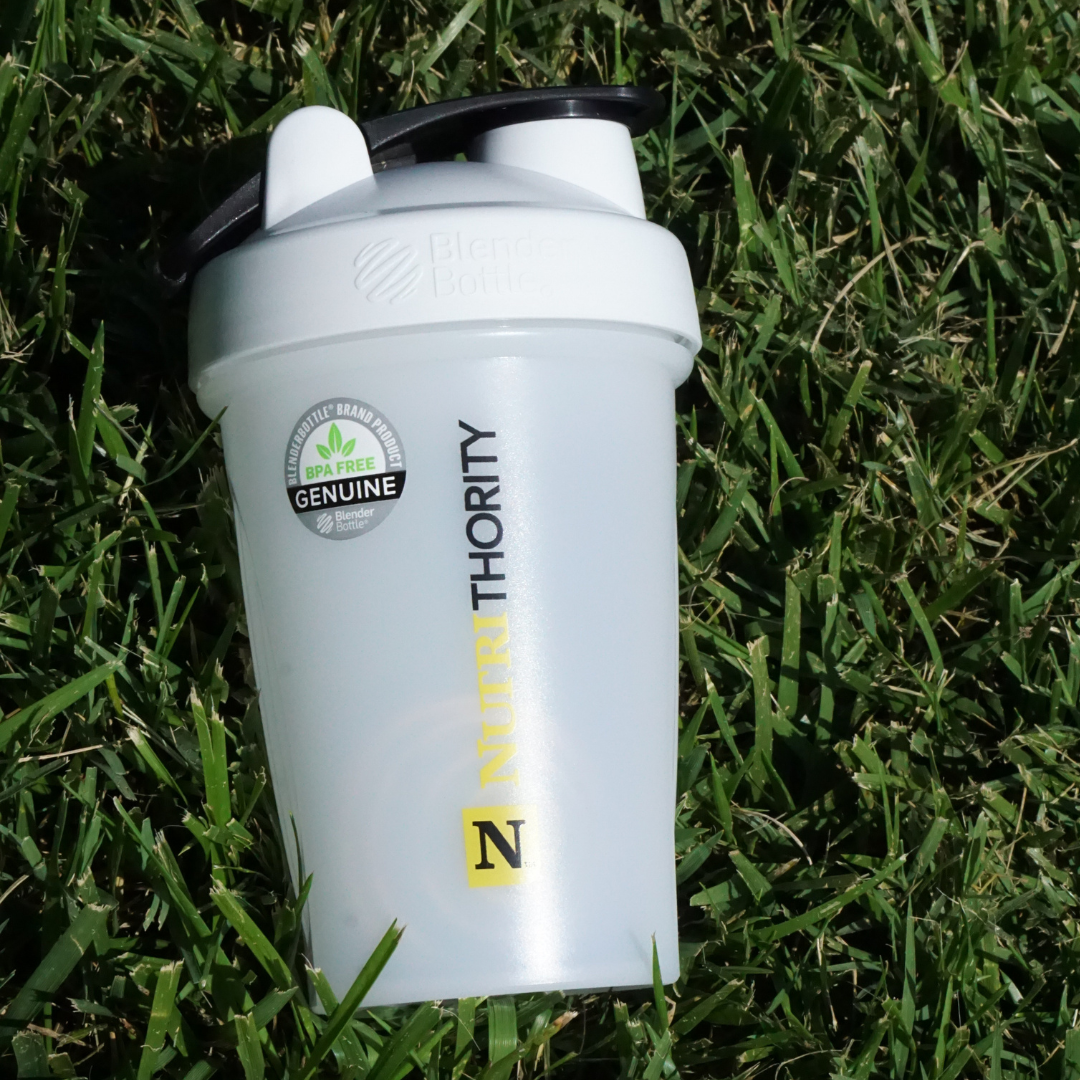 Good
Was good. Always nice to have extras when the older ones get crummy.
We're glad to hear you liked the blender bottle, never hurts to have extras on hand :)
FREE Nutrithority BlenderBottle®
Thanks for the review Maren!
I loved Blend bottle super easy to clean
I loved my protein bottle easy to clean, i have mine for long time and still look like new
We hope you'll continue to use it for years to come Marlen! :)
Works great!
Perfect size to keep in gym bag.
We're glad you're enjoying the blender bottle! :)
Blender Bottle
Very handy blender bottle to have. It is light weight and very durable. Does not leak so safe to throw in your gym bag. Has measuring marks on the side so you know exactly how much liquid intake you had. The agitating ball throughly mixes your supplement up. Easy to clean with soap and water. I have several of them
Thanks for the review Eric, Blender bottles FTW!!! :)
Great company
Best supplements that I have tried. Products all mix perfectly and this place has the best customer service. This is small town personal customer service that is unheard of on the internet
Thanks for your review Paul!! We aim to please :)
Great shaker!
Love the shaker bottle! Doesn't leave the protein lumpy!
Nobody wants the lumps!! Mixability is everything in a protein powder!!
Amino
The best tasting aminos on the market!
Thank you for the kind words William!!! The aminos do taste great!!
Nutrithority BlenderBottle
I have an addiction to shaker cups. I do not own normal people cups. I literally drink every beverage out of a shaker cup. 90% of them are from Nutrithority. So any time I can get my hands on the clear and yellow topped ones I'm golden. Let's you see how colorful createn is or gushing gummy is.
Thanks for the review Wayne! We're so glad you like our Nutrithority Shakers!!!