Regular price
Sale price
$54.99 USD
Unit price
per
Sale
Sold out
Peak Focus & Performance Elevation
No, this isn't another 'pre-workout' chalked full of stimulants, more stimulants, and some extra stimulants.
Mane Brain helps you perform at peak levels inside the gym, on the field, and at the office.
Increased Oxygen Utilization During Exercise*
Improved Maximum Power Output*
Train Harder & Recover Faster*
Enhanced Cognitive Ability*
Mane Brain is a blend of three fully-dosed, clinically-proven ingredients:
PEAKO

₂

Lion's Mane
elevATP
This blend is unlike anything you've ever tried before. 
The Science
WHAT IS

 
PEAKO
₂
? 
Peak0₂ is an organic-certified combination of six Ayurvedic mushroom strains grown and harvested right here in the U.S. These mushrooms are powerful adaptogens , which allow athletes to "adapt" to and overcome physical and mental stress, giving you the extra edge you want to take your training to the next level.
Increased power and endurance in only seven days! PeakO₂'s mushroom strains are grown on organic whole oats—a unique process that preserves peak bioactivity for maximum performance.. Peak0₂ contains high levels of beta glucans and L-Ergothioneine, a "master" antioxidant that fights damage from oxidative stress in the body, helping athletes train longer, recover faster, and feel better throughout the process.
Unlike most ingredients that only target singular benefits, PeakO₂ boosts both power and endurance with one ingredient. In a 21-day clinical study at the University of North Carolina, Chapel Hill, PeakO₂ users improved their time to exhaustion by an incredible 70 seconds from baseline; the placebo group improved only 5 seconds from baseline!
PeakO₂ uses Cordyceps millitaris, which has been shown to be more bioactive than sinensis (see studies). The data on whether sinensis (CS4) works for athletic performance is debated. There is no debate with PeakO₂.
In a clinical study at the University of North Carolina, Chapel Hill, competitive athletes supplementing with four grams per day of PeakO₂™ improved their Peak Power Output 17.6% over baseline after only seven days! The placebo group decreased 11.8% compared to baseline. (see studies)
INCREASE VO₂ MAX and TIME TO EXHAUSTION*
In a 21-day clinical study at the University of North Carolina, Chapel Hill, 28 subjects underwent a six-minute high-intensity cycle ride and a three minute all-out cycle test. The PeakO₂ ™ group improved its time to exhaustion by 70 seconds from baseline, compared to a 5 second improvement in the placebo group. (see studies)
What is Lion's Mane? 
Lion's Mane is a powerful adaptogenic mushroom found in PEAKO2. New research is showing it deserves a much stronger role, so we added quite a bit extra to our formulation.
One study cites (see studies)
'The reported health-promoting properties of the mushroom fruit bodies, mycelia, and bioactive pure compounds include antibiotic, anticarcinogenic, antidiabetic, antifatigue, antihypertensive, antihyperlipodemic, antisenescence, cardioprotective, hepatoprotective, nephroprotective, and neuroprotective properties and improvement of anxiety, cognitive function, and depression.'
That's a lot to take in... Why Lion's Mane?
Cognitive function. To put it simply, Lion's Mane helps you to perform at optimal levels.* 
A recent study was done on Lion's Mane to see how it helps with mild cognitive impairment (see studies):
Participants were given either Lion's Mane or Placebo for 16 weeks.
'At weeks 8, 12 and 16 of the trial, the [Lion's Mane] group showed significantly increased scores on the cognitive function scale compared with the placebo group. The [Lion's Mane] group's scores increased with the duration of intake, but at week 4 after the termination of the 16 weeks intake, the scores decreased significantly. Laboratory tests showed no adverse effect of [Lion's Mane]. The results obtained in this study suggest that [Lion's Mane] is effective in improving mild cognitive impairment.'
That's only
one

of the benefits of Lion's Mane, but it's huge. 
What is elevATP? 
elevATP® is a proprietary, clinically researched combination of a water extract of "ancient peat" (fossilized plants) and apple extract that works with our natural energy-producing mechanisms to stimulate production of ATP, the energy currency of the body. (see studies)
What does that mean?
Helps improve athletic performance and body composition*
Promotes increased power output and training volume*
Helps reduce performance decrements associated with overreaching*
Supports increased lean muscle and strength*
elevATP supplementation may improve strength and power adaptations in resistance trained men (see studies)
* These statements have not been evaluated by the Food and Drug Administration. This product is not intended to diagnose, treat, cure, or prevent any disease.
Directions
Directions
As a dietary supplement, take 4 capsules 30-40 minutes prior to exercise. On days you don't exercise, take 4 capsules first thing in the morning. 
Label Information & Warnings
This product is only intended to be consumed by healthy individuals 18 years of age or older. This product is not recommended for pregnant or nursing women. Before using this product consult with your physician. Discontinue use and consult your health care professional if you experience any adverse reaction to this product. Do not exceed recommended serving. Do not use if safety seal is broken or missing. keep out of reach of children. Store in a cool dry place and avoid excessive heat. 
Share
View full details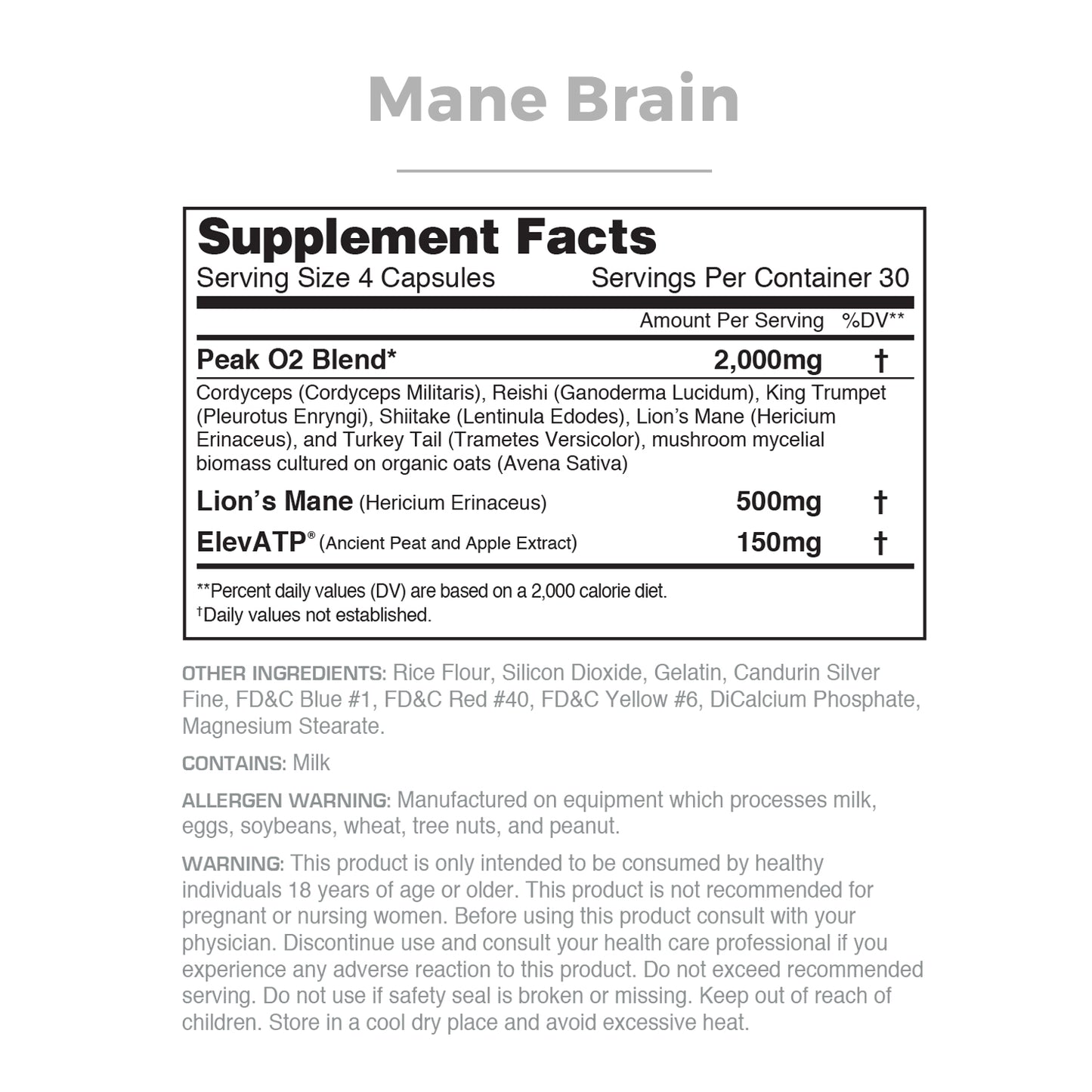 Phenomenal
Best supplement on the market. No contest.
Improved my Mental Health
Mane Brain eventually took me off my minor mental health medication. I was prescribed Gabapentin & beta blockers for my Anxiety. Mane brain has this natural effect to level my brain and focus on positive outlooks. Accuracy is improved. I can't say enough on how Mane Brain changed my life for the better. It even improves being witty when warranted.
Wow!!! Thank you for letting us know that this product changed your life for the better Ron. We appreciate your support and feedback so much!!!
Excellent Addition!
The results are very noticeable with this product..focus is absolutely sharpened allowing one to achieve better execution during workouts in a more timely manner. Endurance and power has also been amplified during sets and I have more sustained energy to help me power through fatigue. Additions like this make a big difference and I'm happy I've incorporated it into my overall intake.
Thank you for your review of Mane Brain Carlos! We're glad to hear that the product has been helpful in enhancing your focus and endurance during workouts.
Mane Brain
My focus and ability to push harder in workouts has improved and it shows in my overall strength.
We're happy you like the product Douglas!!
Mane Brain
Love this product will not go without it! It really helps me focus and give my best effort in the gym.
Happy you like it Alyssa!!
Mane Brain
Awesome product! Great to have focus w/out the caffeine .
Nothing but success in a golden tablet
Such a focus and the continued effort push to the bar to a higher level of strength and power
Just try it. I only take one pill a day....
Focus is incredible ...mane brain is insane!
2 weeks started taking mane brain along 1.21 gw
Seriously able to push the daily envelope as today was the 53rd day in a row...rock on and a huge thank you to Jared and team for making and producing such amazing performance enhancing compounds that taste incredible!
Thanks AJ! We appreciate the kind words.
My Mane go to supplement!
I was skeptical at first about this so called brain boosting supplement! However I tried it was very surprised at the noticeable difference it makes! Reading further into the ingredients I had never heard of only confirmed my love for the product!
Amazing product
It actually works it۪s help me focus and it helps me build my endurance