Regular price
Sale price
$54.99 USD
Unit price
per
Sale
Sold out
Thermogenic Flux is our mild energy thermogenic fat loss formula.

All Day Energy*
Enhanced Memory & Focus*
Extreme Thermogenic*
Appetite Control*
Mood Enhancing*
Share
View full details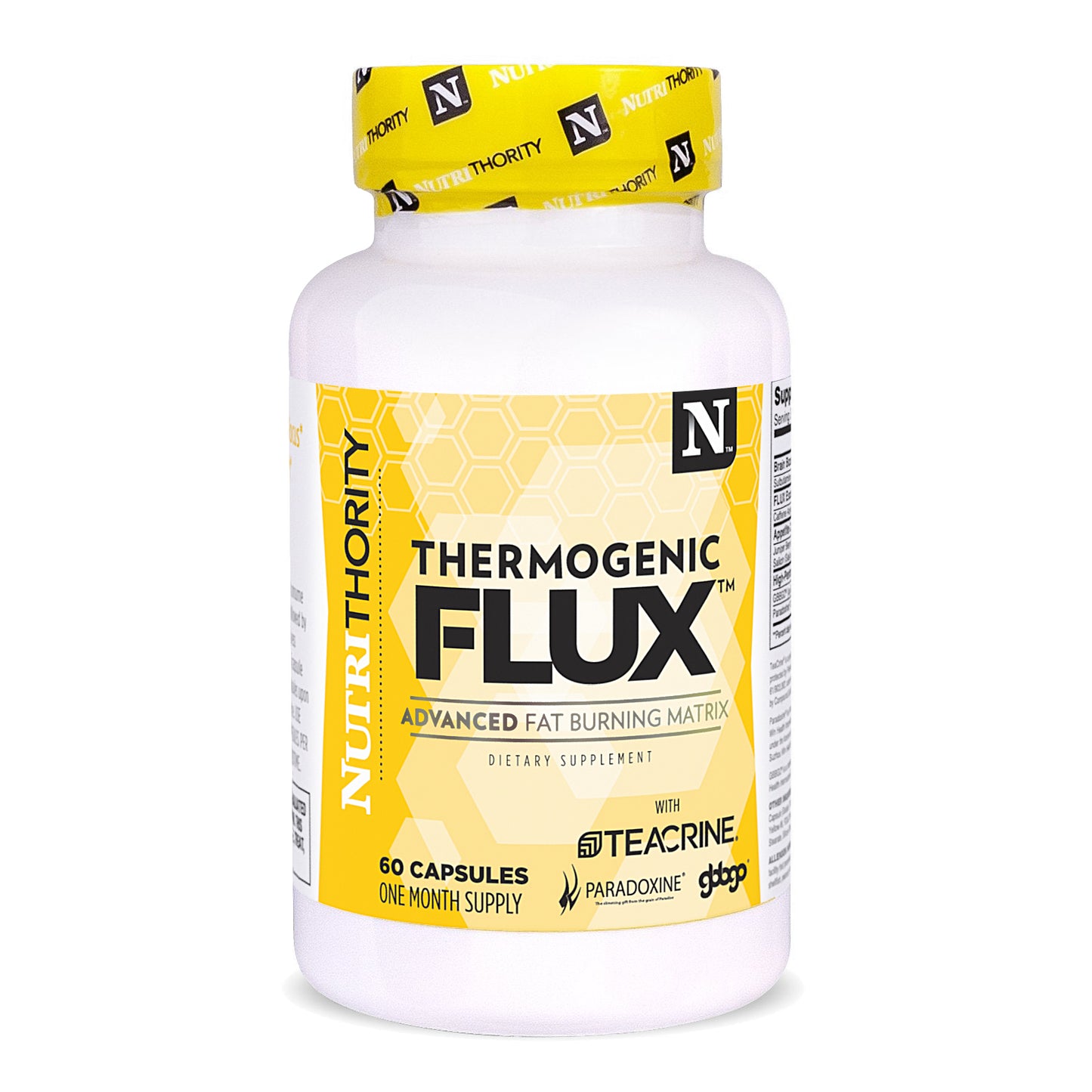 Amazing
Amazing keeps me going. Helps my drops 10pounds
Thank you for your review Brittany! We're so happy that you are enjoying the flux!!
Works -!!!!
This stuff right here will make you SWEAT! Amps me up and keeps my workout going. I have definitely seen a difference !! Just hydrate along with it..
Great review Katherine! We're happy you have seen a difference and hydration is definitely key :)
Great energy and Appetite Control
I have used Nutrithority products for years and I am NEVER disappointed. The Flux gives me energy and helps with appetite control.
Thanks for the review Tiffany! We're glad to hear that the Flux is working great for you and helping to control your appetite!! :)
Love this!
I was 225, when i found these products about 2 years ago and let me just say between these products eating clean and exercising 4x a week i lost 50 pounds in less than a year and have maintained my weight for a year after! I've tried several of these products and i love them all! The energy it gives with no crash and keeps you going all day! I think it may be time to order again! 🤔
Thank you for your review Darieon! We're so glad you're enjoying our Thermogenic Flux!! If you ever want to share more you can email transformations@nutrithority.com your full story!! We love hearing testimonials :)
Great Product!
Typically order the ThermoFlux AF but they were running a deal for 25% off so I gave this a shot! Worked great and does not have bad side effects!
Thank you for your review Kaylee! We're glad you're happy with our thermogenic flux.
Thermogenic Flux
So far it's been great! I probably need to start taking twice a day! But I love it!!
Thanks for the review Diane! I'm glad you're enjoying the product! :)
We're glad you like the product Ashley! :)
Helped break stall
Very happy with this product. I have been maintaining an 80lb weight loss for about 6 months but wanted to lose a couple more lbs. This helped finally break my stall!
We're happy to hear that this product was helpful in helping you to achieve your weight loss goals Jen!!!
Excellent
Looking forward to trying more of the products
Thank you for your review Katie!!
I've used this for a couple of years. Great product!
Really disappointed that as a subscriber, the product was out of stock for the first time! I assumed that subscriptions would get preference on stock. I got an email with the option of choosing another flavor? Thermo flux doesn't have flavors?!? I ended up having to start a subscription for Thermo AF. I've tried this product and it's a little too strong for me.