Regular price
Sale price
$59.99 USD
Unit price
per
Sale
Sold out
The Most INTENSE Pre-Workout We've Ever Made
Fully Loaded Pump & Endurance Formula*
Unmatched Energy & Focus*
Massive Workout Intensity Spike*
Amplified Power & Drive
This Pre-workout is not for the faint of heart with 450mg of Caffeine this pre-workout will get you going in ways you thought not possible. Loaded with clinical dosages of the industries top ingredients, We believe that Giants Brew is the most complete pre-workout on the market today, IT IS INTENSE.


Share
View full details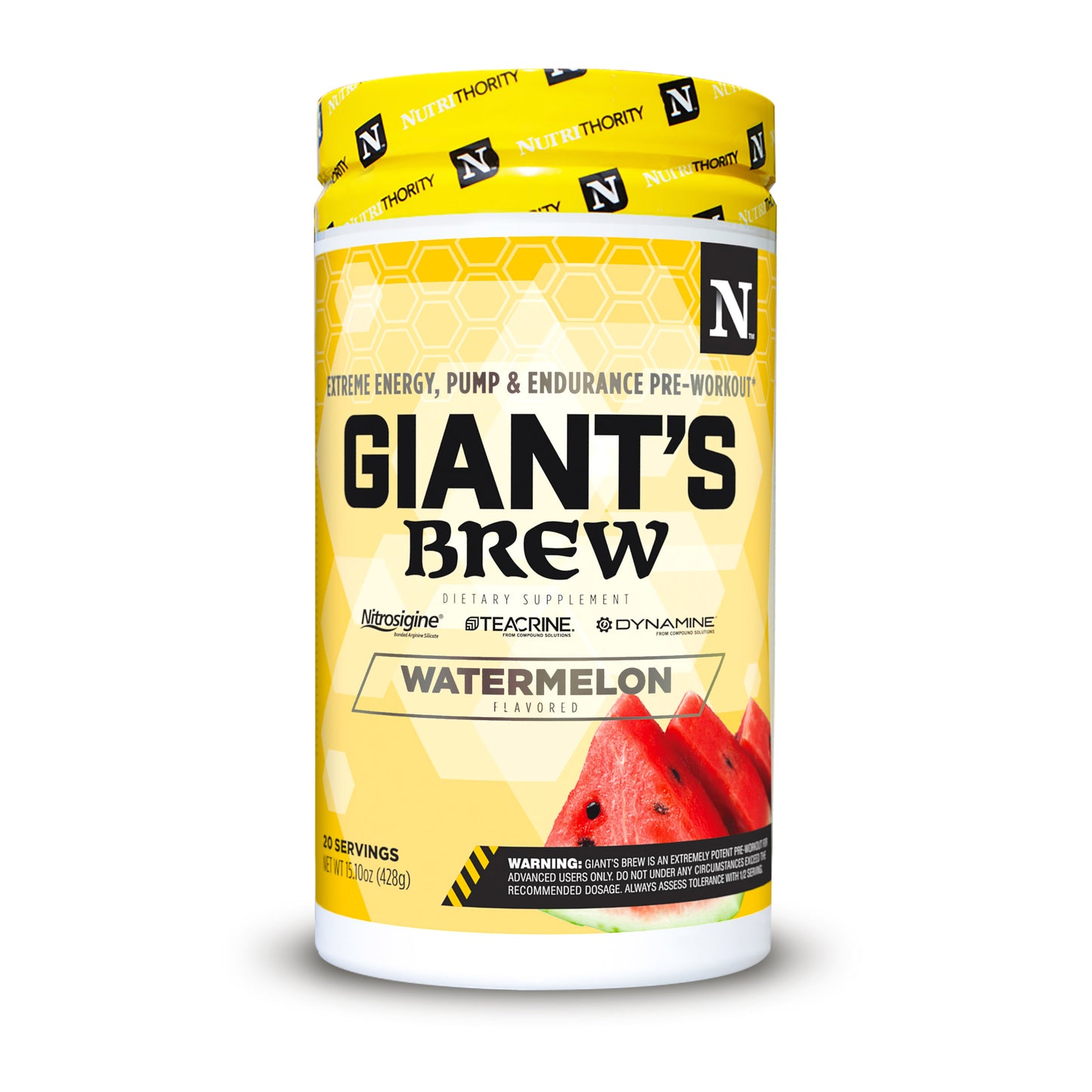 Great pumps and energy
I am a big fan of 1.21 so I had to give this a shot also. The pumps and energy are just as good if not better. No crash at all after taking first thing in the morning. You can't go wrong with either of these products
Pre workout
I love this stuff! Watermelon is great..no jitters great clean energy..no crash!!!!!
Thanks for the feedback Jodi! We're glad you like the product!! :)
Great stuff
Great! Actually so good that my son took it from me!
We're glad you like it! Great taste FTW !! :)
Awesome product!
I love this product! It gets me through my workouts with an added pump. Awesome flavor!
Thanks for the review! We're glad you're enjoying Giant's Brew ! :)
Works great! With great ingredients
I'm extremely sensitive to pre-workouts but I'm able to take, almost, a full scoop of this without feeling overstimulated! Which is great because the ingredients are exactly what I need/want. Definitely worth a try!
Thanks for taking the time to write this Matt! The ingredients all combine for a smooth workout which we're happy you love too. :)
Great stuff
Quick and easy got my order two days later
Quick and easy are great words to hear about an order. We hope you enjoy the Giants Brew Eric!! :)
Giant's Brew watermelon is absolute 🔥💪🏽
Ever since Nutrithority came out with Giant's Brew pre, it has just ruined any chance at me ever wanting to try anything else. So many aspects covered within this one from the pump factor, the hydration blend and the focus blend. I'm crushing my workouts and feel like I can keep going even after exhaustion. I tell everybody I can about this one!! Let alone the watermelon flavor is spot on and perfect timing for release this summer 💥💪🏽
Thank you for writing this great review of Giant's Brew Leondro ! We are so happy to hear that you love it and are seeing great results. This pre-workout is the in-house favorite as well :)
Love this stuff!
It gives me the pump I need, early in the morning!
Thanks for your great review Natalie! Giants Brew is definitely a great way to start your day off!!! :)
Great taste!
Great taste & love the extended caffeine release!
The extended caffeine release is the best!!! Thanks for your review Mia :)
Wasn't my fav flavor
Great product as always! Never had this flavor before, the other flavor was out of stock, not my fav flavor but overall product is awesome!
Hey Lisa, we've got 2 new flavors coming of Giants Brew. Stay tuned!!!