Regular price
Sale price
$59.99 USD
Unit price
per
Sale
Sold out
If you have the perfect diet, don't read any further...
On the other hand, if you're like the rest of us you likely don't eat your vegetables like you should... you may want to pay close attention.
You know it's important, we know it's important, but it's not convenient.. (and let's be honest, they don't always taste that great).
You may be doing yourself more harm than you realize:
You feel

bloated and uncomfortable

You're tired all the time
You can't shake that nagging cough or cold
You have trouble focusing
Your memory is foggy
You aren't exactly regular with your bathroom habits.
Sound familiar? 
You need more Nutrient-Rich Superfoods, Greens, Probiotics, Enzymes, and Antioxidants.
You may not realize it, but feeling bloated and uncomfortable isn't normal. It may be the way you're 'used' to feeling, but it is far from optimal.
Share
View full details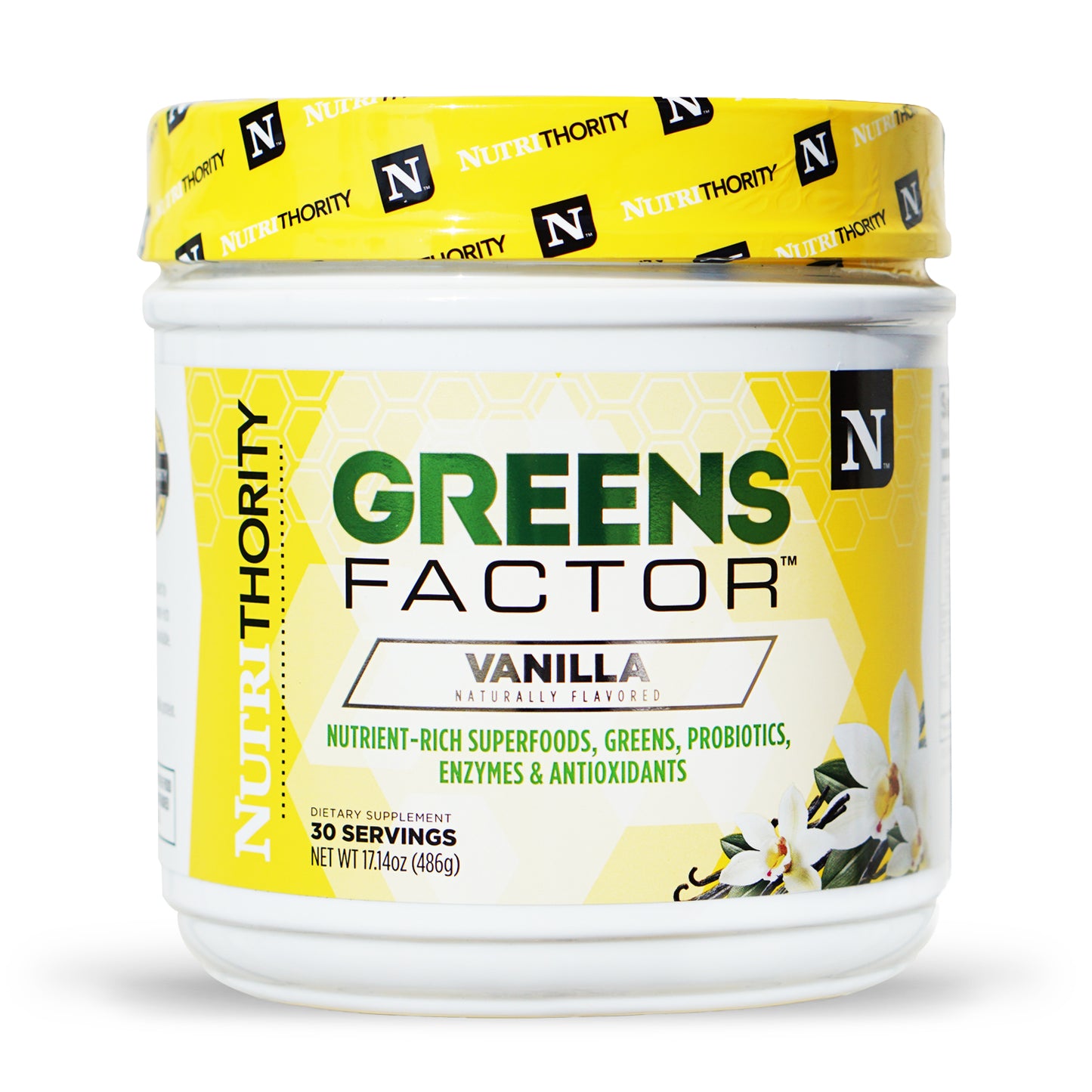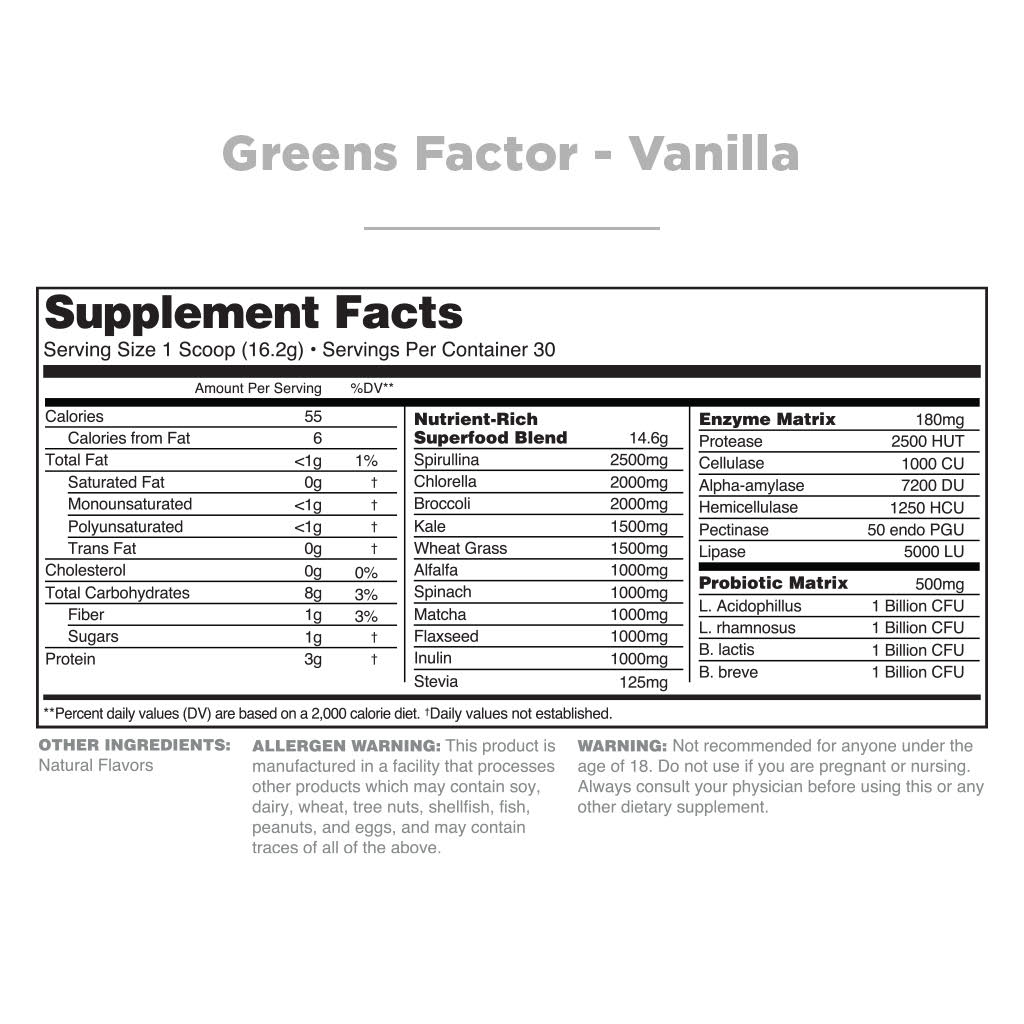 Peach Mango 🥭
Great taste! This flavor is really good. The benefits in taking this really helped with my digestion. Can't say enough good things about this product. Overall it is a must have for good gut health
Thank you for the honest review of Greens Factor Matthew! We're glad to know that you enjoy the flavor and the benefits of taking it :)
Been using this daily for years!
I have to take blood thinners due to a mechanical heart valve replacement. Consistency with my greens is essential to keep my blood at a therapeutic level and the Nutrithority Greens have been absolute key in ensuring I can keep that consistency. Not to mention the variety in flavors to keep it fresh in your palate. 10/10 🙌🏽🔥
Thank you for the kind words Leondro! We're so glad you've been able to use our product and that it's been helpful to keeping your blood thin.
Mango
Best tasting flavor I've tried.
Thank you for your review Nicole!! We're glad you like the mango flavor!
Greens factor
This is surprisingly great! I got the peach mango and I only have to mix it with water! It mixes really well, it tastes good enough that I want to drink it every day and I already feel better overall! Definitely highly recommend!!!
Thanks for the review Heidi! We're so happy to hear that you like our greens factor :)
Best Greens
I've tried a few different green products and this one is by far the best. Tastes great and helps my gut health. I love vegetables but do not eat enough of them.
We're glad you're enjoying Greens Factor Kim!!! Great taste for the win!!!
Great product
I've tried several different products but this taste amazing. Great product Great taste
Thank you for your review Michael! We're glad you like our Greens Factor product and appreciate your business as always!! :)
Great Taste!
The product tastes great and delivers as promised!
Thanks for your review!!! Greens Factor FTW!!!
Greens
These are the best tasting greens I have ever drank. They taste like juice. I really enjoy them and saw an increase in energy.
Thanks for your review Alyse, we're happy you are enjoying the greens :)
Loved the greens!
Mixes super well & tastes amazing! Loved the product & will purchase again!
Thanks Yasmin, welcome to the family!! :)
Excellent flavor.
I purchased the Peach Mango flavor and was very skeptical about the flavor. I am new to any Super Greens and have only tried another flavor from Amazon and this Nutrithority Greens Factor is amazing for the flavor. So far it mixes great and doesn't have ingredients that fall down in the glass like my current Super Greens I got. I highly recommend the Peach Mango. I use a hand held battery whisk and it mixes with no problem. I can actually sip the Mango but with my other Super Greens from Amazon I have to just down it. I highly recommend this and will buy more in the future. It doesn't upset my stomach after wards and the list of ingredients is really good.
Thanks for your review Walter, We're really proud of this product and we're happy you are enjoying it!!!