It's Time to Rewards Your Loyalty with Nutricore Rewards

Ask anyone who knows me what I value most and you're likely to get one answer — loyalty.
To me, loyalty means supporting your people, standing by your word, and making good on your promises, even when it's tough.  That's the person I'm always working to be and the type of people I surround myself with.
But loyalty isn't just about talk — it's about action.
At Nutrithority, we have some of the most loyal customers you'll find anywhere.  You support our products, give us honest feedback, and keep coming back time and again to try new things.  You recommend supplements to your family and friends and share our articles on your social media.  
And that loyalty drives us to keep innovating — producing the highest quality supplements on the market to help you reach your goals.
But recently, I decided your loyalty deserved more.  That I wanted to find a way to take action, say thank you, and show our loyalty to you for supporting our products, our company, and our vision.
And that's why I created our Nutricore Rewards Program.
Now, not only does your loyalty get our industry-leading products at a great price, but you get an added bonus where it really counts — your wallet.
Let's take a look at everything Nutricore Rewards has to offer, so you can start saving today.
Nutricore Rewards
Nutricore Rewards is a program that rewards you for your loyalty to Nutrithority.  Joining is 100% free and takes just a few seconds when you visit Nutrithority.com.
Earning rewards is simple — every dollar you spend earns you 1 point.  
And we don't believe you should have to wait years to accumulate enough points to save.  As your points add up, you can choose how you spend them to receive $5, $10, or $20 off your purchase.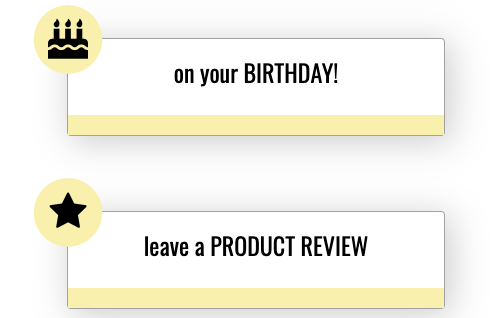 But unlike other rewards programs, we understand that your support doesn't begin and end when you make a purchase.  We value your feedback, referrals, and all the other actions you take on our behalf.  That's why we wanted to reward you for those things, too.

When you refer a friend with your personalized link, you'll receive $10 off your next purchase.  When you connect with us and share products on social media, you'll be earning points.  When you leave a review telling us what you loved (or what didn't work for you), you'll be earning points.  
You'll even be earning points on your birthday — just for being you.
Never Miss Out on Points
Now I know you're probably thinking, "Jared, this sounds great, but it would've been nice to know about it when I made a purchase last week."
And believe me, I know how it feels when you should've been rewarded for something and missed out.
But don't worry, we've already got you covered.
Your rewards account is directly tied to the email address you use to make purchases.  And because we didn't want our customers to miss out on the benefits of the program as we were rolling it out — that wouldn't be very loyal of us, after all — we've already been saving those points for you.
That's right — if you've made a purchase on Nutrithority.com since we launched our Nutricore Rewards program, your points are already there waiting for you.  All you need to do is register your account to access them.
So how do you make that happen?  
Head over to our Nutricore Rewards page and register your account with the same email address you use to make purchases.  (And as a bonus just for registering, we'll add 50 points to your account to get you started — and put you halfway towards earning your first reward.)
Thank you for everything you do to continuously support our Nutrithority Family.  None of this would be possible without you.
Now let's get to work!
Statements made on this website have not been evaluated by the U.S. Food and Drug Administration. Information provided by this website or this company is not a substitute for direct, individual medical treatment or advice. It is the responsibility of you and your healthcare providers to make all decisions regarding your health. Consult with your healthcare providers regarding the diagnosis and treatment of any disease or condition. Products sold on this website are not intended to diagnose, treat, cure, or prevent any disease.