Meal Prep Strategies for Healthy Food When You Need It
Tell me if this sounds familiar…
You've been committed to your nutrition plan and things are rolling.  But today, you're starving.  So you head to the kitchen, only to realize that you have no healthy options — you're out veggies, the Greek yogurt is expired, and there isn't a leftover chicken breast in sight.
Or maybe it's been a day from hell and you've been running non-stop since 6 am.  You finally get home, desperate for dinner and what do you find?  Raw ingredients that will add another hour of cooking to your day.
Next thing you know you're wolfing down a bag of chips from the pantry or ordering a pizza — not exactly the type of thing that helps you meet your goals.
Sometimes it can feel like an uphill battle to balance your busy lifestyle with healthy eating habits.  And there's nothing worse than committing to a program, only to have it derailed by your schedule.
But it doesn't have to be that way. It's totally possible to have healthy options on hand all the time.
What am I talking about?
Meal Prep.
And the coolest thing about it?  Planning your meals doesn't have to be a one-size-fits-all thing.  You can tweak your prep strategy to meet your specific needs.
Sound like music to your ears?  Here are three meal prep strategies to help keep your nutrition on track all week long.
The Weekly Prep
The idea behind the weekly prep is to take one day a week (often on Sunday) and plan, prepare, and portion your meals for the upcoming week. To do this, you'll likely need to set aside 3-4 hours, once a week, to make the magic happen.
The real benefit to this meal prep style is that it's convenient whether you're sitting on the couch or heading out the door to work — all you have to do is grab a meal from your fridge and heat it when you're ready.  
Here's what you'll need to do to get rolling with your weekly prep ritual: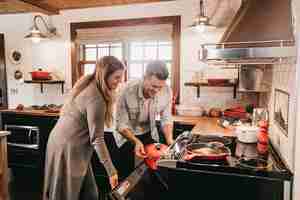 Check Your Schedule.  What do you have coming up this week?  Are there any activities that need special consideration when it comes to food?  Will you have access to a fridge or microwave when you're away from home?
Plan your meals. Variety is the spice of life, but it can make meal planning difficult.  This method works best when you keep the menu simple.  Many people chose to eat the same thing for breakfast or lunch everyday to simplify the process.  Then choose 2 or 3 meals to rotate throughout the week for dinner.  Consider making one or two base proteins, then add different sauces or sides to get some variety without a lot of extra work.
Head to the Grocery.  One of the great things about weekly prepping is that it simplifies your trips to the grocery store.  Arm yourself with a good list to make sure you have everything you'll need, then sit back and enjoy the fact that you won't have to be making multiple grocery runs every week.
Cook, Cook, Cook. Sheet pans and crock pots (or any other way you can make food in bulk) are your best weapons for this type of prep.  It's easy to cut up tons of veggies and throw them all in the oven at one time.  Crock pots can be used to cook protein like chicken or lean pork, which can be cut up or shredded in large batches (Pro tip — you can shred protein with an electric mixer to get the job done fast).  And grains like rice or quinoa can be whipped up on the stovetop while everything else is cooking.  With a little practice, you'll have everything done in a snap.
Package your portions.  One of the great things about a weekly prep is that everything is already portioned and ready to go.  You can package the food however works best for you, but one of the simplest ways is to invest in some reusable takeout containers (like these from Amazon).  Just make sure they're microwave and dishwasher safe and you'll be all set.
Weekly prep might seem like a big project, but with a little planning and commitment you'll be reaping the benefits all week long.  
The Bulk Prep
Bulk prep is basically the laid-back cousin of the weekly prep.
Instead of planning and portioning every meal, the bulk prep focuses on having your staples prepared ahead of time, allowing you to grab them when you're ready.  This can be a great option for you if you're low on space in your fridge to store takeout containers or you're not ready to commit to every meal a week in advance.
Grill several pounds of chicken or fry up ground turkey for the week ahead.  Cut up raw veggies for salads or omelettes.  Prepare rice, pasta, or quinoa to throw in meals as you go.  
And the bulk prep is a great option if you like to eat different meals throughout the week.  For instance, the same chicken can be used to make sandwiches, whip up fajitas, or toss in a pasta dish — you can still have tons of options while getting the heavy lifting done ahead of time.
The No-Prep Prep
Sometimes you just don't have the time or the desire to spend hours preparing your food.  But that doesn't mean you have to head through the drive-thru or order greasy takeout.  
Today there are plenty of options for healthy food on-the-go.
This can be as simple as heading to the grocery store.  Many locations — from your local, neighborhood store to pricier chains like Whole Foods — offer on-the-go meal options.  Think of things like salad bars, hot bars, or even prepackaged meal kits that you can take home and make yourself.
Another great option is a meal kit delivery service like Hello Fresh.  These companies allow you to preselect your meals and deliver kits with fresh, pre-portioned ingredients right to your door.  All you have to do is pull it out of the refrigerator or freezer and cook it when you're ready.
But the granddaddy of all no-prep plans is opting for a prepared meal delivery service.  These companies deliver meals directly to your door to specifically address your dietary needs.  Looking for Paleo or Keto options?  No problem.  Need options that fit your competition prep plan?  They've got you covered. You can even find options for diabetic-friendly meals, kids meals, and more from many companies.  
To find the best options in your local area, try Googling "Healthy Meal Prep Delivery" or check out your local Lean Kitchen Co. Locations.  Many companies even offer multiple delivery schedules and options, whether you want meals delivered daily or a la carte options for a particularly busy week.
The most important thing is to do what works best for you.
Maybe it's using a combination of weekly and bulk prep.  Maybe you just need your lunches and dinners prepared for the week.  Or maybe you're so fancy that you're just going to hire a personal chef (ha, yeah right).
Just remember that no matter what it looks like, the best nutrition plan is the one you stick with and keeps you moving towards your goal.
Statements made on this website have not been evaluated by the U.S. Food and Drug Administration. Information provided by this website or this company is not a substitute for direct, individual medical treatment or advice. It is the responsibility of you and your healthcare providers to make all decisions regarding your health. Consult with your healthcare providers regarding the diagnosis and treatment of any disease or condition. Products sold on this website are not intended to diagnose, treat, cure, or prevent any disease.