Keep the Beast at Bay - Fight Sugar Cravings with These 8 Foods

Sugar cravings are the worst.
One minute you're rolling with your nutrition, making great choices.  And the next think you know, you're ready to chew your arm off for an Oreo.
And it doesn't help that everywhere you turn – from the grocery store, to the tv, to your social media feed – you're staring at cheap, easy options for getting that sugar fix.  Plus, there are so many names for sugar these days, chances are you don't even realize it's hiding in some of the foods you eat.
So it's no wonder that fighting off sugar cravings seems like an impossible task, sometimes.
There are lots of factors that can increase your desire for sugar – gut imbalances, dehydration, and disrupted sleep, just to name a few.  But whatever the reason, when your brain decides to go in search of a sweet fix, it can cause your nutrition to spiral out of control.
But I'm here to tell you, you don't have to be a slave to the beast.  Here are 8 foods to help you tame those sugar cravings and keep yourself on track.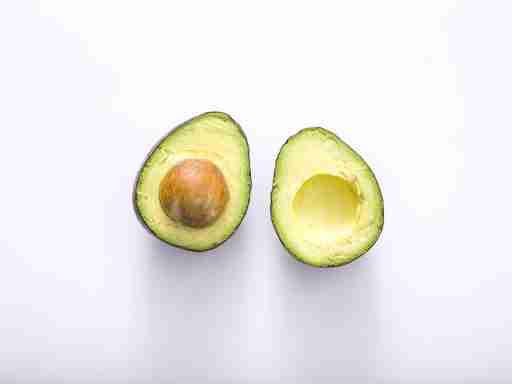 1. Avocados
You've probably heard someone say that avocados are a "good fat", but do you really know what that means?
Here's the scoop (no pun intended): 
Avocados are packed with healthy, monounsaturated fats. That means they help to keep your body feeling full and satisfied.  They also help to keep your blood sugar balanced –– avoiding crashes that can bring on those monster cravings for the sweet stuff.  As a bonus, avocados are also full of fiber and antioxidants, making them a great addition to any nutrition program.
Plus, everything's better with guac, right?
2. Almonds
Almonds are another great source of heart-healthy, nutrient-dense fat to help you control your blood sugar –– and beat back sugar cravings.
Plus, almonds (and any nuts, really) make a super convenient snack.  They're easily portable, don't require any preparation, and have a long shelf life, making them a great option to stash in your bag or car incase of a sugar-craving emergency.
And if eating handfuls of raw almonds isn't your thing, don't count them out.  Chopped or ground, almonds make a great addition to smoothies, salads, and more.
3. Cheese
When a sugar craving comes out of nowhere, there's a good chance undereating or unbalanced nutrition is to blame.  
And it makes sense if you think about it –– your brain senses that it isn't getting enough nutrients, so it sends a message that you need something sweet for an energy boost to keep you going.
Thankfully, snacking on cheese is a great way to tell your brain to chill out –– literally.  Cheese is high in Tyrosine, an amino acid that can help your brain to release dopamine, helping to calm your mind (and ease those cravings in the process).
Cheese is also a good source of protein and fat, as well as micronutrients like calcium, vitamin B12, and zinc, making it a balanced (and tasty) way to fend off the sugar itch.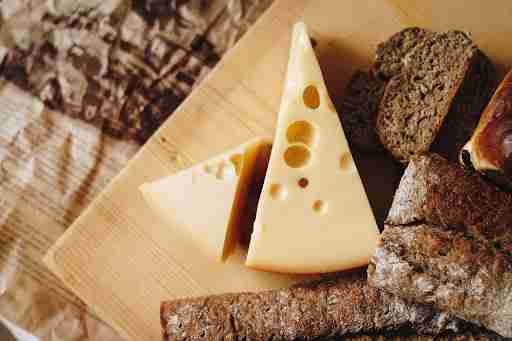 4. Berries
But wait, don't berries have sugar in them?  Isn't that what we're trying to avoid here?
They do, but hear me out.
Fruit juice, dried fruit, and desserts masquerading as "healthier" options are often high in refined sugar and low in fiber, making them a recipe for blood-sugar disaster.  But whole, fresh fruit – like blueberries, raspberries, and strawberries – doesn't have that problem.
Whole fruits are full of slow-releasing, natural sugar and fiber, making it a great option for balancing blood sugar and helping you to feel satisfied.  Plus, you're still treating your brain to a sweet fix, without the negative impact of their high-sugar cousins.
5.Greek Yogurt
Research has shown that an imbalance in your gut microbiome can increase your cravings for sugar.  Why?  
Because a diet that is high in simple sugar and fat alters your gut, forcing it to adapt to thrive on sugar.  In short, the more sugar you eat, the more your gut signals to you that it wants more sugar.  
So how do you correct this imbalance? By introducing healthy bacteria into your gut to restore normal function.  And one of the easiest ways to get this bacteria is through a quality, low-sugar source of probiotics like greek yogurt.  Greek yogurt is also a great source of protein, making it a 1-2 punch for keeping your body fueled and happy.
Try adding greek yogurt to smoothies, parfaits, or even as a substitute for sour cream or oil in baked goods.   
6. Sweet Potatoes
Sweet potatoes are a high-fiber, complex carbohydrate, making them a great way to fuel your body with a slow-burning source of energy.  This can help to keep you feeling full and craving-free for hours.
Plus, they offer enough of jolt to satisfy your sweet tooth without opting for a high-sugar source of sweetness.
And sweet potatoes are one of my favorite carbs because they're so versatile.  Pop them in the air-fryer for fries or a breakfast hash, dice them to bulk up a salad, or even use them as the base for healthier treats like these brownies.
7. Eggs
Nutrient dense and loaded with protein and fat, eggs should be a foundational part of every quality nutrition program, in my humble opinion.
Breakfast is the meal that comes to mind when you think of eggs for good reason –– they make a high-quality, balanced start to your day, helping to keep you fueled and fighting off those cravings on even the busiest days.
And eggs don't have to be stuck on the breakfast table –– get creative and try topping a burger or frying an egg to use in place of a tortilla.  Your brain will be so overwhelmed by the deliciousness (and the nutrients), it won't give sugar a second thought.
8. Legumes
There's a lot to love about beans and lentils, not least of all because they're great at stabilizing blood sugar and keeping you full.  One cup of beans comes in with an impressive 7-9 grams of plant-based protein and 6-8 grams of fiber, making them an easy sell for any dietary program.
Legumes also have a long-shelf life and are easy on the budget, giving you a great excuse to keep your pantry stocked.
Legumes make great additions to anything from soups and salads, killer veggie burgers, and desserts, (and of course, they're the perfect ingredient on that burrito bowl you've been thinking about all day).
Statements made on this website have not been evaluated by the U.S. Food and Drug Administration. Information provided by this website or this company is not a substitute for direct, individual medical treatment or advice. It is the responsibility of you and your healthcare providers to make all decisions regarding your health. Consult with your healthcare providers regarding the diagnosis and treatment of any disease or condition. Products sold on this website are not intended to diagnose, treat, cure, or prevent any disease.