Here Are the Essential Tools Every Meal Prepper Needs
This is the year you're going to make positive, lasting, healthy-lifestyle changes.
You have a plan for your fitness program.
You've calculated your Macros with some help from Nutrithority's Excellence Academy.
You have an arsenal of healthy recipes ready to go for, and you're committed to making meal prep a part of your weekly routine.
You're ready to hit the ground running.
But if you've never done it before, meal prepping can feel a little overwhelming
Thankfully, meal prepping doesn't need to be complicated.  In fact, the less complicated you make it, the more likely you are to stick to the program.  
But while pre-prepping your meals doesn't require any special equipment to get the job done, there are definitely some key tools that will make the job less of a chore — plus they can save you some valuable time in the process.
Here are my 8 essential tools for streamlining the meal-prep process and setting yourself up for success this year. 
Air Fryer
It's no secret that just about anything tastes better fried — too bad it doesn't usually fit into a meal plan.  But with an air fryer, eating healthy doesn't have to mean completely giving up that crispy, fried taste you love.
Air fryers use convection — circulating, hot air — to get that perfect crisp, usually in less time than a conventional oven.  And they require only a small amount of oil to get the job done (even just a spritz of cooking spray in some cases), making it easy to keep your food tasting great with your fat-intake in check.
My go-to is the COSORI Air Fryer Max XL.  With 11 preset cooking settings — including a dehydrator for making jerky or dried fruit — it takes the guesswork out of getting perfect results, every time.
Instant Pot
Not to oversell it, but the Instant Pot is a complete game-changer for meal prepping.  Seriously, this machine does it all, from pressure cooking, to slow cooking, to sautéing, even yogurt making — all in one pot.
It handles just about anything you can dream up, from braised meats, to rice, to perfectly boiled eggs.  But my favorite thing to use it for?  That good, old staple of all meal preps:  chicken.  The Instant Pot cooks large batches of chicken in less than 10 minutes, and even seamlessly cooks frozen chicken (for anyone like me who constantly forgets to pull it out of the freezer the night before).
There are tons of options out there, but my favorite is the Instant Pot Duo 7-in-1.  With 14 presets, and 3 sizes to choose from, you'll find whatever you need for a successful prep.
High-Speed Blender
If you're looking to seamlessly purée juices, sauces, or smoothies — not to mention make a killer protein shake — a high-speed blender is your best friend.
The Nutri Ninja Auto-IQ Blender is compact, easy to clean, and delivers a silky smooth consistency, making it easily my favorite.  And as a bonus, it comes with a travel-mug topper for easy shakes on-the-go.
Mini Food Processor
There's no question that food processors are an awesome part of any kitchen arsenal, but who wants to pull out (and clean) a huge piece of equipment just to chop some garlic, or throw together a quick marinade?  That's where a mini food processor comes in.
This gadget is great for quickly chopping veggies and herbs, mixing Greek yogurt and herbs for a dipping sauce, or even grinding nuts or oatmeal to a powder for smoothies — and takes up a fraction of the counter space than its bulky cousin.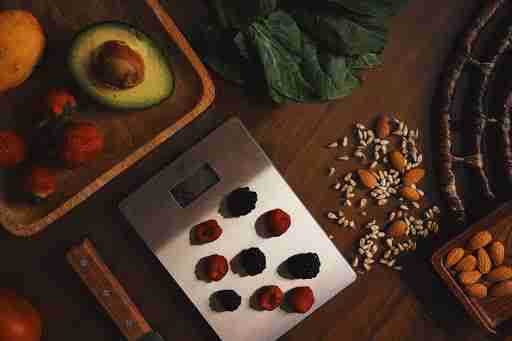 Digital Kitchen Scale
Ask me what the number one thing you need for meal prepping is and you're only ever going to get one answer:  a digital kitchen scale.
I use this to portion out everything from proteins, to liquids, to spices.  And it's especially useful for measuring out calorie-dense items like cheeses or sauces, which are notorious for accidentally throwing your macros out-of-whack.
My personal favorite is this Escali Primo Digital Scale. It's light, portable, and extremely accurate.  Plus, it has only two buttons and stays on for about 4 minutes, making it a super, user-friendly option.
Large Sheet Pans
Sheet pans are the foundation of meal prep.  If you're looking to roast meats and veggies for the week, this is how you're going to get it done.  But nobody wants to waste time waiting on endless oven rotations to get the portions that you need.  That's why large sheet pans are a lifesaver.
Save yourself some time and let your baking sheets do double duty (just be sure to measure your oven before making the investment).
Silicone Baking Mats
One of the most frustrating things about meal prep is the clean-up.  And it can be really time consuming to have to stop and wash your baking sheets between each dish you prepare.  But silicone baking mats make it much less of a hassle.
Made of food-grade, dishwasher-safe silicone, these mats make prepping multiple dishes and the post-prep clean-up a snap — taking your prep game to the next level.
Reusable Takeout Containers
Preparing your food is one thing, but what are you supposed to do with it all once you're finished?  These reusable storage containers are the perfect food-storage solution.
It's like these take-out style containers were made for meal prep.  They can be used to store chopped veggies for quick salads for the week.  They can be measured with individually portioned meals to grab on the go.  And because they're microwave safe, they eliminate the need for extra dishes, saving you time and energy with clean-up.  Plus, both the containers and lids are stackable, making them easy to store in both the refrigerator and the cabinet. 
If you're looking to make meal prepping as quick and easy as possible, these containers are the way to go.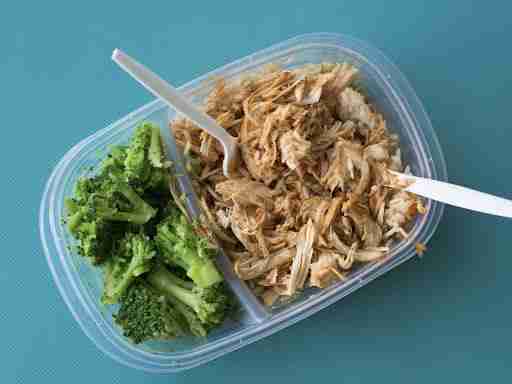 Statements made on this website have not been evaluated by the U.S. Food and Drug Administration. Information provided by this website or this company is not a substitute for direct, individual medical treatment or advice. It is the responsibility of you and your healthcare providers to make all decisions regarding your health. Consult with your healthcare providers regarding the diagnosis and treatment of any disease or condition. Products sold on this website are not intended to diagnose, treat, cure, or prevent any disease.