Regular price
$129.99 USD
Regular price
$164.99 USD
Sale price
$129.99 USD
Unit price
per
Sale
Sold out
Description
CardioFlux Launch Bundle: Burn Fat & Protect Your Muscles
The combination of CardioFlux, Isothority, and Amino Factor is the perfect stack to help you burn body fat and protect that hard-earned muscle from being lost. When you add Creatine to the mix, well its gonna be hard "not to gain muscle."
Anytime we push for fat loss, we're at risk of muscle loss as well. The key to preventing muscle loss is providing the key nutrients needed to help repair and ultimately protect that muscle.
CARDIOFLUX IS A DUAL ACTION PRE-WORKOUT THERMOGENIC
That means you get the best of both worlds: preworkout and fat burner.
The Pre-workout part:
CardioFlux was designed to help increase focus and concentration, increase energy, fight fatigue, and push you through your workout harder than before. CardioFlux is an ideal pre-workout for any workout that gets your heart rate up and keeps it there. 
The Thermogenic part:
CardioFlux uses key thermogenic ingredients like Paradoxine, GBB, and Yerba Mate to increase metabolism, reduce appetite, and help you burn fat more easily. They "heat you up" in a safe and natural way. That means you'll burn more calories while you workout. And you'll continue to burn extra calories for hours after you leave the gym. 
Isothority is a cross-flow cold-microfiltered whey protein isolate. Sounds fancy, right? Let's break it down: Isolate is the purest form of Whey Protein available. You get less filler, carbs, lactose, etc. This means it also digests much more easily without stomach issues. 
The method by which the protein is extracted is much more precise. Rather than using extreme heat, acid washes, and other harmful processes, we utilize a filtration system to isolate the protein. 
This leaves an incredibly clean protein that is easy to flavor, has a great texture, and digests extremely well. There truly is not another protein that is this pure, and tastes this good.
What it does: Isothority provides a great tasting, highly absorbable whey protein isolate to help with muscle recovery and to increase daily protein intake.
Amino Factor is a simple product. It only contains three ingredients:
L-Leucine
L-Isoleucine
L-Valine
Those three amino acids make up the Branched-Chain Amino Acids or BCAA's. 
Basically, these are the most important amino acids you could consume to help protect and rebuild muscle tissue around workouts. 
What it does: Amino Factor helps to increase muscle recovery, reduce soreness, and stimulate muscle protein synthesis (which can help build muscle or protect it from being lost while dieting).
Creagon 
is a next generation creatine with Russian Tarragon.
No Loading

No Sugar Required

No Bloating

Increased Absorption

Enhanced Strength & Endurance
Creagon helps to enhance endurance, strength, and recovery from exercise.
Creagon is one of the most beneficial supplements to add when trying to gain muscle or maintain muscle while trying to lean out.
Creagon works in a completely different way than Amino Factor or Isothority by providing creatine phosphate to be utilized as part of energy production during your workout.
Essentially you'll be able to gain strength more quickly, have more endurance from exercise to exercise at the gym, and recover more easily after a hard workout.
Who is it for?
Creagon can be utilized by anyone wanting to increase muscle mass, improve strength, increase endurance, or protect muscle while dieting.
What will I notice?
Increased strength is the easiest thing to spot. You'll notice the exercises you were doing a few weeks ago are quite a bit easier and you are able to add more weight to the bar (or complete more reps in the same exercise with ease). It takes a few weeks to really show the difference, so be patient!
Isn't Creatine all 'water-weight'?
Not at all actually. Our formula utilizes different types of creatine and russian tarragon to increase absorption. This means less bloating, stomach issues, and NO loading. The water retention associated with creatine is held in the muscle, and not the skin. That's not how it works, but it does have a hydrating effect to the muscle cells and is one added benefit to creatine.
Can women use creatine?
Absolutely! When we change the way we look at creatine, it's not a product for 'bulking' or a 'men's product' anymore. Creatine helps to provide a quick energy source for power and strength, while helping with recovery behind the scenes as well.
That doesn't mean you're going to look like The Hulk after taking it (are we going to get sued for this reference?).
Women gain muscle slower than men in general, and that muscle isn't nearly as bulky. That has to do a lot more with hormones than anything else. Creatine helps speed the process up for both men and women!
Don't worry, that guy at the gym isn't 'just taking creatine' like he claims either. Creatine helps, but it's not magic fairy dust by any stretch of the imagination. 
Share
View full details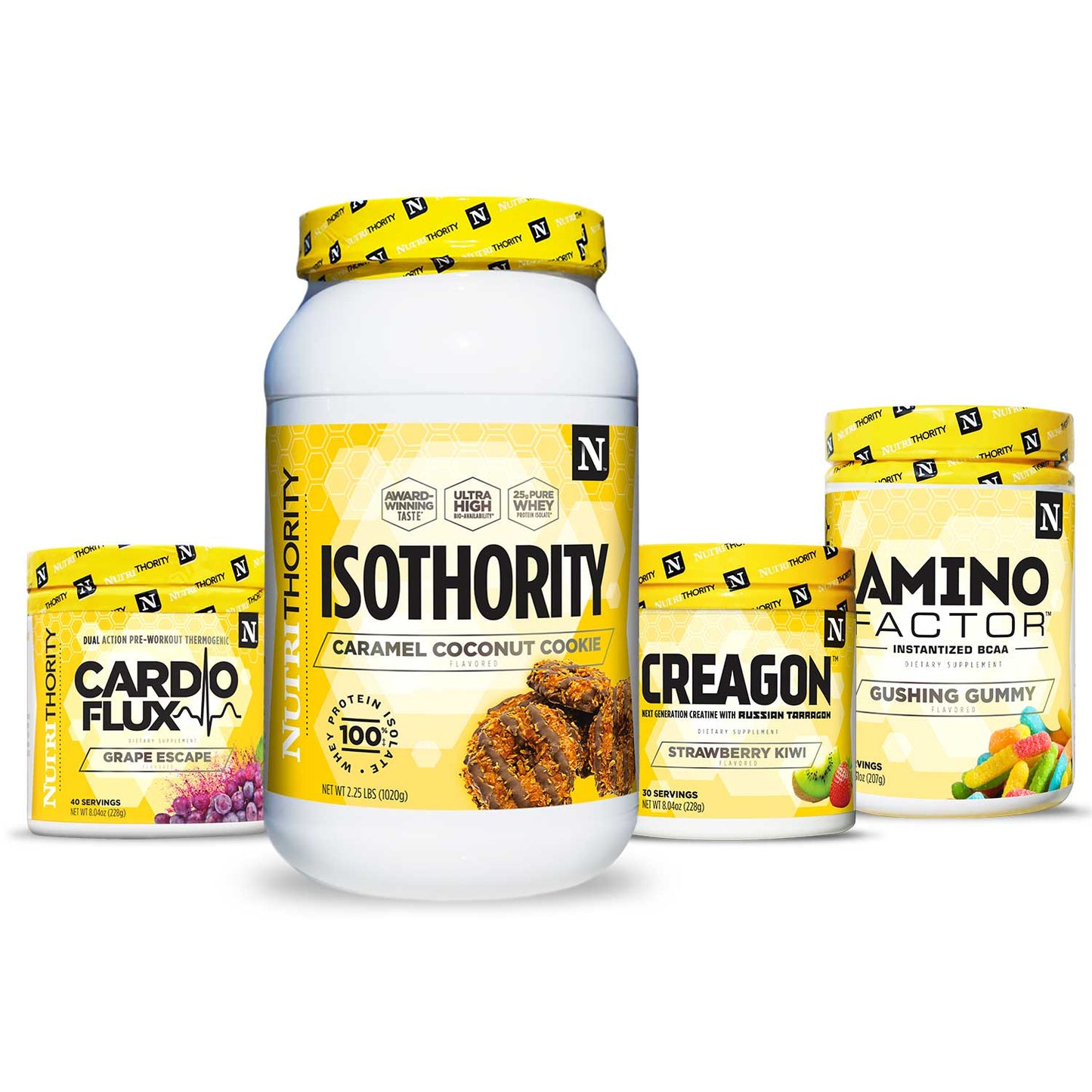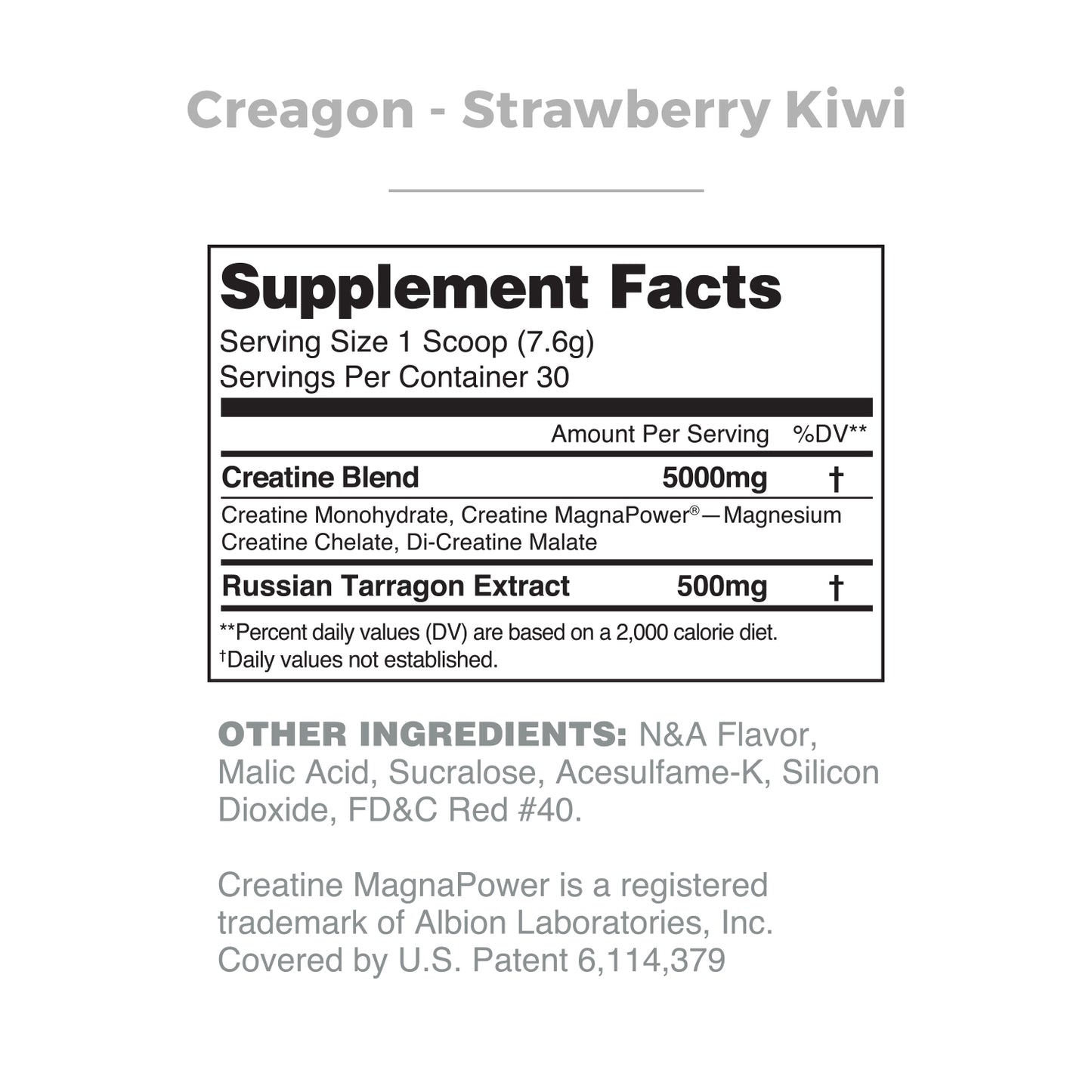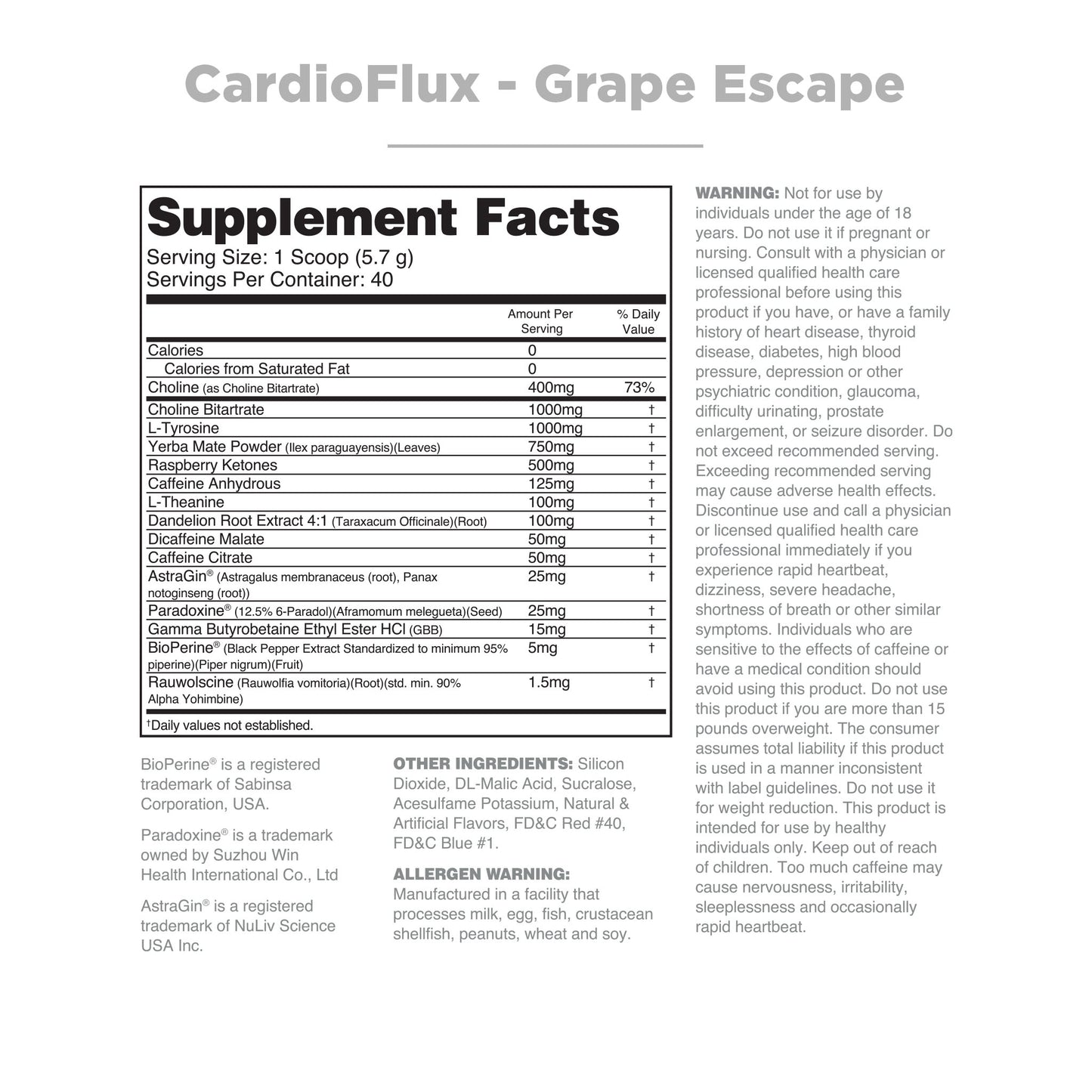 Please say it ain't so
I love this preworkout/thremogeninc mix.. went to buy and the store said it's being discontinued. Look here and it's sold out?! Please tell me it's gonna be back 😢
Hey Jessica, we are revaluating the formula on that specific product. We had quite a few complaints on the taste and the spiciness of the product so we're going back to the drawing board on it.
Warms me up
Like a can of Progresso soup, Cardio Flux started my early morning workout with a warm hug. It gave me all the energy I needed and left me feeling like I got more out of my time spent at the gym.
Hey Ryan, we're glad to hear that CardioFlux is helping you warm up and get the most out of your workouts. Sometimes a warm hug is all we need :)
Great for morning runs!
Got this to try for runs early AM. It feels good and helps me get up and going. The taste has a bit of a peppery bite but I kind of like that. Doesn't give me the jitters or itchiness I have had with others. I would like more flavors like the candy craze or sour gummies!
Thanks for the review Ila! We're glad you're enjoying the product. :)
Cardio Flux 🔥🔥🔥🔥
So far I absolutely love this pre-workout it doesn't make me itch but gives me hella energy and I sweat like crazy!!! The taste is really good it's a little spicy and has a kick in the back of my throat but nothing I can't handle!!
Great review Ericka! We love the Cardio Flux pre-workout and we're glad that you like it too!
GOT A BITE
DID NOT NOTICE TOO MUCH DIFFERENCE AND HAS A BITE TASTE TO IT THAT I DONT LIKE BUT I LOVE YOUR 2.4 PREWORKOUT !!!
Thanks for the feedback Lance. The Paradoxine adds the 'bite' that you are referencing. Thanks for your review :)
Thumbs up
Flavor is good. Not too strong. I'm not a grape flavored anything lover. Gives me a good clean energy as well. Hope you come out with other flavors
Thanks for your review Lisa, the grape escape flavor is one of our favorites!! Glad you liked it :)
Cardioflux
I liked this....it tastes great...gives me energy and no crash
Glad you liked the product and the taste Jodie!!
I recommend it
I enjoy using Cardio Flux. It has helped the cardio sessions and definitely increases the sweat.
You will definitely sweat using this product!! Glad you enjoy it Ryan!
Very strong peppery flavor
I'm not really sure how to describe it. The grape flavor is very good and prominent but when taking it, there is a very strong pepper (like chili) reaction. It almost feels like it's spicy but it's not really. It's not very pleasant and is a little hard to get past.
Hey Shalamar,
Sorry you didn't like it. Paradoxine is a great ingredient but it is a little strong tasting to some.
Cardio Flux
Gives me the boost that i need to keep my working going.